Invented back in 2008, blockchain technology wasn't popular for a long time. At the time of its invention, the economic incentives of implementing blockchain did not correspond to the user interest.
Today much has changed about blockchain technology and you can no longer say that it is not an integral part of today's world. Not only private manufacturers are interested in blockchain implementation, but also governmental institutions, healthcare institutions, entertainment ventures, and even educational facilities.
The PWC's blockchain study revealed the biggest industries that are implementing blockchain, financial services top the list, followed by manufacturing businesses, energy suppliers, and healthcare: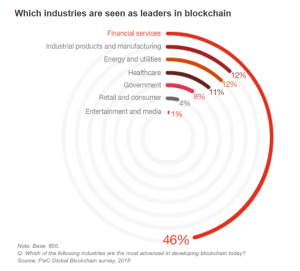 Image credit: PWC
According to the source, the demand for the blockchain technology across these, and many industries is expected to rise significantly in the upcoming years. 45% of the respondents who participated in the study confirmed they have budgets established for blockchain adoption.
With the rising demand for the implementation of this technology, we also see a rapidly increasing number of blockchain ventures every year. These ventures come up with more and more interesting blockchain solutions, bringing more opportunities to different industries.
Despite the pandemic, 2020 is not an exception, and this year we can keep track of a few great blockchain projects.
Here are our top 3 of the most promising blockchain ventures to watch in 2020:
1. OPSkins – Transforming E-Commerce
Today, you can buy almost anything online. However, purchasing items that people can later use while playing a computer game is an entirely new concept, which inspired OPSkins to create their online trading platform for gamers. 
Established in 2015, OPSkins today is the biggest e-commerce automation online marketplace, where gamers can buy and sell different digital items, from skins to emotes and weapons. The items come from many games, including Fortnite and PUBG. Of course, all the transactions are powered by blockchain technology. 
What to expect from OPSkins this year? 
In trading platforms like this, the security of transactions is a very big concern. "Our recent research has shown that, although considered one of the strongest technologies in cybersecurity, there is still a 10-15% chance that personal information can be leaked and structural security compromised", says Dorian Martin, a researcher at WowGrade. 
OPSkins took that into consideration and now they are developing their WAX (Worldwide Asset eXchange) platform, where they plan to launch token distribution that will move an item from a seller to buyer and minimize the risks of theft. This mechanism will be implemented into smart contracts to safely make the transaction. 
With ambitious plans like this, it could be interesting to see what OPSkins and its WAX platform can achieve in the e-commerce and gaming industries.
2. Cliniko – Disrupting Patient Data in Healthcare
We already mentioned that the healthcare industry is one of the biggest adopters of blockchain technology. It is expected that blockchain application in healthcare will reach over $1.6 billion within the next 6 years. 
Blockchain is transforming healthcare in a variety of ways, one of which is changing how patient records are kept and secured. 
Cliniko is an Australian startup that offers blockchain-based software for healthcare institutions. It includes a variety of features, from scheduling and invoicing to cloud-stored patient records. As a result, blockchain powers an all-in-one record system, which helps hospitals safely store the data. 
What to expect from Cliniko this year?
Due to the spread of COVID-19 and the global pandemic, Cliniko added a new feature to its blockchain-powered software called Telehealth. This feature allows doctors to consult their patients during video appointments. 
To set an appointment, patients can book an appointment using Cliniko's online booking system. This system directly connects a patient to the doctor, ensuring complete privacy and security. 
Considering the current situation, this feature can potentially transform healthcare and make it more flexible, while also helping healthcare workers keep all the records in order.
3. Efir – Powering Marketing with Blockchain
Businesses are always looking for ways to improve their marketing efforts. 
One of the challenges that brands often have to face is finding the right advocates and influencers to partner with. "Among so many influencers, it can be quite hard to find the one that will be the right fit in representing a product or a service, especially when it comes to technology," says Marie Fincher, the head of content marketing at TrustMyPaper. 
Efir, a Moscow-based blockchain startup, strives to solve this problem. Their blockchain-based peer-to-peer platform connects advertisers with bloggers, who are categorized by platform, outreach, and other characteristics. 
Users can also view the top influencers on the platform, including influencers with the most subscribers. You can also do a localized search to find an influencer that has an audience situated in the location of your interest. 
This platform can also help you find contributing writers to your website, who have partnered with other online resources, like Grammarly, BestEssay Education, or SupremeDissertations. It is a great way to find regular contributors to your website to increase traffic and conversions. 
What to expect from Efir this year?
The platform strives to increase the value of the startup's tokens through collaboration with bloggers and influencers. That is why they are constantly updating their database of influencers to help companies find the perfect match for their marketing campaigns.
There are also improvements coming to the smart contracts feature involving the QZ token as tender to help secure payments inside the platform.
Wrapping Up
Although the current pandemic brings us a lot of hurdles, it doesn't stop the blockchain technology from penetrating different industries.
We expect blockchain technology to impact healthcare the most, as this area needs rapid changes and improvements to adjust to the current pandemic and to keep performing at its highest capacity. Ventures like Cliniko with their Telehealth feature are among the top solutions that can help transform the future of healthcare.
Along with that, blockchain continues disrupting the e-commerce industry in many ways. OPSkins has become one of the surprise applications of blockchain in e-commerce, allowing gamers to purchase and sell items with cryptocurrency on a secured platform.
And, of course, our list of top 3 promising blockchain projects to keep track of in 2020 wouldn't be complete without Efir and their blockchain-based platform that connects advertisers with influencers, thus helping companies find the best bloggers to represent their product and changing the landscape of influencer marketing. 
Author bio: Angela Baker is a professional writer, a blogger at Studicus, and a contributing editor at GrabMyEssay. She also has her own blog, where she writes about innovations in technology and their impact on digital marketing.