The once face of Cryptocurrency in India, Amit Bharadwaj, has been nabbed in Thailand. Bharadwaj was the founder of GainBitcoin which duped many people out of their money to gather as much as $300 million (INR 2000 Crore).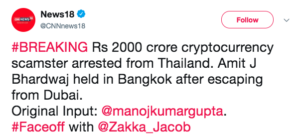 He had been on a run, wandering from one place to another to escape confrontation. He was in Dubai for a year to escape confrontation with the Indian police regarding the scam. In fact last week, after giving a slip to security forces in Dubai by faking a heart attack, he fled to Bangkok, Thailand.
The Indian government had to collaborate with the government of Thailand to bring him back into the country. At the moment, he is enroute to Pune. Only a few hours back, Pune Police has confirmed this news, by sharing a tweet on the said news.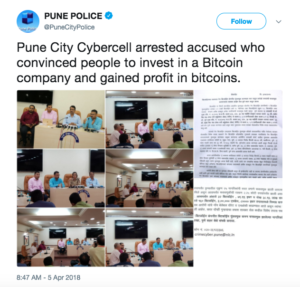 Amit Bharadwaj was also reported to have terrorist links, notably with the ISI.
An investor who put is money in Amit Bhardwaj's said Ponzi Scheme, said,
"He said the mining pool of the Company is in China and for every contract, we buy by paying 1 Bitcoin, the Company would pay us 0.1 BTC for 18 months. But we never got any Bitcoins even after 18 months "
Apart from that, the company moved on to more ventures and created MCAP Tokens. MCAP tokens were valued at $5 during the ICO and miners were given an option to accept the payout in the form of MCAP tokens. But a few months back, the users were no longer given a choice. The payouts were only in the form of MCAP tokens.
But the biggest fraud is in the valuation of MCAP. The company values MCAP token many times higher than the market price.
This arrest should definitely come as a warning to the fraudulent people who try to mislead the people and swindle people through their deceptive schemes.
KryptoMoney.com publishes latest news and updates about Bitcoin, Blockchain Technology ,Cryptocurrencies and upcoming ICO's.