A cryptocurrency wallet is one of the must-have items once you start mining or trading digital currencies. If this is your first time hearing about it, a crypto wallet is a software that helps you to store, send, and receive digital currencies.
Every cryptocurrency wallet consists of a private key and a public key. Your private key is like your PIN. You should never disclose it to anyone. On the other hand, you have to disclose your public key whenever you want to send or receive money from and to your wallet.
In this post, we will explore the top multi-cryptocurrency wallets you should consider. The awesome thing about a multi-crypto wallet is that you can use them to store more than one cryptocurrency.
So, without further ado, let's get started:
1. Guarda Wallet
Guarda Wallet is a hot multi-currency wallet that is available on all the platforms: Web, Desktop (MacOS, Windows, Linux), Mobile (IOS, Android), and Chrome Extension versions. The mobile app was recently updated with some nice features like more coins for staking, online chat with support, new fiat currencies for buying, filter options for wallets, and much more.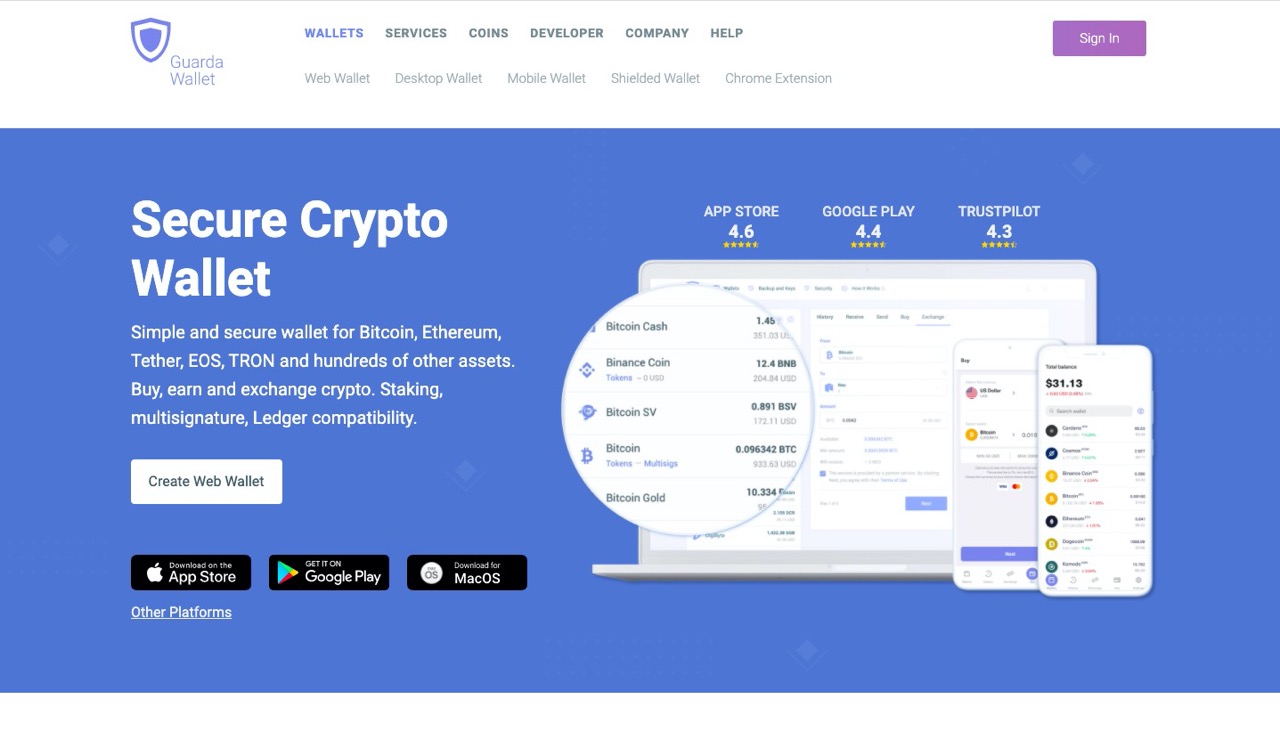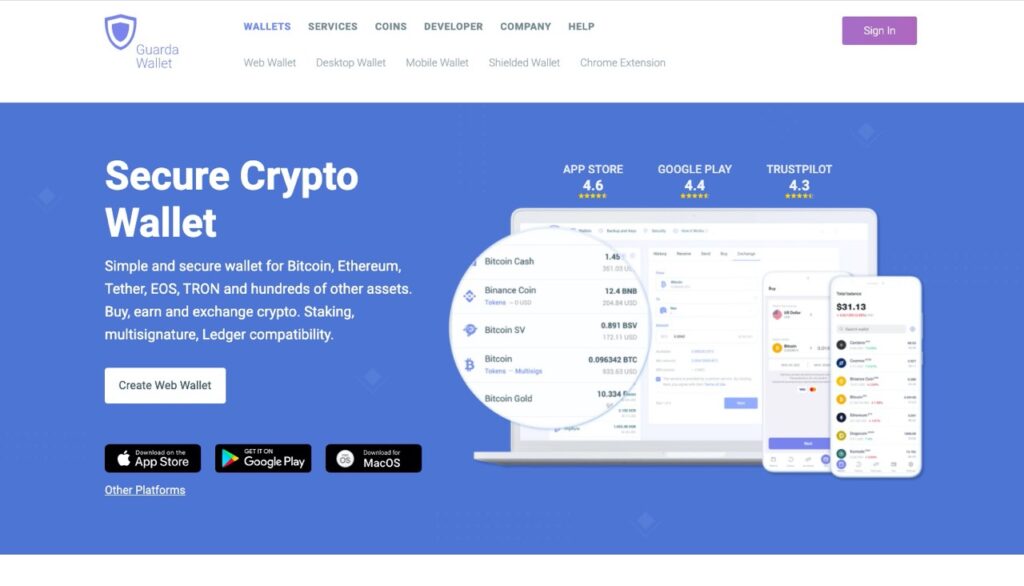 A great thing about the wallet is that it is non-custodial, which means only users have access to their funds. Guarda supports 45+ coins and 10k+ tokens. Built-in services let users exchange and buy crypto inside the wallet. One more thing worth mentioning is that Guarda supports currency-specific features like staking, delegation. Also, multisignature functionality for BTC is supported on Guarda Wallet, which makes it the first multi-currency wallet to support the feature. Thanks to the support of Unstoppable Domains, FIO protocol, and ENS, users can create human-readable addresses with memorable names, which makes the crypto management even simpler.
2. Coinbox Wallet
CoinBox is one of the most reliable and secure exchanges in the crypto world, having the broadest selection of crypto coins. In addition to the top 100 cryptocurrencies, including the most popular ones, like Bitcoin, Ethereum, XRP, and others, CoinBox also supports any ERC20 tokens. In total, the number of available coins that users can buy, sell, and exchange now exceeds 1,500.CoinBox positions itself as a cloud-based mobile and desktop cryptocurrency storage and exchange app with a focus on security, speed, and convenience. This platform creates comfortable conditions for carrying out any operations with cryptocurrency and monitoring the prices of all cryptocurrencies and tokens.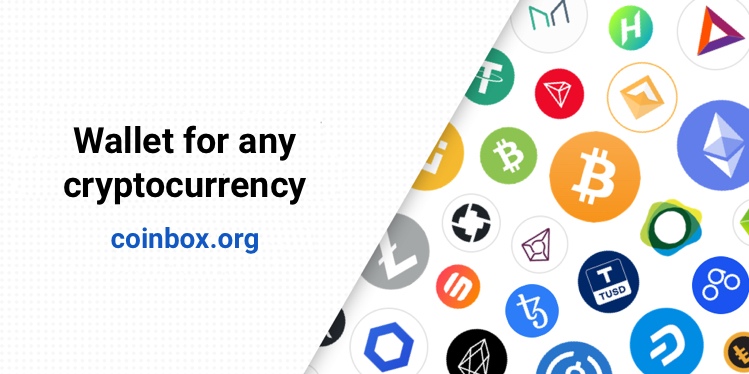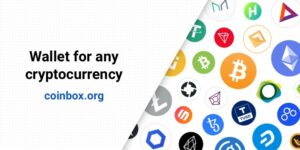 The service is ideal for buying, selling, exchanging, and storing coins without any restrictions and limits. Recently there was an opportunity to sell crypto to your bank account via SEPA directly from your wallet. The exchange has a unique affiliate program, which gives the opportunity to receive up to 45% commission of the user's friends' transactions. The user just needs to send his referral code to his friends so that they can use it when signing up.
3. LedgerNanoS
Top on our list of five best multi-cryptocurrency wallets in 2019 is Ledger Nano S. this crypto wallet is also among the most trusted wallets in the market.
It is built like a USB stick that can store up to thirty different cryptocurrencies. The hack-proof and malware-free design make Ledger Nano S the safest crypto wallet to use.
4. LedgerBlue
Here is another multi-crypto wallet made by the makers of ledger Nano S. Just like Ledger Nano S, Ledger Blue ranks high on the list of most secure multi-crypto wallets.
The wallet is designed to look like a mini-tablet that provides entertainment on top of keeping your cryptocurrencies safe. You can use it to store twenty different crypto coins, including NEO, Ethereum, Ethereum Classic, Stratis, Ripple, and ARK.
5. Trezzor
Trezzor is mostly a Bitcoin wallet, but it supports 14 other cryptocurrencies.
The wallet comes with top of the range security features such as pin options and a seed key to help you recover your account in case you lose it.
To add to the security features, your Trezzor USB device is always switched off anytime it's not connected to a device.
6. Jaxx
Although Jaxx is new to the crypto- wallet world, its robust security features make it one of the top multi-crypto wallets for 2019.
Jaxx has multiple compatibility options, including a chrome extension, an android app, a desktop app, and an iOS app. You can currently use this wallet to store Bitcoin, Dash, Ethereum, Ethereum Classic, DAO, Bitcoin Cash, Litecoin, and REP.
With Jaxx, you have total control over your cryptocurrencies. You also have access to other features such as converting one crypto coin to another. For now, you can convert Bitcoin, DAO, and Ethereum.
7. Keepkey
Keepkey is a secure multi-crypto wallet that you can use to store different crypto coins such as Dash, Bitcoin, Dogecoin, Litecoin, Namecoin, and Ethereum.
The makers of keep key claim that the multi-crypto wallet is not only hacker-proof; it is also free from any malware and viruses. It is therefore one of the best alternatives for users.
8. eToro Wallet
To crown, our list is the eToro Wallet operated by eToro X Limited, a company incorporated under the laws of Gibraltar and licensed by the Gibraltar Financial Services Commission. This "https://www.etorox.com/crypto-wallet/" multi-cryptocurrency wallet is secure, regulated, and available to all, to buy, store, and transfer digital assets easily and safely.
What's more, the eToro Wallet has a user-friendly interface and is compatible with a variety of devices. The wallet supports numerous crypto assets including Bitcoin, Ethereum, BCH, EURX, Ripple, GBPX, LTC, JPYX, and USDEX. 
You can use eToro Wallet to purchase crypto using a credit card, directly convert between supported digital assets, take advantage of the unlosable Private Key, and utilize eToro's ever-growing list of tokens.
Final word
Finding a great cryptocurrency can be a daunting process. While this is not an exhaustive list, these are some of the top multi-cryptocurrency wallets for 2019. We hope this article helps you find a secure multi-cryptocurrency wallet for your needs.
If you have any questions or would like to share your thoughts, feel free to leave a comment below.
Image credit: Pexels