Chris Burniske, a New York Venture Capitalist and author of best-selling book 'cryptoassets'
 believes that the current rock-bottom state of  Bitcoin (BTC) and Ethereum (ETH) could be the best time invest in the ecosystem.
According to Burniske's fundamental analysis of the market, both BTC and ETH have spiralled far lower than any decrease in key fundamental indicators.  The Co-founder of the New York Venture Capital firm, Placeholder, asserts that crypto assets can be assessed fundamentally by measuring the demand and supply indicators like the hash rates, daily transactions, estimated daily transaction value and the daily unique addresses or total daily gas being used.
He adds
"Fundamentals of quality crypto networks are down less than prices, and significantly so,"
Burniske outlines in a Medium post, three reasons for why he believes Bitcoin fundamentals and Ethereum fundamentals are stronger than prices suggest.
Hash Rates
In comparison to when they were at their peaks, the hash rate for both BTC and ETH is higher now.  Burniske warns that even with this particular supply-side fundamental currently outperforming price, it's a  lagging indicator. He elaborates:
"Both Bitcoin and Ethereum's hash rates are on negative slopes which requires us to keep a close eye on them. It would be good to look at the number of nodes supporting the network, and miner revenues for both networks (transaction fees + block subsidy)".
Daily Transactions
Notably, while the overall network value of both the tokens has slid considerably, the number of daily transactions has been marginally stable. He illustrated the same with two graphs in his post: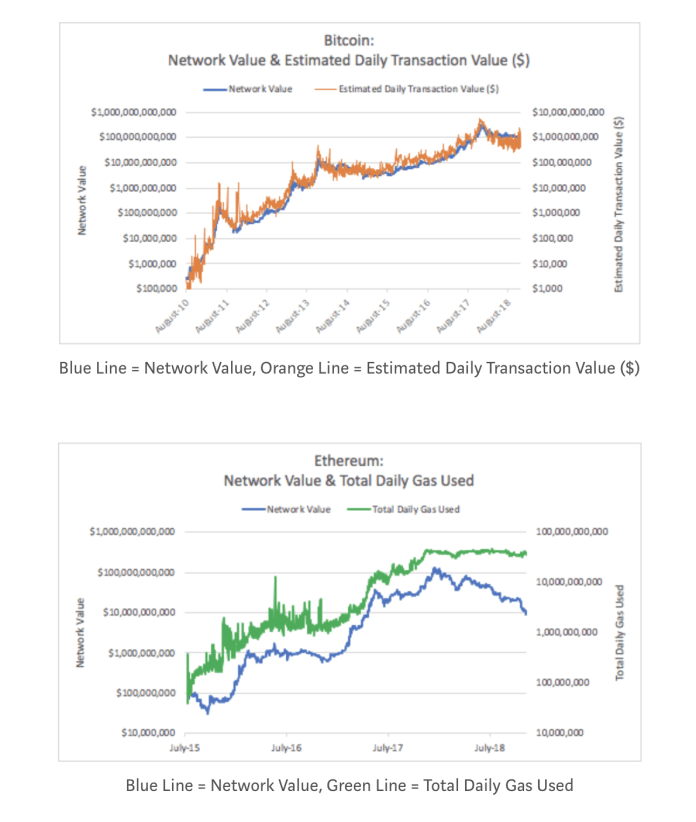 He states:
"From peak, Bitcoin's and Ethereum's network values are down 81% and 93%, respectively, whereas daily number of transaction are only down 41% and 52%".
Transaction Value & Ethereum Gas Used
Burniske points out that even with ETH losing its network value by  93% since its peak, the gas usage illustrates that the demand for its native functionalities has only dropped by 7%. He infers:
"Developers and consumers using Ethereum's smart contracts continue mostly unabated."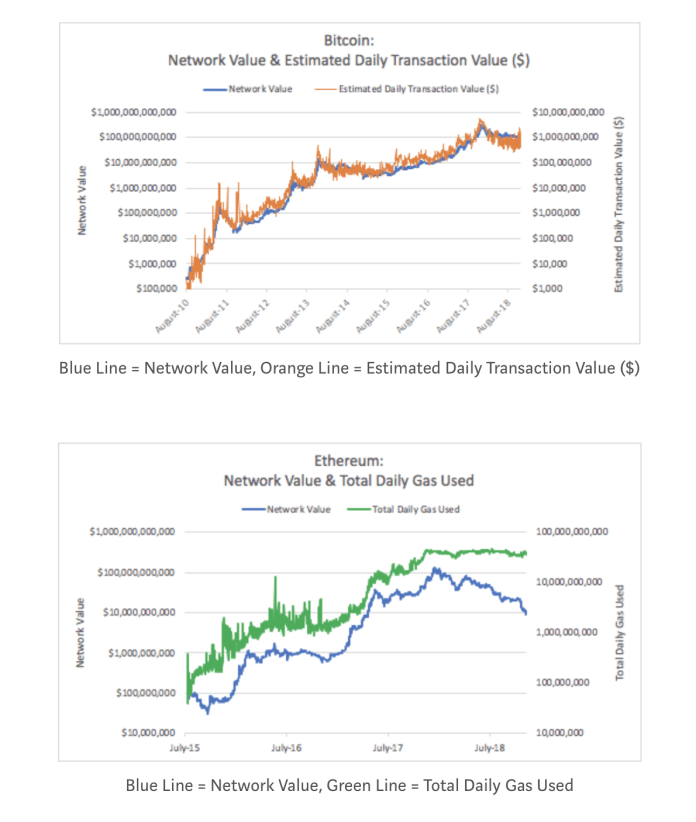 On the other hand, Bitcoin has seen its daily transaction value decrease by 74% – more in line with its network value drop of 81%.
Read more: Bitcoin Short Positions Record Their All-Time High As Price Points Continue To Dip