At press time, as seen on CoinMarketCap, the price of Cardano's native ADA altcoin is trading at $0.0270, with a market capitalization of $696.967.137. The sudden collapse of Bitcoin has lowered the crypto industry's aggregate market cap to about $155 billion low. Additionally, ADA registered another plunge, with its peer coins dropping deeper into the bearish zone. In the last 24 hours, it was down 32.33 percent, which reduced its present value to $0.0270. Cardano's co-founder Charles Hoskinson addressed a brief update to the Cardano (ADA) blockchain project research paper on Ouroboros Hydra, a proof of stake algorithm (PoS) which is a significant milestone in the development of the Cardano distributed ledger as it marks the fifth anniversary.
*The price traded at a low of $0.0170, and it is currently consolidating losses
*A sudden collapse of BTC brought ADA/USD into charting consecutive red sessions
*Charles Hoskinson discussed a brief update to Cardano (ADA) blockchain project research paper on Ouroboros Hydra
Key Levels
Resistance Levels: $0.0517, $0.0457, $0.0298
Support Levels: $0.0170, $0.0150, $0.0120
ADA/USD Daily Chart: Bearish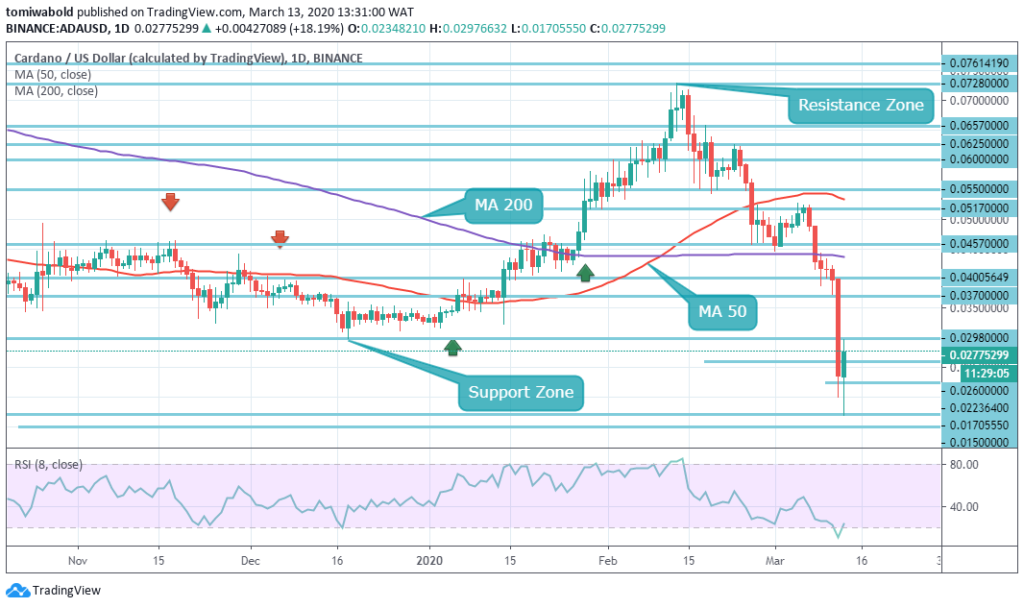 Cardano's price extended its fall versus the US Dollar after settling beneath the $0.0517 resistance level. The ADA/USD pair broke the level of $0.0457 support turned resistance and settled well beneath the daily 200 moving average.
At last, there was a plunge beneath the level of $0.0400 and the pair traded as low as $0.0170, It is currently consolidating the losses and trading past the level of $0.0270. The extended bearish trend remained firmly intact, reaffirmed at sub-$0.0260 level by the extended reversal.
ADA/USD 4-Hour Chart: Bearish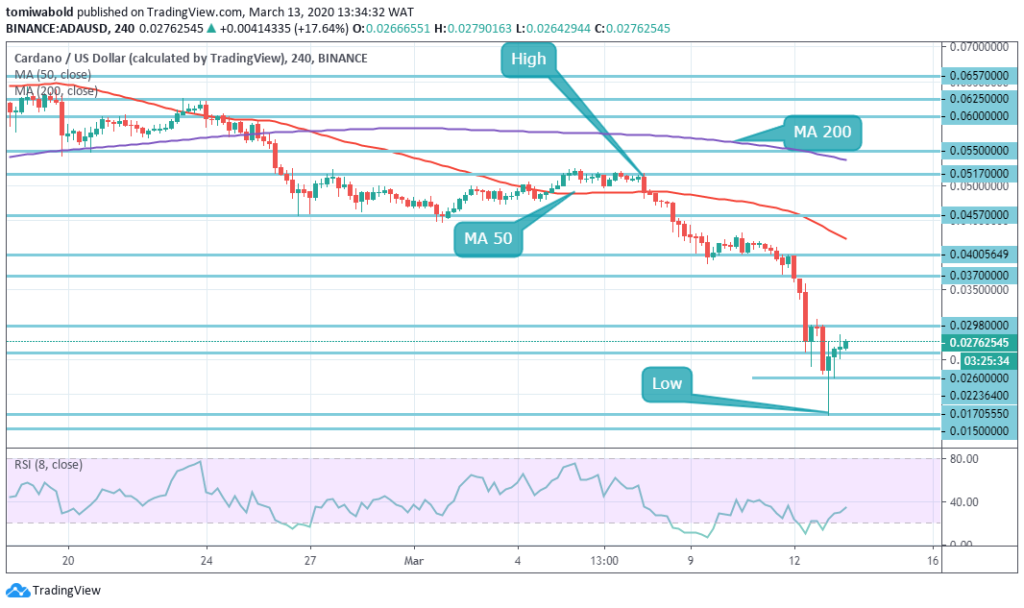 Cardano's ADA has fallen in the last 24 hours by 32.33 percent. As the intraday now partially reverses the drop from the low level registered today at $0.01705 level, Cardano's ADA ended the previous day at the level of $0.0234 suggesting that the pair is likely to retrace its recent fall.
Particularly choppy through the morning, Cardano's ADA dropped from $0.0276 level intraday high and traded down to a low of $0.2236 level intra-day mid-morning. While Cardano's ADA sought to support early in the session, Cardano's ADA managed to bounce back to $0.0286 level given the choppy morning. A late pullback though could leave Cardano's ADA in the red for the day.
Image Credit: Shutterstock