A few weeks from now, miners are in preparation for three halvings. The first two which is set to happen in the upcoming week from Bitcoin offshoots is the block reward halving events on two hard forks, Bitcoin Cash (BCH) and Bitcoin SV (BSV) in which most believe this will cause miners' switch to the Bitcoin network. Bitcoin's halving event which will happen in about 40 days will see block reward cut from 12.5 BTC to 6.25 BTC. A school of thought believes Bitcoin's brutal crash in March may have dampened Miner's enthusiasm as BTC hash rate plunged subsequently by 45%.
For much of last week, the largest crypto asset was on its recovery course, rising over 3% in USD pairing.
Bulls in Bitcoin claimed the territory of $6,500 and tested regions even past the $7,000 price level.
Although, the bulls could not propel it further as it ran out of steam. It experienced a strong rejection which pushed it down to its recent levels. At the time of writing, BTC is exchanging hands at $6,850.
Why Bitcoin May Re-attain Its ATH of $20,000 Soon
In the last few weeks, crypto-analysts, as well as several crypto-enthusiast, have re-echoed the prediction of Bitcoin attaining and surpassing its All-time high of $20,000 by the year 2021 which is almost 200% increase of its recent price of $6,850.
This school of thought is viewed by Mike Novogratz CEO of Galaxy Digital, Raoul Pal and Dan Morehead of Pantera Capital.
Mathematically as presented by S2F inventor PlanB, there exists a possibility of the crypto asset reaching the $20k mark.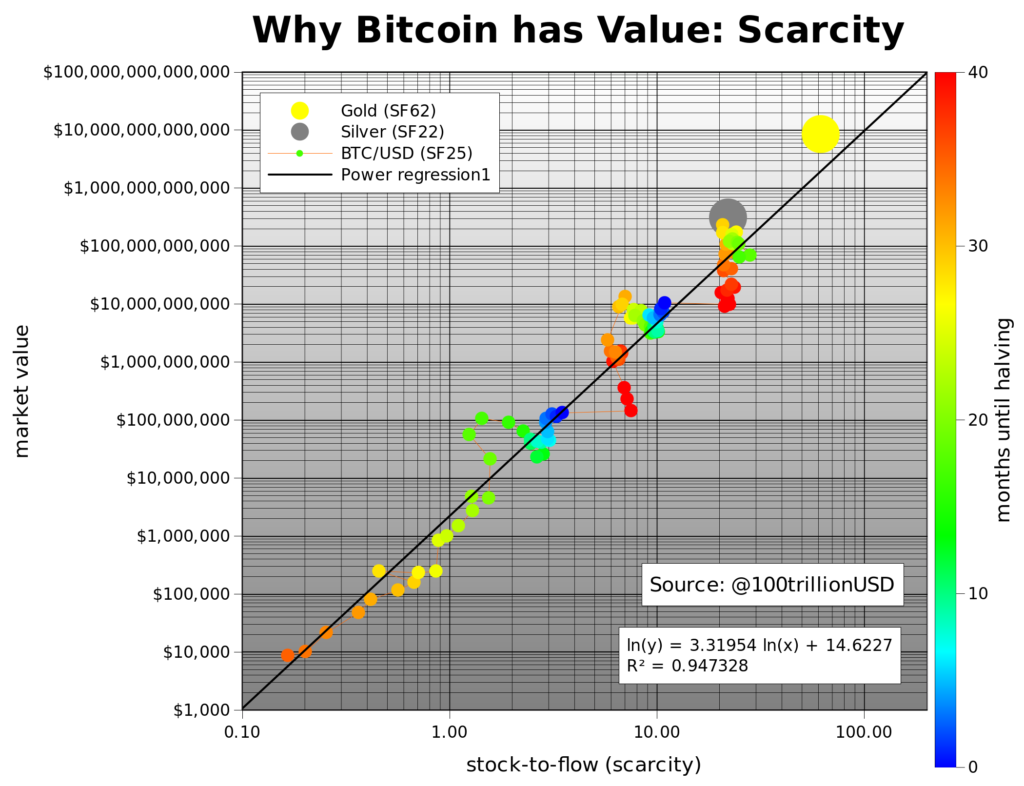 In an article dated March 2019, PlanB explained in a chart tagged "Why Bitcoin has Value: Scarcity" that the value of all coins in aggregate can be deduced by its scarcity. The Scarcity according to PlanB could be inferred by the stock-to-flow ratio, as the name refers is the amount of an asset's above-ground supply (stock) to the amount of the asset minted in a year (flow).
PlanB model predicts a steady rise in price which will bring the top asset price after the halving event to $50,000 to $100,000.
The Ifs: A Bearish Stock Market
Chris Burniske of Placeholder Capital sees a bearish stock market as an impediment to Bitcoin retesting its ATH of $20,000. He sees that if the same scenario that played out on March 12th when BTC had a brutal crash in which it tested lows of $3,000 happens again, Bitcoin may test lows in the $5,000s, $4,000s and $3,000s levels which will be followed in tandem with the rest of the cryptomarket.
However, BTC's recovery in the past few days seemed to suggest a gradual decoupling from the equities market, while BTC's safe-haven status remained debatable.
Image Credit: PlanB Twitter, Shutterstock