AITrading makes wealth management accessible to everyone
AITrading, the blockchain based trading platform which enables transparent trading operations in a single click had recently has announced Crowdfunding Campaign. The campaign will help the organisation to raise funds for its trading platform that combines and facilitates interactions of market newcomers, professional traders, trading consultants, brokers and leading exchanges. AITrading uses Artificial Intelligence and Machine Learning technologies for smooth and efficient trading.
AITrading constantly identifies trading opportunities by monitoring unusual trading activity, recognizing patterns and conducting quantitative analysis. The platform also considers the user's preference and risk tolerance and accordingly recommends the most appropriate course of action (supporting them by visual instruments such as trend lines).
Based on Artificial Intelligence (AI), the AITrading platform elaborates and recommends the range of trading strategies balancing the profit/risk level. The trader just needs to choose the strategy from a list of suggestions, evaluate it using backtesting and  if it suits their goals, accept and follow it.
In addition, the AITrading platform also builds investment portfolios and suggests them to it's users. It utilizes both non-traditional Big Data sources as sentiment data for AI-based analytics and traditional Technical Analysis (TA) and Fundamental Analysis (FA). Moreover AITradingoffers the access to AI-engine analytical functionality (AI-as-a-Service, AIaaS) to third parties (B2B).
"Being an active trader on stock market often means staying with your laptop or mobile device all the time. There is always a risk of losing money in the case of a poor quality trading idea assessment or inappropriate selection of a trading strategy. AITrading clearly has a better idea. The technology is unprecedentedly transparent and democratic. It works 24/7 discovering trading ideas and formulating trading strategies which are available to the whole trading community, but not only to large funds and banks. So AITrading establishes a new approach to exchange trading market and enhances the business model of financial institutions enabling quick and seamless scalability to all financial markets."
The team has already announced the details of the crowdfunding stages. AITrading is raising funds based on the pre-sale of future access to the information service of the platform. As confirmation of the prepayment, AITrading will issue the AITT tokens (ERC-20 standard).
The pre-sale is starting on June 10, 2018 and will last until July 05, 2018. The main stage will take place from July 06, 2018 till August 18, 2018.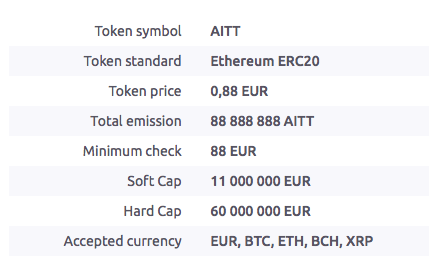 One AITT token corresponds to a prepayment of €0.88. The minimum acceptable prepayment is €88. The company anticipates to  raise up to €60 million, with 34,5 percent of the accumulated sum to be invested in a product development, 26,5 percent to support infrastructure, security and integration and 27 percent to be spent on marketing & PR.
What is AITrading?
AITrading is a cutting-edge trading ecosystem that combines and facilitates interactions of market newcomers, professional traders, trading consultants, brokers, and leading exchanges. This is based on Blockchain, Artificial Intelligence and Machine Learning technologies, enabling transparent trading operations in "one click".
How does AITrading works?
Scans the market in 24/7 mode, develops and suggests trading ideas and strategies.
Provides easy-to-use and convenient access to numerous exchanges and brokers.
Provides transparency of interactions of all ecosystem participants empowered by blockchain technology.
What is the result?
AITrading establishes the new approach to exchange trading market and fully disrupts the business model of financial institutions enabling quick and seamless scalability to all financial markets.
About AITrading
 is an AI-powered trading ecosystem. It has both web-interfaced solution and a mobile app. AITrading aggregates 4 basic components making wealth management extremely easy and efficient: Machine Analytics, Trading Infrastructure, Marketplace Community and Modern Interface. Combination of these services on a single platform powered by artificial intelligence (AI) engine and blockchain technology creates an outstanding synergetic effect, which unveils the trading opportunities that did not previously exist. AITrading offers service across four different markets: cryptocurrencies and crypto assets, forex, equity, and commodity.
Team Behind AITrading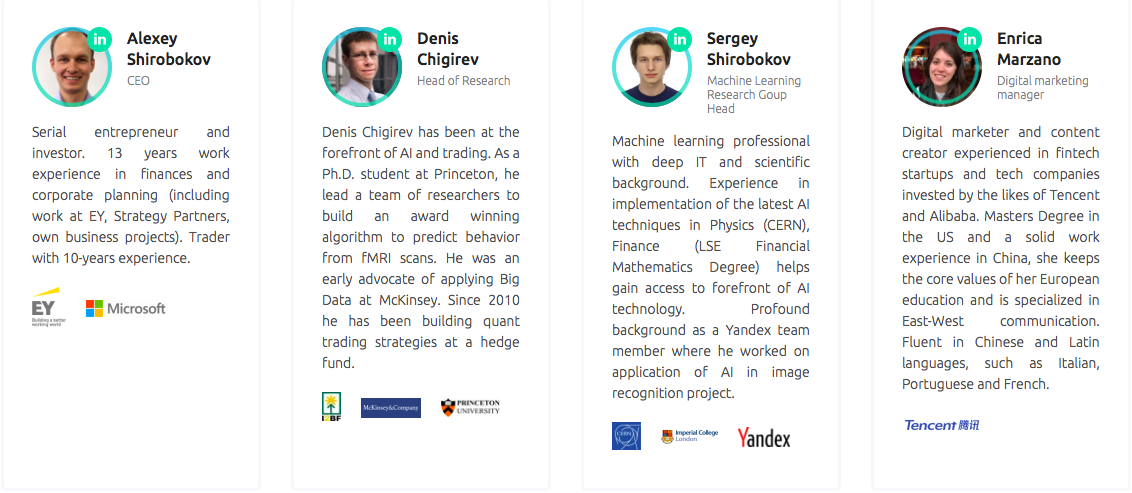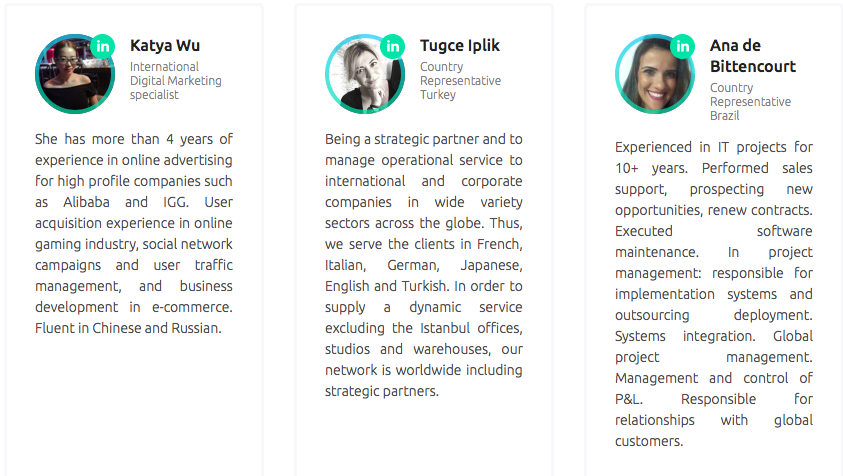 More details about the platform AITrading and the crowdfunding campaign of the project can be found at the  
Chat with the AITrading team on Telegram: https://t.me/joinchat/H6hTGETpsCl8BPhQL01VtQ
Telegram news: https://t.me/aitrading_en
Follow AITrading on Twitter: https://twitter.com/aitrading_com
Follow AITrading on Facebook: https://www.facebook.com/aitrading.official/
Check out AITrading on Instagram: https://instagram.com/aitrading_official
Learn more about AITrading on Medium: https://medium.com/aitrading
Reddit: https://www.reddit.com/user/aitrading
LinkedIn:
KryptoMoney.com publishes latest news and updates about Bitcoin, Blockchain Technology, Cryptocurrencies and upcoming ICO's.