Alluma, the new brand cryptocurrency exchange especially curated for the emerging markets in Asia has now stepped up its game to evolve and involve more and more Crypto enthusiasts on its platform. The first of its kind institutional grade platform invites newcomers & crypto pros for a back to back crypto trading competition named as the Alluma Trading Grand Prix. 
Alluma invites Allumanauts, a term used to describe Alluma users, for a massive back to back crypto trading competitions for 8 whole weeks!! The platform will be introducing 8 new tokens during this AllumaTrading Grad Prix, that will be held from August 31st through Oct 25th. Any competition is incomplete without the perfect rewards and thus, Alluma cryptocurrency exchanges offers a huge reward of $40,000+ reward pool.  
 Alluma Crypto Trading Grand Prix
Well, not just the rewards the competition in itself is quite impressively built. During the span of 8 weeks, a new token will be introduced each week along with a new competition for a chance to win the respective token.
When?
The Alluma Crypto trading Grand Prix was started on 31 August 2018 and will last till October 25, 2018.
How?
A new token will be added to the Alluma Cryptocurrency Exchange every Friday, the details of the trading competition exclusively for that token will be launched simultaneously. As of now, the Alluma Crypto Trading Competition is live with cryptocurrency – "FUEL"
Rules and Regulations
A new contest begins Every Fridays at 12 pm IST (GMT+5:30) and will run through the following Thursday till 8 pm IST (GMT+5:30)
To be eligible for the weekly competition participant traders must trade at least $1,000 worth of the token.
Participants must have a verified Alluma ID.
In case of a Referral, participants must complete their ID verification for the trade volume to be counted.
No wash trading! Trading between yourself is not allowed, the platform will keep a track of the same to keep the competition as fair as possible.
Hot streak bonus limited to first 50 traders to qualify in consecutive contests.
For more details about the contest rules, click here. 
Rewards
The top 10 traders of each week's competition will be eligible for the Weekly Winners Circle with rewards up to ~$2,500. The reward will be a mix of the week's token and LUMA.
Over and above the weekly contests, the top 3 traders overall in the Trading Grand Prix will be eligible for the Grand Prix Winners Circle with rewards up to $7,000+. The reward will be a mix of BTC and LUMA tokens.
Referral Bonus
To enjoy additional bonuses, Invite your friends to join Alluma and 10% of your referrals trade volume will be added to your total during each weekly contest.
Qualifying Bonus
The participants earn an assured 500 LUMA token bonus for each competition they qualify for. An individual can earn up to 4,000 LUMA in total bonus, upon qualifying all 8 trading competitions. Do note: to qualify the participants must trade at least $1,000 worth of weekly tokens during the competition period.
Current Trading Competition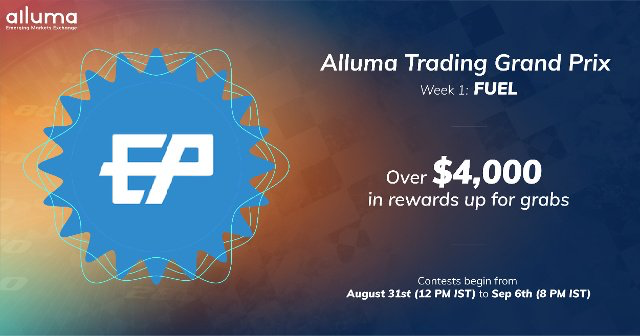 "https://go.alluma.io/tradinggp/fuel" target="_blank" rel="noopener noreferrer">Week 1 Token: FUEL
Begins: Friday, 31st Aug, 12 PM IST (GMT+5:30) –  Ends: Thursday, 6th Sept, 8PM IST (GMT+5:30)
About Fuel:
FUEL cryptocurrency powers the Etherparty platform, a user-friendly platform that removes the complexity of smart contract programming and enables users with zero knowledge of smart contracts to create, run, and manage digital agreements for all types of transactions. FUEL token is essential to access and conduct tasks such as managing the contract library, security testing, the network fees, and monitoring of all parts of the entire smart contract process.
For more information about the Competiton visit: Alluma Trading Grand Prix official page
Also Read: Alluma Cryptocurrency Exchange Launches Android Mobile App