Decentralized exchanges (DEXs) are a fascinating but yet promising aspect of the crypto sphere. DEXs whose popularity soared in the latter part of 2018 has seen tremendous growth since then in volumes and adoption coupled with an improved knowledge of how they run.

Decentralized Exchange by definition refers to an exchange market that does not rely on a third-party service to hold the customer's funds. Instead, trades occur directly between users (peer-to-peer) through an automated process while protecting user privacy.

Although ERC20 token trading platforms make up a larger chunk of all DEXs, with the advent of Ethereum decentralized finance (DeFi), more fascinating decentralized exchanges have emerged.

DEXs account for a meager 0.5% of cryptocurrency volumes globally which shows DEXs still have a long way to go as regards volume and price discovery.

Some decentralized exchanges of prominence are AirSwap (AST), Khyber Network (KNC), Loopring (LRC) while 0x (ZRX) became popular after the media blitz that surrounded its ICO in 2017.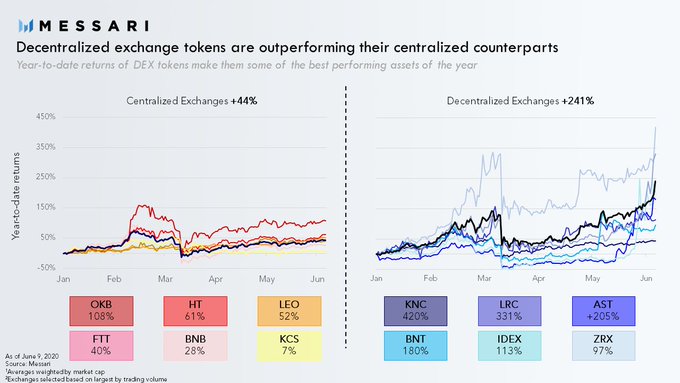 Year-to-Date Returns of DEX Tokens, Source: Messari
As of recent, DEX tokens seemed to have hit it big as recent findings indicate investors are betting on the long-term spurt of DEXs which seem poised for a massive eruption. Messari, an on-chain analytics company noted that DEX tokens have hauled in 5x many gains while compared to their centralized counterparts (CEXs).
Recent Findings Indicate DEXs Have an Average of 240% Gains, Recording 5 Times "Spot" Volume Increase
In on-chain analytics firm, Messari recent analysis which compared year to date returns of DEX tokens with their centralized counterparts, six major DEXs were placed side by side with six CEXs counterparts. Khyber Network (KNC) took the lead of DEXs by having gains of 420% while OKB took the lead of CEXs by having gains of 108%.

The rest of the DEXs compared, AirSwap (AST), Loopring (LRC), (ZRX), BNT, and IDEX had gains ranging from 331% to 97%. On the average, it was deduced that DEX tokens yielded 240% gains while their CEXs counterpart had an average of 40%, indicating DEXs had five times multiple gains of their CEX counterparts.

KNC gains seem to be extended as it rose by 50% in the last two days while Loopring rose by 10%. The same could not be said of Binance's BNB which rather fell by nearly 9%.

Messari also indicated in its recent analysis that the average "spot" volumes on DEXs rose to $25 million which is five times $5 million volume it started the year with.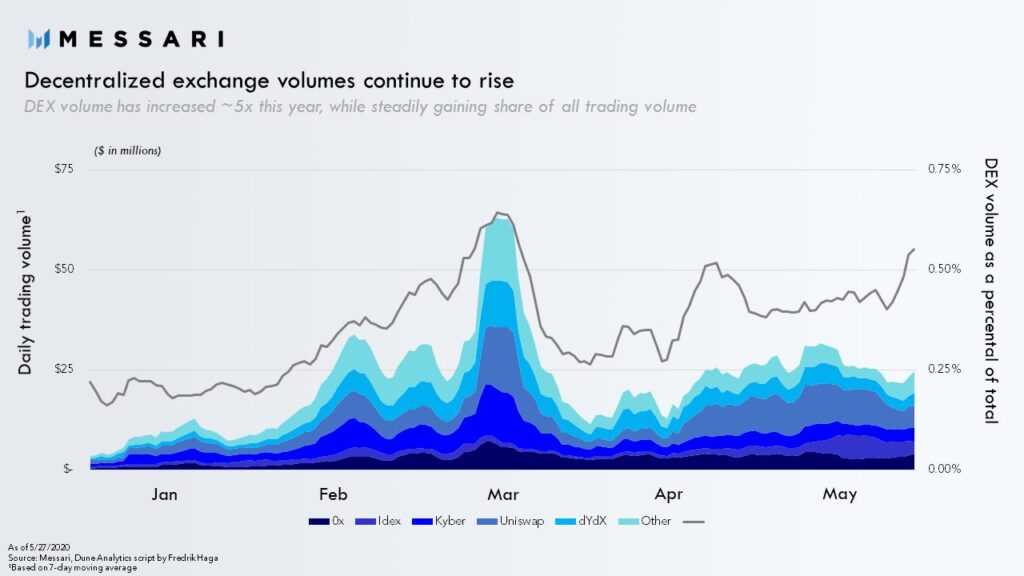 DEX Volume Has Increased 5X This Year, Source: Messari
As regards price discovery, on-chain analytics, Messari indicated that DEX aggregators are offering tight quotes both for investors and traders alike, by spreading token swaps across several DEXs. Also, most DEX tokens are either in the process of ramping up protocol upgrades or are undergoing upgrades at the moment which is seen to enhance scalability and competitive volume in the long run.

Messari's research analyst Jack Purdy added:
"These include radically altered token economics to provide more liquidity incentives as well as scalability upgrades through zk-SNARKs and optimistic rollups"
Despite all these positivities, individual coin volumes on DEX tokens are still significantly small which implies that just one huge order could ramp up token prices therefore not making the tokens rewarding for big investors at the moment.
Image Credit: Messari, Shutterstock