Hedera Hashgraph, a digital asset that uses Google as its cloud provider had upsurged by 300% making it one of the foremost cryptocurrencies to record such tremendous gains within a 48-hour range this year.
The interesting fact about this crypto asset is that in comparison with the likes of Bitcoin and Ethereum, it is relatively unknown.
Hedera, a distributed ledger technology project firmly established in the enterprise sphere deploys a Hashgraph-supported consensus algorithm to permit several branching of block units, as averse to a single chain.
Hedera Hashgraph shot up by 300% within the last 48 hours to touch an ATH. This comes subsequently from its recent partnership with Google. In the partnership terms, Google becomes one of the project's governance council while also hosting the project's public Testnets and Hedera Consensus Service Ecosystem.
Analysts opinionated that the same scenario that played out in 2017 while BTC fostered a bullish market causing altcoins to rally may be happening at the moment in the market. Hedera Hashgraph seemed to leverage on this fact nearing $0.085 high from a previous weekly low of $0.019.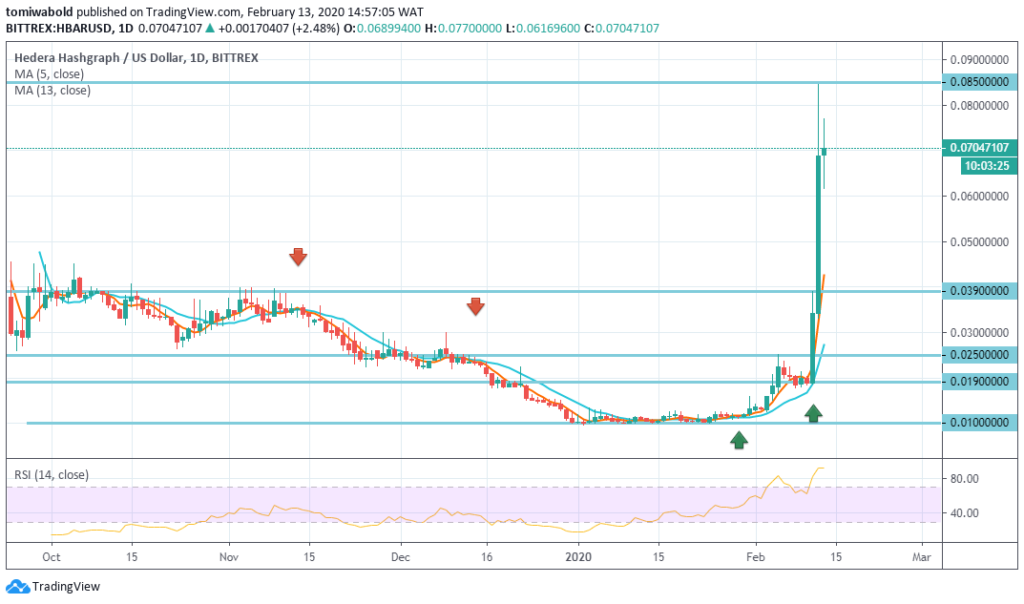 Another interesting fact is that when "Hedera Hashgraph" was entered into SEO, past results gave an inkling that the asset may experience its recent upsurge, this indicator which is the Google Trends Data now suggests an imminent pullback.
At the time of this report, the asset sits at $0.070 after experiencing a slight pullback. In all, the crypto asset is seen to be doing well as it is up by 90% on the daily chart and almost 200% up from the weekly lows.
The Indicator Suggests a Pullback
An indicator that uses the search volume for the key phrase "Hedera Hashgraph" dubbed as Google Trends Data suggests a pullback could be imminent.
An analyst who has been following closely on the Google Trends Data noted that the indicator forecasted with a measure of accuracy, the digital asset's rally which started February 11th.
He noted that search results for the "Hedera Hashgraph" are plunging over again indicating that the digital asset may soon experience a pullback leading to a reduction in price.
The Debut of the Predicted "Altseason"
Hedera Hashgraph's recent rally is quite significant as analysts opinionated that it may be the debut of the so much talked about "Altseason". However, Hedera Hashgraph seems to have posted its gains already for 2020 after it marked 300% within a 48-hour time frame.
Image Credit: Shutterstock