Earlier on in the week, top cryptocurrency by market cap, Bitcoin, rallied past $10,400 in a bull run many alluded to the recent monetary policies enacted by most governments around the world to curb the harsh economic effects induced by the coronavirus pandemic.

Bitcoin's surge past $10,400 also depicted rekindled investors' hope towards a bull run in the wake of Bitcoin's recent halving, but surprisingly it went into oblivion as traders "whacked the beehive" with Bitcoin plunging over 17% within 15 minutes to as low as $8,600 on BitMEX the following day. Some attributed this massive decline to the activities of crypto whales who moved their funds away.

Though Bitcoin's harsh $1,500 rejection at a key $10,500 critical handle in the crypto asset's history remains fresh, analysts have however remained bullish with Bitcoin's long term trend. Many have predicted Bitcoin's price trading from $10,000 to as high as $300,000 in the long run.

Bitcoin (BTC) is at the moment trading at $9,680, consolidating within the $9,200 mid-region in the last few days.
How Far Can BTC Bulls Take Its Price?
With so many predictions regarding Bitcoin's longterm trend, analysts have maintained bullishness concerning the top asset's price shortly.

Pseudonymous analyst and stock to flow model creator "PlanB" discovered that the "fair" value of BTC could be likely correlated to its level of scarcity. The higher the BTC scarcity, the greater its fair value should be.

Image of the Stock to Flow Model New Iteration From PlanB. Forecasts BTC Rising Approx $288,000 in the Next Cycle
This correlation is presented on an exponential scale which was plotted by PlanB who discovered that by abstracting time from the model, a model that touts an R squared of well over 99% could be created. The S2F model creator suggests that Bitcoin (BTC) will jump to a price of $288,000 within the next 5 years or more.

Adam Back, CEO of Blockstream sees Bitcoin climbing to $300,000 in the next five years, this he stated in a recent Bloomberg interview.
Bitcoin Miners Have a Reason to Rejoice
Bitcoin whose genesis could be traced to 2009, had its 7th largest negative difficulty adjustment ever recorded. This came subsequently after it earlier had mining difficulty adjustment weeks ago.

After the halving, Miners had their revenues halved from 12.5 BTC to 6.25 BTC which dealt an excruciating blow in which some had to turn off their mining equipment to save costs. These adjustments have hopes of alleviating the exasperating impacts of the halving on the Miners with positive consequences on the BTC hash rate. These adjustments are scheduled every 2 weeks and differ in minority.

These adjustments have also been attributed to have caused a decline in Bitcoin transaction fees which hit high weeks after the May 12 halving. With the adjustments, it becomes relatively easier for BTC Miners to validate transactions, which will in turn boost their profits.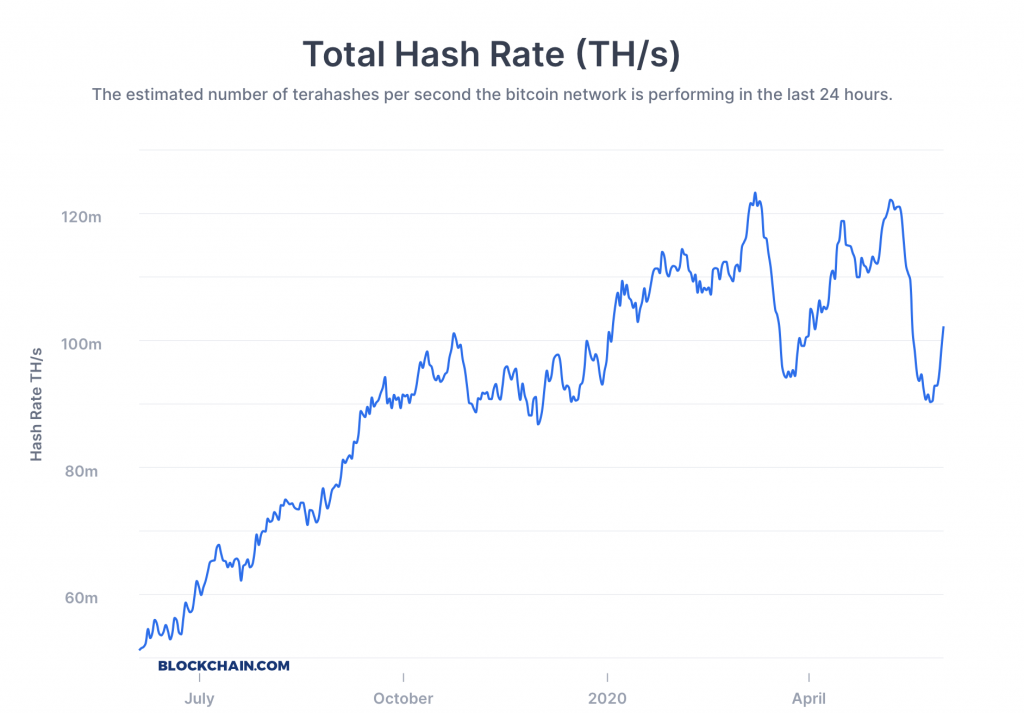 Data Provided via Blockchain.com
Nunya Bizniz, a Bitcoin advocate, in his latest tweet gave the percentage of the negative adjustment to be -9.29% remarking it was the 7th biggest it had ever recorded. He also noted that most times, adjustments of such magnitudes have been seen before a massive bull run.

Zack Voell, also a BTC advocate however opines that this was the 5th largest negative difficulty adjustment recorded if pre-ASIC adjustments are not included. However which one it may be, Philip Swift, a data analyst noted that it is a significant event that should offer a welcome boost to miners that made it through the halving.

In the days ahead, Bitcoin's hash rate would be used as a measuring stick to determine the overall impact of the event on Bitcoin (BTC).
Image Credit: PlanB, Blockchain.com, Shutterstock