Ares Tech Launches a 2018 World Cup Game Blockchain Lottery!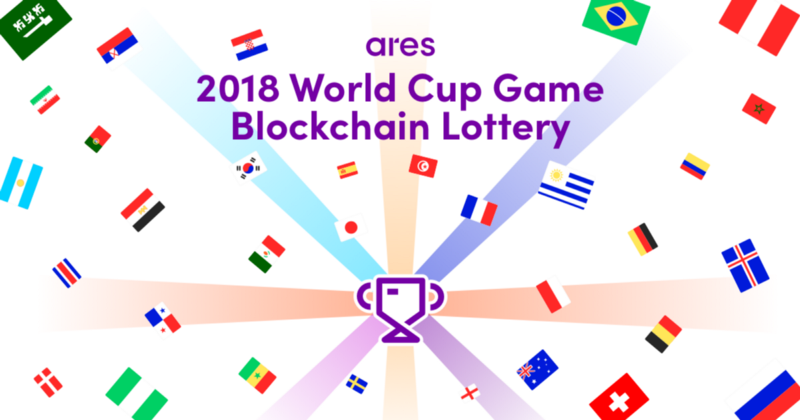 2018 is certainly a highly unusual year for the FIFA World Cup: the first time it would be hosted in Russia, and the first time for its fans to play prediction games with blockchain technology.
One of the biggest entertainment for the fans of World Cup has always been predicting the winners in each game, and win some reward for it. Traditional lottery or betting games online were provided by centralized game platforms. It was very hard for the participants to verify which one is trustworthy, not manipulating the rule of the games. With the rising of blockchain technology, 2018 will witness a major change not only in the World Cup related betting and lottery games, but all lottery games in the future.
Ares tech is among the first blockchain companies in the world to launch a blockchain lottery game for the World Cup predictions. With a public smart contract, the rules of the lottery are all transparent and open for inspection. This is the beginning of a revolutionary trend in the games that involves randomly generated numbers.
The procedure of participation is very simple:
Register a user account on http://worldcup.arestech.net/, one will receive 20 ares tokens immediately (If one invite a friend to register a new account, both inviter and invitee will receive 10 more tokens);
Use the ares tokens to bet on the winner of each game. If the user makes the right prediction, his/her account will be automatically added to the lottery, having the opportunity to win drastically increasing rewards on different stages:
The blockchain lottery will also witness 1,000,000 ares tokens to be distributed in airdrops during the 2018 World Cup, adding up a value that amounts to 500,000 Euros. The value of ares token will go up every subsequent week.
From 14 June to 15 July 2018, ares will create a festival of World Cup in the blockchain gaming world. The blockchain lottery has all the reasons to expect a leap of confidence on the blockchain gaming industry.
Let's stay tuned and expect a leap of confidence on the blockchain gaming industry. Register now for free on Ares World Cup Game.
About Ares Tech
Based in Berlin, Ares Tech is a new generation of block chain gaming network aiming at becoming the founder and facilitator of a comprehensive and sustainable ecosystem based on block chain technology.
Ares Website: arestech.io
Worldcup Game: http://worldcup.arestech.net/
Telegram: https://t.me/ares_tech
Twitter: https://twitter.com/arestech_io
Facebook: https://www.facebook.com/arestech.io
KryptoMoney.com publishes latest news and updates about Bitcoin, Blockchain Technology ,Cryptocurrencies and upcoming ICO's.