Top cryptocurrency by market cap, Bitcoin is at the moment trading at $7,230, up from its weekly lows beneath $6,600. Bitcoin bulls had tested above the $7,000 key resistance level to further hit past $7,200 near term resistance. However, it had earlier experienced a strong rejection around the $7,300 level to further recline to its current levels as the bulls ran out of steam.
To many analysts, $7,300 remains key resistance considering the number of rejections the top asset had faced at this level. While Bitcoin remained caught up in a consolidation stint around the $7,000 range, analysts are predicting an imminent rally for the asset in the days and weeks ahead.
Bullish Days Ahead of Bitcoin
In the earlier part of the year, Bitcoin rose from its December price low of $6,400 to trade as high as $9,200, further hitting a new year high of $10,500 in the process. During the March crash, Bitcoin hit a bottom of $3,800 to rebound to the $5k levels in which it consequently rallied to its current price levels.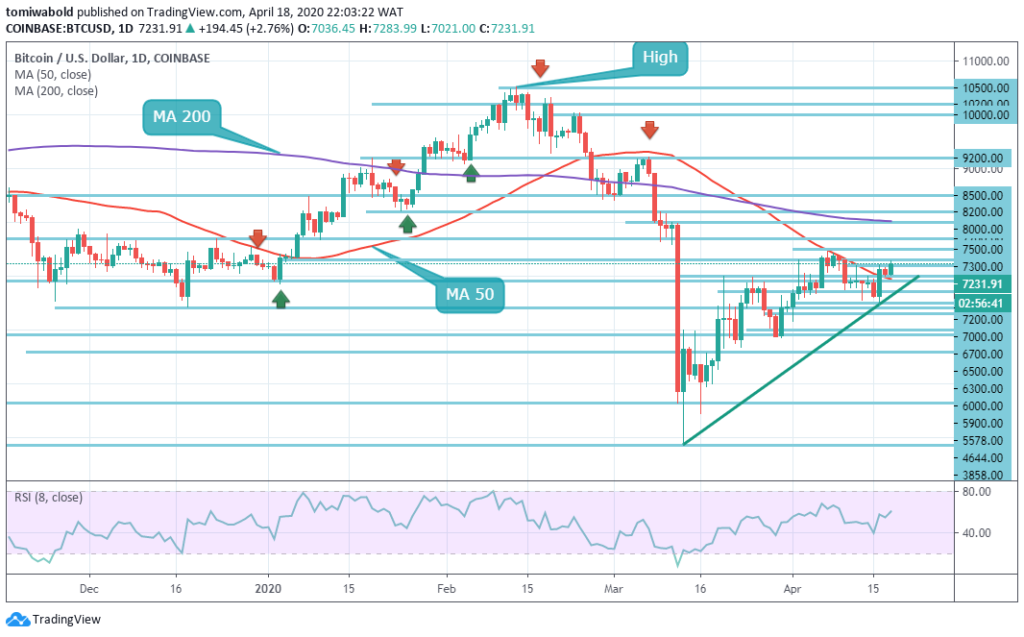 Analysts have found similarities in Bitcoin's recent price activity with that which it had in early January when it rallied from the $6k levels to hit a new year high. Three points of similarities were seen in both, first is a 4% rebound before a major rally, second, both displayed a two-candle reversal pattern otherwise known as Bullish engulfing pattern where the second candle wholly "engulfs" the real body of the initial one. Third, a rally on Friday succeeded by a calm weekend while it rebounded back to levels previously tested.
In the days ahead, analysts see Bitcoin's recent trend merging closely with that of early January pattern stirring up the notion that BTC may experience a rally soon to trade past $8,000 levels just as it did in early January.
Other Factors Accede to Bitcoin Bullishness in Days to Come
A trader noted that BTC is trading below its production cost ahead of the halving event. Based on historical antecedents, BTC may enter a Bout of bullishness in the days ahead if history replicates itself.
The coronavirus outbreak caused most governments and central banks to release stimulus packages to curb the harsh economic effects induced by the disease resulting in an ever-increasing debt load, for instance, the national debt of the United States rose to recent value of $24.3 trillion from the $23.3 trillion it began the year with, representing a trillion-dollar debt increase.
Many are anticipating a scenario where inflation of money would set in as a result of this, leading up to the deflation of assets boosting the value of the scarce Bitcoin.
Image Credit: Shutterstock