In the last three days, the market had been hit by a tide of volatility which saw the 100 major cryptocurrencies flunking by a great deal. In fierce attack, bears launched out against top cryptocurrencies as losses were recorded for Bitcoin, Ethereum, XRP which were not left out of the activity of the bears.
The entire crypto market has been struck by the biggest sell-off recorded since the beginning of the year.
Major Cryptocurrencies, Bitcoin, in particular, have had major rallies since January starting the year on a good note. Bitcoin which had marked a new 2020 high of $10,500 after a major rally is hit by the tornado which also affected the 100 major cryptocurrencies as it is seen to enter the bearish zone with an increased sell-off as viewed on its USD pair chart.
Bitcoin fell beneath $9,500 support which led to the bears gaining control.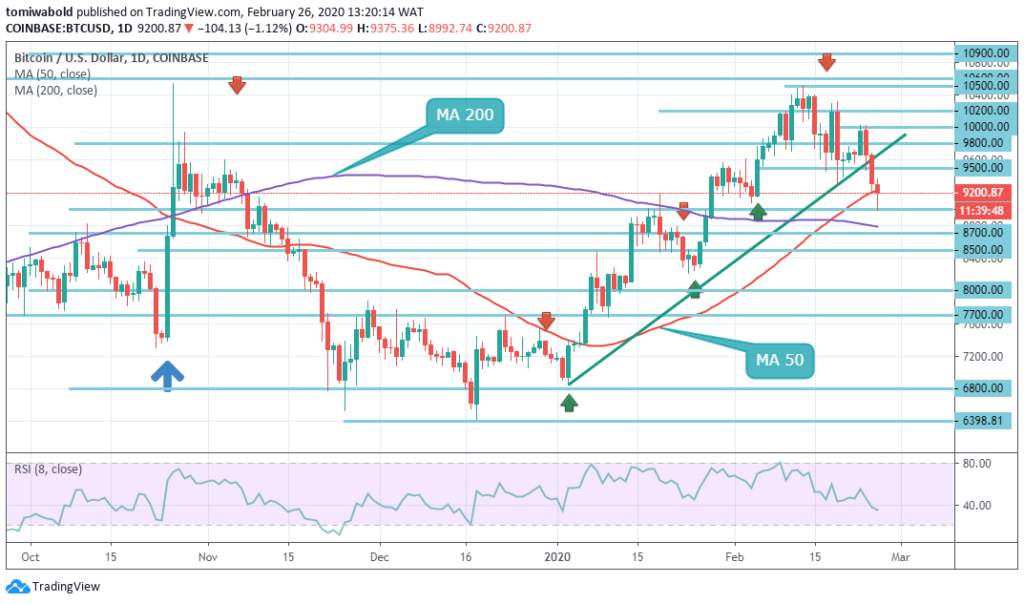 BTC price wobbled to levels near $9,000, a present day's low is recorded at $9,081 as at the time of writing. The pioneer crypto asset trades at $9,200 at the moment while sustaining its bearish trend, recounting increased volatility.
XRP which had a dismal performance in the last three days went further down south as it skid from the prior day's closing price of $0.2528 to $0.2341 present day's low slipping by 3.85%.
Ethereum fell beneath the $250 support, retracing from the prior day's high of $266.24 to $238.72 low where it sits at the moment. It went further south to hit a low of $231.30 which it rebounded slightly, key resistance levels remain at $250 and $266.
Notable losses were seen on cryptocurrencies like Bitcoin SV, Tezos, Tron, Dash, NEO, Cosmos, and NEM.
Tim Draper Still Thinks Wildly Bullish of Bitcoin
On the flip side, the US venture capitalist still maintains his bullish outlook for pioneer crypto-asset Bitcoin. In a CNBC show, Draper discussed his bullish views on Bitcoin and why he believes Bitcoin may reach $250,000 in the next few years.
Draper opined that this wild run will take BTC by 2,600% from its recent price of $9,600 while the market cap will increase to $4.5 trillion.
Tim Draper, who is said to have previously invested in Bitcoin, even when it has not yet gained fame, predicts that Bitcoin will reach $250,000 in 2022/2023. He further mentioned that, given the observed global incidents, an outbreak of the coronavirus is an example, and that it remains to be seen that Bitcoin will become a safe-haven and will subsequently become the "preferred currency".
A model developed by a quantitative analyst who remained incognito as Plan-B, which is a stock-to-flow based BTC price model, predicts that the asset can trade between $55,000 and $100,000 after halving this year, though, as the model predicts, it is expected to exceed this range by almost 200% or even more, adding that it is highly likely that BTC will reach $300,000 by 2024.
The reference of this writer is to Plan-B, a pseudonymous quantitative analyst working at a European institution, is the Bitcoin price, stock-to-flow model.
Image Credit: Shutterstock