Decentralized Exchange Token Jumps 40% In 7 Days
It was another week of no positive impact on the market as the bitter Crypto 'Winter' persevered its agony. The sudden decline of the market on February 24 after a good show two weeks back showed no sign of recovery.
Market Cap swayed between $129 billion to $130 throughout the week. On Monday it was in the $125 Billion regions.
At press time 20:00 GMT+2 on Tuesday, the total market value of the entire Crypto market was almost $132 billion. As matter of fact, an increment of nearly $6 billion from the previous day.
Even though there were six coins on top 10 that didn't post profits in the last seven days, the losses were not that significant. The highest decline was 2.75 per cent while the highest appreciation registered 39.79 per cent.
On the policy front, Thailand appears to inch closer to becoming a Crypto friendly realm. After it's National Legislative Assembly officially approving the issuance of tokenized securities on the blockchain a while ago, it has also updated its lists of cryptocurrencies that are suitable for use in Initial Coin offerings (ICO) naming cryptos like Bitcoin Cash (BCH), Ethereum Classic (ETC) and Litecoin (LTC).
TheMalaysian state of Penang is considering deploying Blockchain Technology in Agriculture and food chain supply. According to media reports, the country's Deputy Minister of Agriculture recently announced.
Seven giant oil and gas companies are working together to form an Oil and gas blockchain consortium. The firms include Exxon Mobile, Chevron, ConocoPhillips, Spanish Repsol, Pioneer Natural Resources, Norwegian Equinor and Hess.
Top 10 Standings At 20:00 GMT+2 On Tuesday
Binance, who are currently testing theirDEX, a move seen as a big boost to moving from centralized to decentralized Exchange made the greatest impact this week on top 10. BNB grew 39.79 per cent to jump from the 10th to 8th position.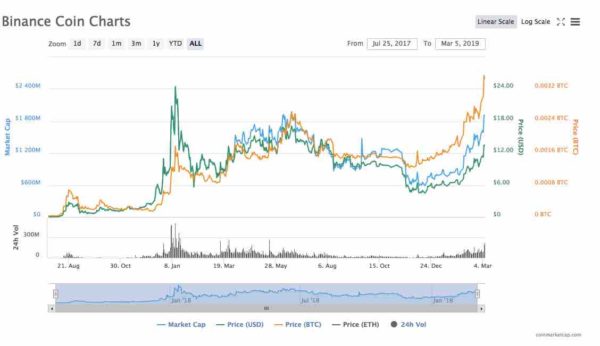 Source: Coinmarketcap
The 2nd highest growth rate came from 5th placed Litecoin that is becoming resilient in these tough times. Its weekly growth rate was 16.44% and the price stood at $52.95.
Moreover, EOS is still occupying the 4th rank increasing investors' holdings by 7.35 percentage point to sell at $3.70 . Bitcoin threw in the least pump for the week when it appreciated by 0.59 and sold at a price of $3879.13.
Meanwhile, Tron, now at the bottom of the elite ranks, led the losing pack when it posted negative 2.75 selling at $0.023626. Bitcoin Cash was the 2nd highest casualty with a price of $132.41 and a loss of 1.39 per cent but still at number six.
Third-placed XRP also tumbled 1.78 per cent against last weeks moderate gains. It was being sold for $0.314866.  Stellar went down 0.48 with a price of $0.085973 and the 9th most expensive crypto.
Alas! Ethereum couldn't sustain its recent upward adjustments when it gave away 0.31 per cent. Anyway, the pioneer of Smart Contracts' price of $137.07 is admirable.
Tether completed the depreciation list with a minimum slump for the week with -0.11 per cent. The stable coin could be purchased at a rate of $1.01.