Bitcoin whose genesis could be traced back to 2009 had grown from basically nothing to its all-time high of $20,000. This is partly fuelled by its regard as a safe-haven in times of economic and geopolitical uncertainty. The decentralized nature of Bitcoin may have contributed likewise.
In the past days, Bitcoin tested the $7,700 level after breaking the key $7,000 resistance level to rally as high as $7,800, recovering fully by almost 100%, from the brutal crash it incurred in March. Analysts, however, anticipate these two events to push it up further.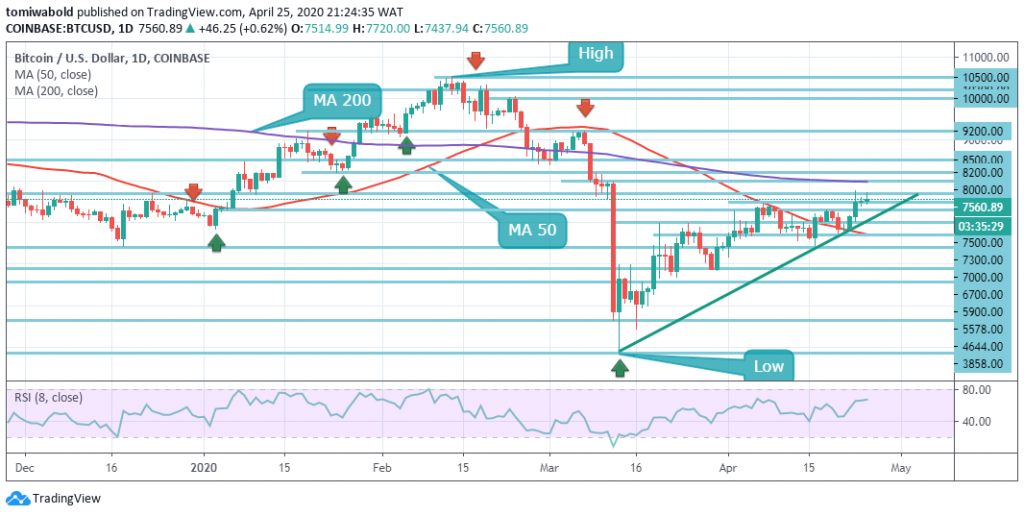 At the moment, Bitcoin is trading up at $7,560.89.
Recent Monetary Policies Drawn to Cushion COVID-19 May Be a Propellant for Bitcoin
With the number of cases totaling 2,893,260 globally, the coronavirus (COVID-19) is ravaging 210 countries and territories of the world. In a bid to cushion the harsh effects of the pandemic on the economy, various governments released several stimulus packages which led to debts being amassed. For instance, the United States recorded a jaw-dropping $1 trillion increase in its debts.
As many anticipate a scenario whereby the inflationary model comes into play as a result of governments trying to lessen the impacts of the debts amassed on the people.
In the inflationary model, the money printed is increased. The basic principle underlying this is as the value of fiat currency declines, a spending economy rather than free-flowing cash is created.
A recent report from Arcane research indicated that the US Federal Reserve had printed more money as it noted that:
Federal Reserve's balance sheet is setting new highs this week, now exceeding $6.5 trillion growing by another $205.2 billion in the last week, to reach $6.57 trillion. It has expanded by $2.4 trillion, a 58% increase, since late February.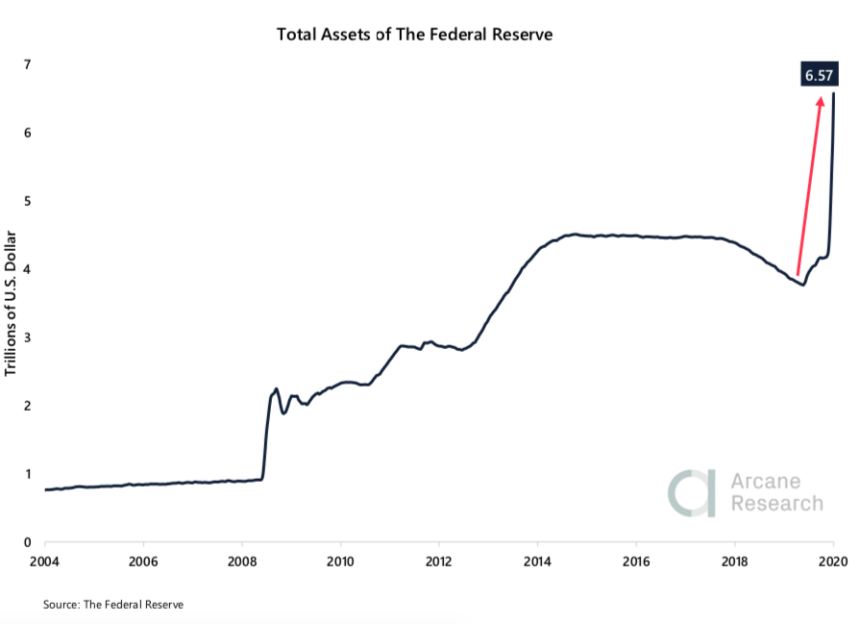 Image Courtesy of Arcane Research
Bitcoin is seen to be a deflationary asset because it's purchasing power increases with time while its supply is pegged at 21,000,000, the number of Bitcoin produced decreases over time and eventually stops when it reaches this margin.
Halving, Another Bullish Case
The pre-halving sentiment is already seen to be driving investors' optimism positively, as Bitcoin's halving mining rewards have long been seen as a fundamental activity that may bolster its underlying strength and catalyze some massive upside price action.
Halving which is set to happen in about 3 weeks from now, is also seen as an event that drops the asset's yearly inflation rate by nearly 50% as mining reward is halved from 12.5 BTC to 6.25 BTC.
Image Credit: Arcane Research, Shutterstock