CME's Bitcoin futures contract is a USD cash-settled contract based on Bitcoin Reference Rate (BRR), which works as a once-a-day reference rate of the U.S. dollar price of Bitcoin.
Bitcoin CME futures contracts, which became operational in December 2017, have registered above-$1 billion daily volume just thrice. One such time was June 2019, followed sequentially by February 18, 2020, in which above-$1 billion daily volume was recorded. CME futures had traded $1.1 billion in volume hitting a multi-month high.
However, following a worldwide market meltdown as coronavirus fears heightened, CME trading volumes had a sharp pull back from the multi-month highs recorded on February 18. The volume plunged to hit a low of $118 million, the lowest level recorded since December 31.
This is not far-fetched as in the past few weeks; Bitcoin had suffered immensely from the activity of the bears. At the time of this report, Bitcoin is trading marginally down below 2% at its recent price of $8,700, plunging markedly from its daily highs of $8,900 when the bulls struggled to reclaim above $9,000 key level.
Not only Bitcoin, but even safe-haven metal Gold also had bearish pressure mounting as global stock markets erased out nearly $5 trillion worth in the calamitous week recorded since the 2008 global financial crisis.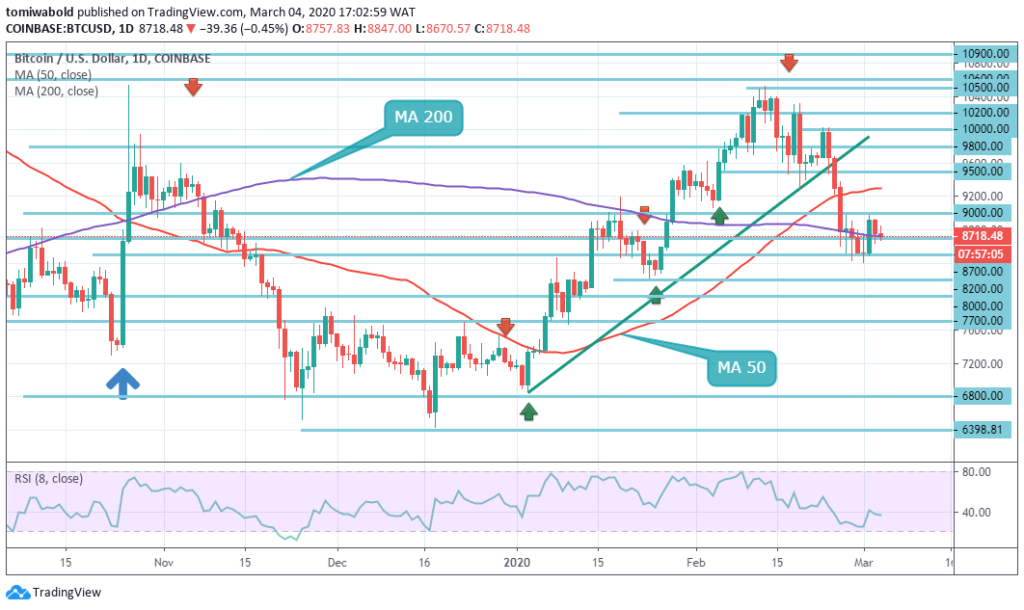 Bitcoin became pressured as it experienced a strong rejection at $9,000 level which traders saw as a sign of a near term weakness. In a major sell-off, the view of Bitcoin as a safe-haven seemed blurry to investors who regarded it as a risk on investment instead.
Global Market, Bitcoin CME Futures Volume Recedes
Bitcoin posting bear-favoring moments saw volumes on Bitcoin's CME futures plunge significantly, indicating uncertainty in the minds of the investors for the crypto asset's next price movement. In a correlatable trend, most traders and analysts have resorted to taking a cue of its mid-term price movement from the global market trend.
Alex Kruger, an economist specializing in crypto analytics, spoke in more detail in his last tweet, saying that the marked decline in volume seemed to coincide with the global market crisis, adding that BTC CME volumes have plunged since the global market's apprehension began.
Coinbase CEO Believes Bitcoin's Safe-Haven Status Holds Sway
Many Bitcoin enthusiasts in the past had regarded the asset as digital gold, but with the recent spate it suffered, such view became debatable.
However Coinbase CEO, Brian Armstrong believes Bitcoin's safe-haven status holds sway.
He opined that with the interest rate cut embarked upon by the central banks may spell positivity for Bitcoin and other cryptos shortly.
He believes that although the global stock market meltdown was in place, Bitcoin will experience a buoy this year coupled with moves taken by various countries to pump liquidity into the economy through quantitative easing and money printing.
Despite the Coinbase co-founder positive outlook, at the moment, Bitcoin seems to register as a risk-on asset in the minds of investors as it took a downturn which most insinuates will continue into the near-term.
Image Credit: Shutterstock