Bitcoin New: Bitcoin (BTC) network is just 500 days away from its next halving, i.e. the current block reward will be cut into halves. The effect of the same will soon begin to impact on Bitcoin, its network, its mining, and its pricing.
Bitcoin Halving tends to foreshadow serious changes in price activity. 2018 observed BTC/USD slid down to 85% from its all-time hike of over $20,000 in the previous year. While 2019 is predicted to be a better year for the token, it is expected that the 2020 halving event would have some marginal effects on the token's price and the event could spark a new era for HODLers.
When Alan Silbert, a BTC evangelist Tweeted a reminder for the event a host of interesting replies came his way.  Bitcoinist contributor and a trader, Jake the Crypto King questioned: "Historically major pumps happen a few months out…will history repeat itself?".
Every individual in crypto should have this date marked down ??.

Historically major pumps happen a few months out…will history repeat itself?

— Crypto King (@JBTheCryptoKing) December 19, 2018
Effect of Bitcoin Price
Historically, the having event does not impact the price of BTC in an immediate manner, however, the effects can be observed months before the event is scheduled. A price surge is seen in the following months, chart courtesy of 
@100trillionUSD
illustrates the supposed price action BTC during the following year and a half.
Blockchain's head of research Garrick Hileman stated in May:
"In the months leading up to the last two halving events, we saw bitcoin's price steadily trend upward, and then power higher following the reward halving."
Meanwhile, the situation is expected to change much sooner than May 2, 2020. Some of the Twitterati replying to Silbert also noted it and attributed the early price hike to the inflow of Wall Street and institutional investors expected in 2019. For instance, both
Nasdaq
and
Bakkt
are gearing up to launch Bitcoin derivatives Q1 next year.
In Conclusion 
The main factor driving a price increase after the Bitcoin halving is the law of supply and demand. Simply put, if there is more demand for an asset that there is supply, then its price will increase.
Since the Bitcoin halving reduces the amount of daily generated Bitcoin by 50% (a supply shock), demand only has to stay constant for there to be a sizeable price increase. The Bitcoin supply reduction after the next halving is beautifully illustrated below in a visual guide from the CoinDiligent Team.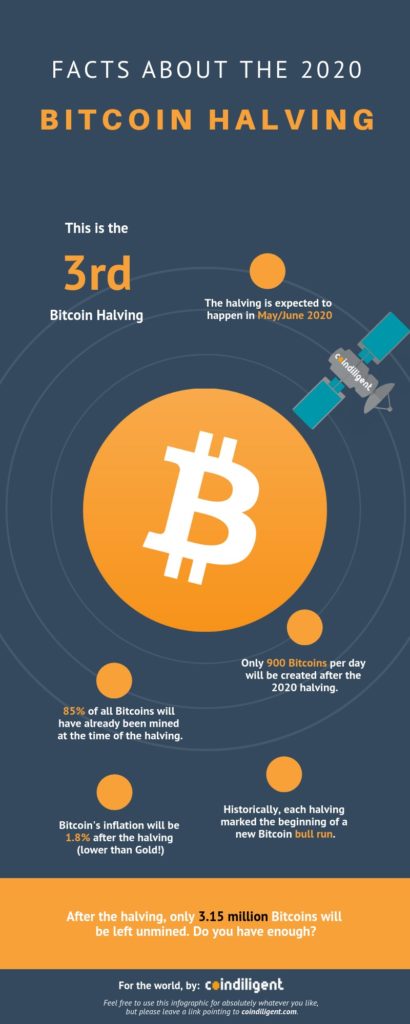 Read more: OKEx Cryptocurrency Exchange Launches No-Expiry Bitcoin Perpetual Futures Contract