The price of Bitcoin has renewed its historical maximum in tandem with the national currency of Turkey. In addition to the success of bitcoin, this is facilitated by the negative dynamics of the lira itself, which has become entrenched this year as the main outsider among the currencies of emerging economies.
According to CoinGecko , the market value of 1 BTC in Turkey has exceeded 100 thousand lira.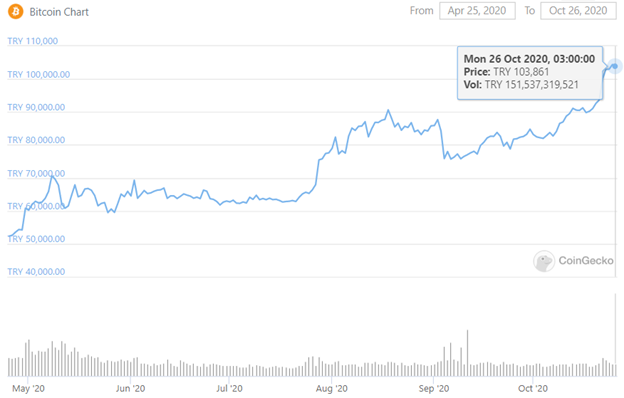 At the auction on Monday, the USD / TRY rate for the first time in history crossed the psychological mark of 8 lira per dollar. Losses since the beginning of the year have exceeded 35%. This is the worst performance among 24 emerging market currencies.
The weakening of the lira is due to growing geopolitical tensions with the US and the EU, as well as the deterioration of fundamental factors. Capital inflows have stopped and are not offsetting the negative trade balance. Gold and foreign exchange reserves, which have dropped to a 15-year low, are virtually depleted given the corporate debt.
Last week, the Bank of Turkey, contrary to forecasts, did not raise its key weekly repo rate by 175 basis points, leaving it at 10.25% per annum. At the same time, inflation remained at 11.75%. The persistence of negative real interest rates (the difference between these values) forces the use of harder currencies as a store of value.
The purchase price of bitcoin for lira on the LocalBitcoins p2p platform starts at 106,870 TRY. This indicates the presence of at least 3% premium to the exchange rate.
Earlier, Kryptomoney reported that the price of Bitcoin has reached an all-time high in pairs with the national currencies of Brazil and Argentina.