BTC indicator, Blockroots Alpha Trend is signaling green again in the last 10 months range indicating a long term bullish trend reversal for the pioneer crypto asset. This prompts many analysts to believe that BTC may surge up to $28K in the next 3 months, right in time before halving takes place. This view is supported by most analysts as other indicators forecast a massive rally for bitcoin in days to come.
A top analyst, Josh Rager recounted the last two occasions when the Blockroots Alpha Trend dubbed as "Long" signaled, BTC had a wild run.
The first being September 2016, which the Flagship crypto-asset had a run that took to its current ATH at $20k. The second occasion was on March 26, 2019, before BTC climbed past $13,000 handle.
The top analyst noted that there would be no absolutes in this kind of scenario as a sort of pullback may be expected. He, however, asserted that BTC price movements in the days to come will still present the opportunity for smart traders to make some profit.
Other Indicators Predict Rally for BTC and Altcoins
A golden cross is been viewed on the daily chart, which indicates a bullish trend reversal in the long term. The last occasion this happened was April 2019 which ushered in 200% rally. A similar rally from BTC's current price levels could put the price of bitcoin at $28,000 by halving time, which is just three months away now.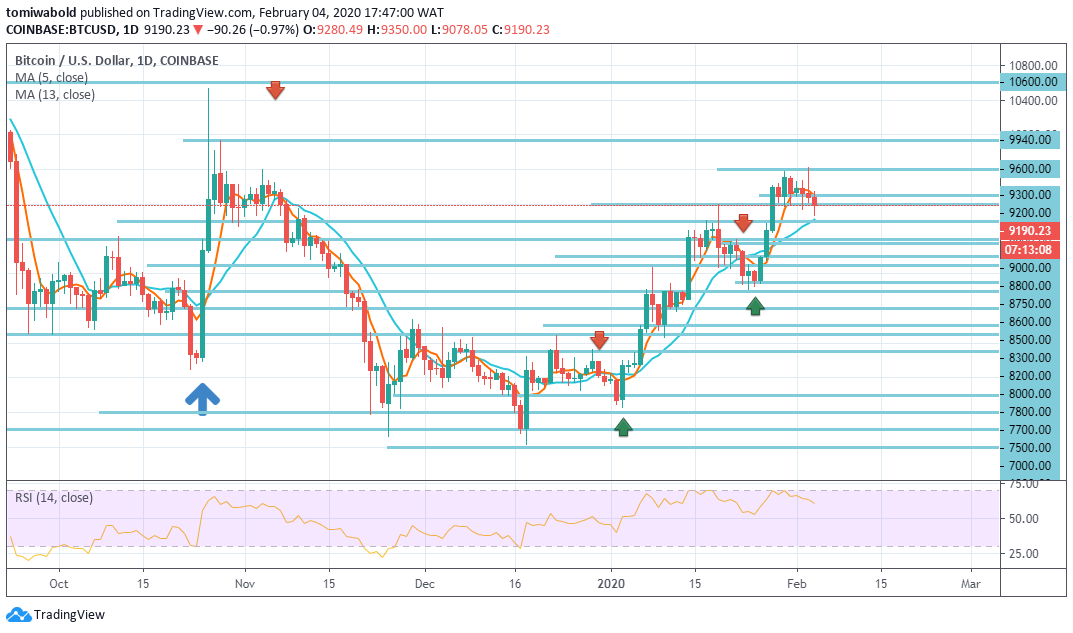 Recent reports indicate that the total crypto market cap at the moment is estimated at $260 billion, peaking a four-month high. BTC's dominance wanes slightly, propping up Altcoins in the process. BTC's dominance is currently at 66.5%.
Ethereum had climbed up to $190 before the start of the week, and in the last 1 day, it gained 5%. Though it still fell significantly short of its ATH, analysts predict a rally for the Altcoin, XRP, EOS, and Ethereum Classic in days to come, all of which stand at 5% market gain at the moment.
Bitcoin's Price Activity
BTC / USD is currently trading at $ 9,185 after failing to overcome the price congestion resistance at $ 9,600 yesterday. The 5 period moving average continues to decline, indicating that despite the recent opening of the bullish zone, the movement may not be as fast as one would expect.
Past the current price, the first resistance level is $ 9,600, then the second at $ 10,600 and the third at $ 11,250.
Beneath the current price, the first support level is at $ 9,150, then the second at $8,800 and the third at $ 8,500.
Image Credit: Shutterstock