Top crypto asset, Bitcoin, has been sort of a guide for the direction of the crypto markets of recent, BTC price trend is correlatable with that of Altcoins. When Bitcoin went on the wheels of a massive sell-off last Thursday, Ethereum plummeted from $194 to $90 shedding off nearly 50% before experiencing a slight rebound to $148 where it's receding from at the moment.
In the bloodbath, Bitcoin hit a New Year low of $3,858 in the worst sell-off recorded since 2013 causing XRP and other Altcoins to also hit new multi-year lows. This par-to-par correlative trend has indicated that BTC will be relevant in predicting the totality of the crypto market price trends in the near term.
In a temporary relief rally, the bears took a breather as Bitcoin rebounded to a high of $5,900 after dipping beneath $4k in the market carnage it experienced. BTC's relief rally spurred other Altcoins to post bull favored movements, Ethereum rose from the doldrums to trade at $128, though still down by 4% from its weekly highs, while XRP, Litecoin, BCH marked 2% increase.
The temporary relief rally depicts that investors still have their buy interests intact although this isn't enough to assume that the bears may have lost their dominance. The volatility in the traditional markets is viewed as a catalyst for the intense bearishness seen on all risk-on assets.
This Indicator Flashes Red Alert for Bitcoin
An indicator created by Cuban, a renowned trader, simply referred to as Cuban Reversion Band is blinking red for BTC predicting a bearish downturn for the asset in the coming days.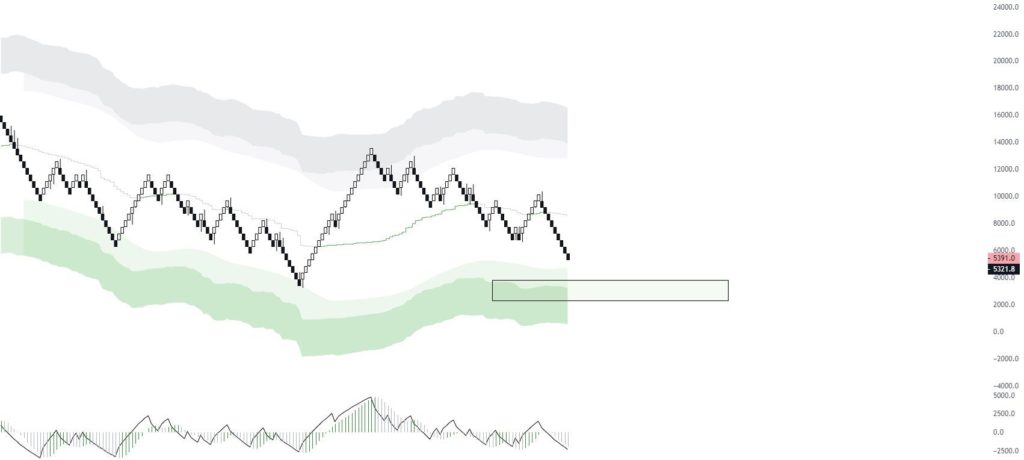 Cuban's Reversion Bands Showing $4,700 – $2,200 for BTC With Renko
As noted by a popular twitter crypto analyst, Cold Blooded Shiller, the reversion bands indicate that BTC's near term price may come down to between $2,200 and $4,700, the recent price plunging south by near 40%.
This may spell doom for the crypto market as Bitcoin has been a walkable guide for the aggregated crypto market at present, where its trends in the near term will be crucial in predicting the position of the Altcoin market.
Image Credit: Twitter, Shutterstock