List of Bitcoin Documentaries | Must Watch Bitcoin Movies
The Bitcoin fever that has turned the world and its economies upside down ever since the time it was invented has been either downgraded or seen as a exemplar thing in the world. Living in the extremities of opinion, Bitcoin remains one of the most popular topics and concepts worldwide in this decade, urging people to know more about it. Here is a list of Must Watch Bitcoin Documentaries
That being said, we will help you dig deeper and find out more about Bitcoin via the bitcoin documentaries. Something which would be even more interesting to see.
The following Bitcoin documentaries would not just help you learn about Bitcoin, but will also explain reasons as to why it was started and how the traditional banking system works.
Also Read: List Of Best Bitcoin Books To Learn All About Bitcoins | Top 10 Books On Bitcoin
The Rise and Rise Of Bitcoin
Those who have been part of the bitcoin community for some time will be the first to say that bitcoin's journey can be likened to a roller coaster ride: unpredictable highs and lows, with a number of surprise twists and turns along the way.
As the title suggests, this documentary takes us through the course of the evolution of bitcoin. This Bitcoin Documentary is filmed and written by Daniel Mross, a computer programmer, and two other Bitcoin enthusiasts Patrick Lope and Nicholas Mross. This documentary features some of the very early adopters and startup builders of Bitcoin namely Gavin Andresen, Brian Armstrong, Margaux Avedisian.
The Rise and Rise of Bitcoin' documents the events that have made headlines for the digital currency, and takes a deeper look at what the filmmakers call the "largest social-economic experiment ever conducted". It's a journey through the various controversies addressed during bitcoin's birth and stages following it, to what it has become presently.
This Bitcoin Movie can be understood easily even by a beginner who does not know any thing or technical jargons about Bitcoin. This particular documentary is famous for evoking some sort of passion amongst non-bitcoin users towards using bitcoins.
The Rise and Rise of Bitcoin is produced by Daronimax Media, which also features appearances from the Bitcoin Foundation's chief scientist Gavin Andresen, fallen Mt Gox CEO Mark Karpeles and the Winklevoss twins, Charlie Shrem and many others.
I am Satoshi
Being awarded as the "Most Creative Video"  at the Blockchain awards,  "I am Satoshi" is a must-watch for those who needs an insight into the world of bitcoins.
The documentary strongly distinguishes the traditional banking system from the cryptocurrency suggesting solid reasons to use the latter. "I am Satoshi' i a 52-minute Bitcoin Documentary uses an investigative approach to explore bitcoin's relationship with the wider financial system. Open-source platforms have already disrupted the fields of education, retail, software,etc yet the banking system remains untouched. 'I am Satoshi' asks whether Bitcoin, an open-source technology, can usher in game-changing innovation within outdated currency, trade and payments systems.
Bitcoin-Shape The Future
The Bitcoin scenario in China is showcased in this Bitcoin Documentary named "Bitcoin- Shape The Future". The documentary is the first Bitcoin based documentary with a Chinese perspective and is in Chinese language (but with English subtitles) This documentary covers China's Bitcoin superpowers, Bitman, ViaBTC, Huobi, Bixin and also includes sub-topics like
"The birth of Bitcoin",
"Who is Satoshi",
"Chinese Bitcoin Exchanges",
"Grey area of Bitcoin",
"Risk of Bitcoin",and
"Chinese government's regulation towards etc.
The Bitcoin movie also talks about 'Blockchain' technology' and the Bitcoin Pizza Day(something which most bitcoinists still don't know about) It is prepared by the Bitkan (an OTC Bitcoin trading platform running in China since 2013)
Bitcoin-Shape the Future was released in 2017.
The Bitcoin Gospel
This Bitcoin documentary produced by Indigenous Films in the Year 2015 describes the  whole purpose of having Bitcoins, the financial crisis of 2008, and how central banks are afraid of Bitcoin and turning to clamping them down. It features some of the popular Bitcoin bulls like  Andreas Antonopolous, Peter Todd, 'Bitcoin Jesus' Roger Ver etc.
This Bitcoin movie explicitly show how the global economy is shattered and gives them a better alternative for global cross-border payments which is faster & cheaper in the form of bitcoin and other cryptocurrencies. It walks through the "../bitcoin-mining/" target="_blank" rel="noopener noreferrer" style="color: #1172c1;">mining operations and farms as well as explains why Bitcoin's worth keeps increasing.
The Blockchain and Us
The Blockchain, which gave birth to Bitcoin has been an inspiration which has baffled people how technology can change the face of world. Its popularity and adoption has gone to the extent where the same banks that are cracking down on the cryptocurrencies are at the same time adopting blockchain for their operations.
This bitcoin documentary features software developers, cryptologists, researchers, entrepreneurs, consultants, VCs, authors, politicians, and futurists from the United States, Canada, Switzerland, the UK, and Australia who all shares what blockchain and Bitcoin mean to them.
The End Of Money As We Knew It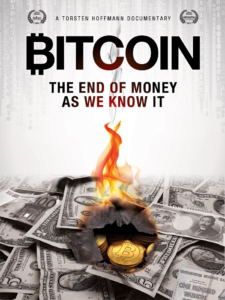 This Bitcoin documentary takes us back to the time of ancient origins of money to the Wall Street era. The bitcoin movie is produced by Australian media entrepreneur Torsten Hoffman and is a jargon-free documentary which explains a topic as complex as bitcoins in a very subtle manner
Part1: The End of Money as we knew it
Part2: The End of Money as we knew it
Life on bitcoin
In 2013, Austin and Beccy Craig a newly wed couple decides to live their first 90 days of marriage life strictly on Bitcoin. It was a social experiment where the couple relied exclusively on word's first cryptocurrency – Bitcoin to prove to naysayers that it's possible to have a life on bitcoin. The Utah-based couple had to convince many local retailers and merchants to accept Bitcoin and in some cases resorted to traveling quite the distance to find bitcoin-friendly locations to purchase everyday luxuries like petrol.
Life on Bitcoin' became quite famous in the bitcoin community, and after reaching their fundraising goal of $70,000 on Kickstarter, the newlyweds continued their journey with a world tourl to promote the film.
Hash Power
Hash Power is a three part audio documentary that explores the world of blockchain and cryptocurrencies with leaders in the field including Naval Ravikant, Olaf Carlson-Wee, Fred Ehrsam, Ari Paul, Juan Benet, Muneeb Ali, Peter Van Valkenburgh, Jeremiah Lowin, Jameson Lopp, Jordan Cooper, Josh Seims, & Charlie Noyes.
You can hear the Hash Power audio documentary here – "http://investorfieldguide.com/hashpower/" target="_blank" rel="nofollow noopener noreferrer" style="color: #1975c1;">http://investorfieldguide.com/hashpower/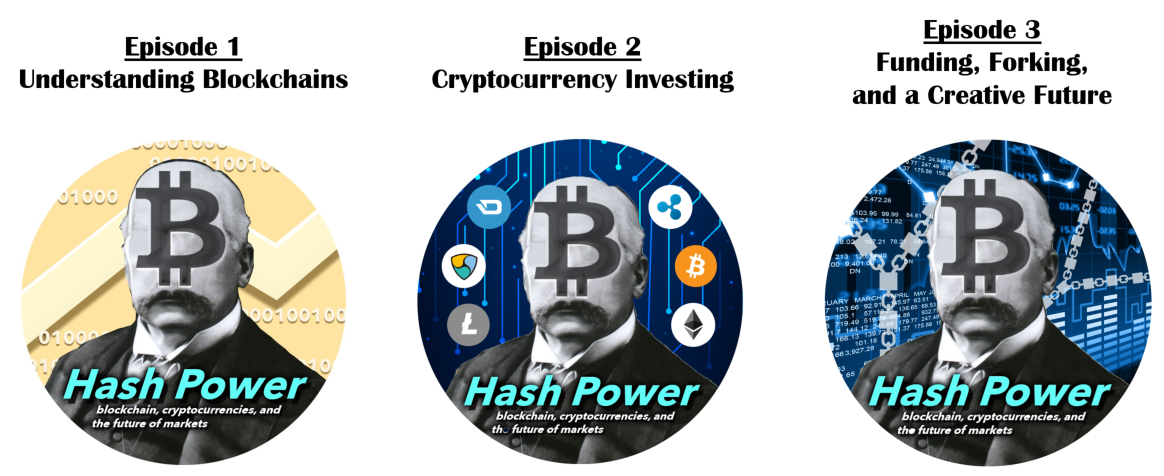 Bitcoin in Uganda – Empowering People
Through this short yet touching Bitcoin documentary, we get an insight into how bitcoin has made money transfer simpler and cheaper and how it affects thousands in a developing nation like Uganda, where majority of the families survive on income earned by their migrant family.
'Bitcoin in Uganda' serves as a storybook example of how these benefits can make a real difference in people's lives. The bitcoin documentary puts a spotlight on a Ugandan student, Ronald, who relies on his family in the US to send him money for tuition.
Frustrated with the slow and expensive system that Ronald has relied on for so long, his brother-in-law suggested that his wife switch to bitcoin to send Ronald money for tuition payments
Unlike services like Western Union or MoneyGram, which charge a hefty fee for their work, sending money anywhere in the world with bitcoin takes minutes – not days – and the transaction fees pale in comparison to any alternative.
Also Read: "../bitcoin-can-help-india/" style="color: #0c71c3;">Bitcoin Could Help India, The World's Largest Remittance Market
Bitcoin in Argentina 
'Bitcoins in Argentina' is produced by BitcoinFilm.org, the same team behind 'Bitcoin in Uganda'.
Bitcoin in Argentina' is a brilliant example of the role this currency can play in rescuing a trembling economy as that of Argentina. Not only will it assist in inflation control but also will provide a medium for the citizens to trade worldwide. The cryptocurrency has proved to be a major factor in improving the state of the people and their economy. Bitcoin is a life-saver in Argentina, as it affects the lives of the smallest of workers to the larger stakeholders.
Also Read: "../bitcoin-adoption-increasing-in-argentina/" style="color: #0c71c3;">Bitcoin Adoption Increasing in Argentina
Bitcoin Documentary By Discovery Channel
This Bitcoin Documentary takes us to early 1929-1930, the time of great economic depression which affected the whole world and it's curbing of gold standards. The bitcoin movie also also tells you how the traditional money market works and how the Bitcoin thing has the capacity to make anyone their own bank and getting rid of any trusted third party.
Bitcoin Full Documentary
For those who think they didn't know that Bitcoin was once priced at zero dollars after 8 months of its launch should watch this bitcoin documentary. This covers how nations like Australia are embracing Bitcoin and why it considers Bitcoin a money for the future. It lets you in, to see the co-working culture of Australia where some really good Bitcoin startups started in its early days. It also introduces to Australia's mining operations and the retail shops in Australia that accepts Bitcoin as payments.
The Bitcoin Phenomenon
For people who want to get more facts about Satoshi Nakamoto, this bitcoin documentary is highly recomended. "../cryptocurrency-and-blockchain-influencers-list/" target="_blank" rel="noopener noreferrer">Gavin Andresen talks about how he interacted and helped Satoshi Nakamoto and also how he got convinced, after reading the Bitcoin's whitepaper, that the idea was a brilliant one.
It shows the importance of Bitcoin since it has successfully solved the problem of double spending that other attempts of digital money creation had. It also features few of the early adopters of Bitcoin such as Trace Mayer and "../cryptocurrency-and-blockchain-influencers-list/" target="_blank" rel="noopener noreferrer" style="color: #0c71c3;">Eric Voorhees.
The Bitcoin Phenomenon is "https://www.youtube.com/watch?v=6pWblf8COH4″ style="color: #0c71c3;">a film produced by SQ1.TV to capture the story of how Bitcoin began right from the whitepaper that Satoshi posted late 2008 to how Bitcoin sparked a cryptocurrency industry that is now worth more than half a trillion US dollars. It explores the complexity of digital currency and takes you through an in-depth analysis of interviews from venture capitalist, entrepreneurs and libertarians of the Bitcoin space.


Banking On Bitcoin
The entire bitcoin documentary covers how money is involved in the centralized systems such as banks and how it may turn fraud, non-functional, ineffective and corrupt. That's why this documentary lauds Bitcoin as the only honest money free from tampering and corruption. It features "../cryptocurrency-and-blockchain-influencers-list/" target="_blank" rel="noopener noreferrer" style="color: #1373c1;">Charlie Shrem and how he got convicted as the US government thought Charlie was involved in money laundering with his Bitcoin Exchange.
Magic Money: The Bitcoin Revolution
Released in January 2017,"https://www.magicmoneyfilm.com" target="_blank" rel="nofollow noopener noreferrer" style="color: #0c71c3;"> Magic Money: The Bitcoin Revolution introduces to world's first decentralised digital peer-to-peer cryptocurrency i.e, Bitcoin. It shares a storyline that takes you to the roots of Bitcoin and shows how the digital currency works.
Bitcoin Heist
Bitcoin Heist is a Vietnamese action film based on the bitcoin technology. The thieves in the modern world of cryptocurrency are the hackers. To catch the world's most wanted thief, an Interpol agent assembles a team of elite hackers to plan the ultimate crypto-currency heist.
"https://www.youtube.com/watch?v=fBLpx6gQtUU">Bitcoins Liberating Organic Farmers
This short documentary is about how small organic farmers are using bitcoins to reach their customers directly – with no fees and middlemen. This documentary  is produced by BitcoinFilm.org, the same team behind 'Bitcoin in Uganda' and 'Bitcoin in Argentina'
Deep Web
Deep Web movie, gives the inside story of one of the the most important and riveting digital crime sagas of the century — the arrest of Ross William Ulbricht, the convicted 30-year-old entrepreneur accused to be 'Dread Pirate Roberts,' creator and operator of online black market Silk Road. The film explores how the brightest minds and thought leaders behind the Deep Web are now caught in the crosshairs of the battle for control of a future inextricably linked to technology, with our digital rights hanging in the balance.
In addition to being the only film with exclusive access to the Ulbricht family, Deep Web features the core architects of the Deep Web; anarchistic cryptographers who developed the Deep Web's tools for the military in the early 1990s; the dissident journalists and whistleblowers who immediately sought refuge in this seemingly secure environment; and the figures behind the rise of Silk Road, which combined the security of the Deep Web with the anonymity of cryptocurrency.
Some More Bitcoin Videos, Bitcoin Documentaries and Bitcoin Films
Life Inside A Secret Chinese Bitcoin Mine
The Bitcoin Doco
The Bitcoin Experiment
The Bitcoin experiment is a documentary film that follows the global economic crisis of 2008 that led to concerns and questions being asked about the functioning of the global financial market. While most people at the time were turning towards Bitcoin to regain control, the documentary titled "The Bitcoin Experiment" poses an intriguing hypothesis that seeks to uncover the truth of Bitcoin.
If you like the article, share it with you friends and let them know more about Bitcoin, Cryptocurrencies and Blockchain Technology.
If you are looking for Best Bitcoin Books to increase your knowledge further, here is the list:-  List Of Best Bitcoin Books To Learn All About Bitcoins | Top 10 Books On Bitcoin
KryptoMoney.com publishes latest news and updates about Bitcoin, Blockchain Technology, Cryptocurrencies and upcoming ICO's.