In this Bitcoin price analysis, BTC price is in a bullish trend on the first day of the month. At the time of writing, the flagship cryptocurrency is trading at $4,193.70. If the BTCUSD pair has a price breakout, the bulls will break the $4,200 resistance level, and rally above it.
Bitcoin Price Analysis
Bitcoin (BTC) price was in a bullish trend last week. The price bottomed at $3,961 as the bulls rejected a further decline by gathering the momentum and pushing the price upward. As we had earlier predicted, BTC bulls broke the $4,050 price level and extended the bullish pressure towards $4,130. The bulls were able to break the $4,130 and rallying towards $4,254 resistance level.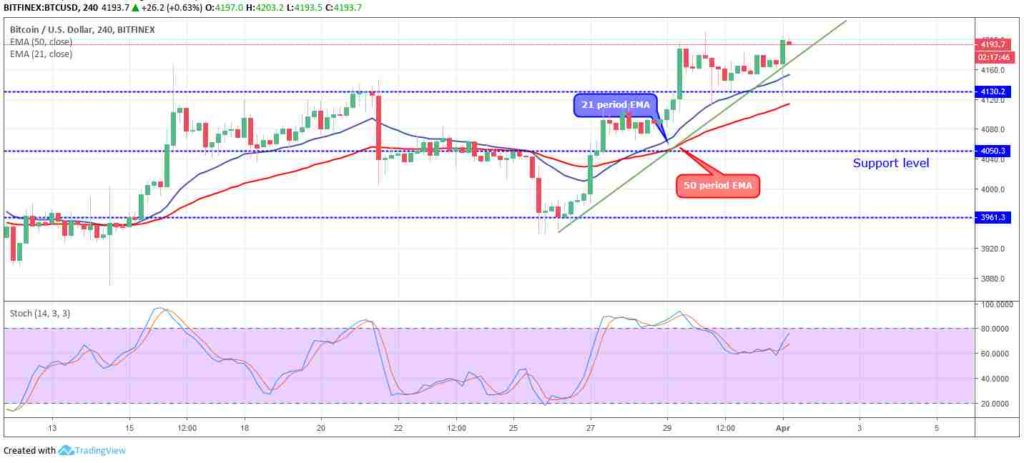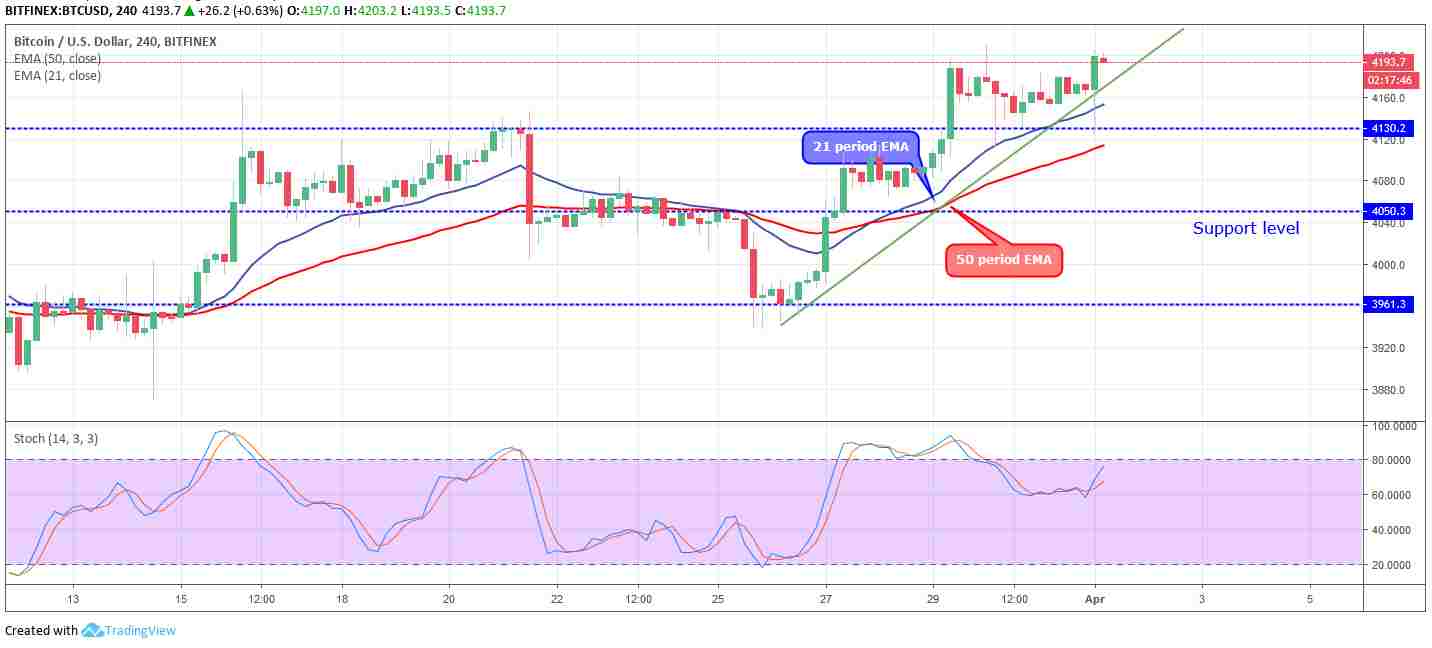 The 21-period Exponential Moving Averages (EMA) is placed above the 50-period EMA with the two EMAs are apart, indicating an intense bullish pressure in the Bitcoin market. The Stochastic Oscillator is at 70 levels with the signal line pointing upward, indicating a buy signal and also a further increase in the price of BTC.
Moreover, increased bulls' momentum will further increase the price of Bitcoin in which the resistance level of $4,254, which may also be its target. However, there is a possibility that the price may pullback at the $4,254 level before continuing its upward movement.
BTC/USD Price Short-term Prediction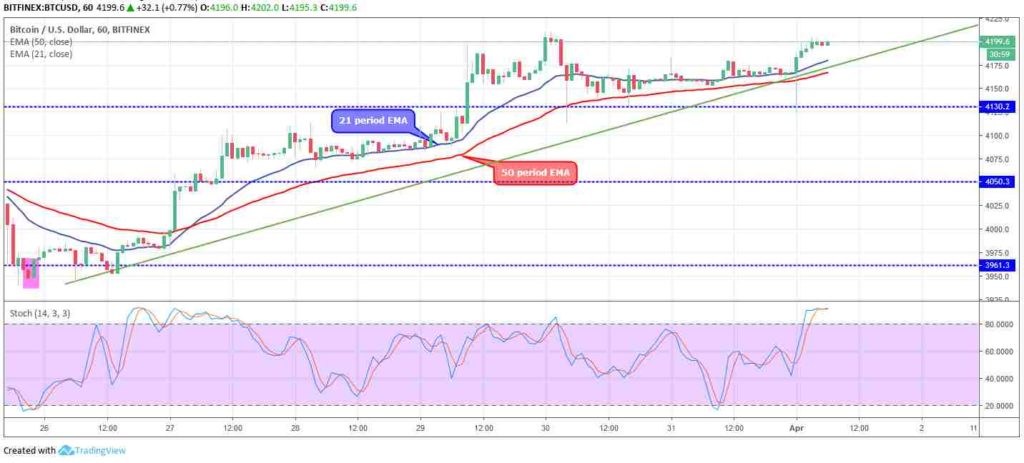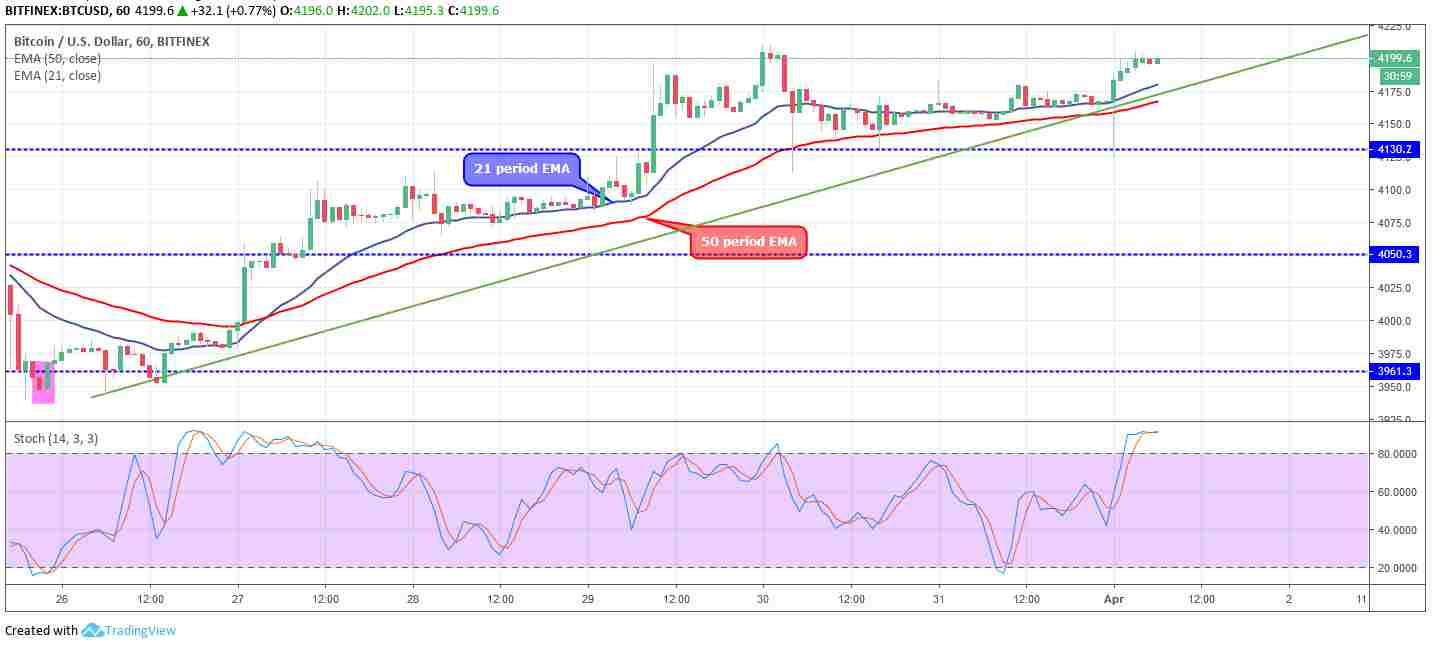 Bitcoin price is in the bullish trend in the short-term outlook. Since March 26, BTC bulls have continued to take charge of the market after the bullish engulfing candle formed a support level at $3,961. Since then, the price of Bitcoin has continuously increased steadily and broke up the barriers at $4,050, $4,130. At the moment, the price is exposed to $4,254.
The 21-period EMA has crossed the 50-period EMA upside and BTC/USD price is trading above the two EMAs. The crypto may experience price retracement as the Stochastic oscillator period 14 is above the overbought 80 levels. There is a possibility that the bullish trend will continue after the price retracement.
Resistance levels: $4,254, $4,385, $4,454
Support levels: $4,130, $4,050, $3,961