In this Bitcoin price analysis, the BTCUSD pair has traded above the $5,000 price level in the last 24 hours. If the bullish trend is sustained, the price will reach the highs of $5,500 or $ 6,000.
Bitcoin Price Analysis
Bitcoin (BTC) price is still in the bullish trend. As you may have already known, he flagship cryptocurrency had a price breakout on last week, on April 2, where BTC bulls broke the $4,255 resistance level.
The following day, the price of Bitcoin rallied to a high of $5,299 but the bulls were unable to increase the price of BTC as they were resisted by the bears, pulling the price back to retest the broken support level of $4,988. However, BTC price resumed its upward movement towards the previous high on April 4, and currently, Bitcoin price is approaching the $5,299 price level.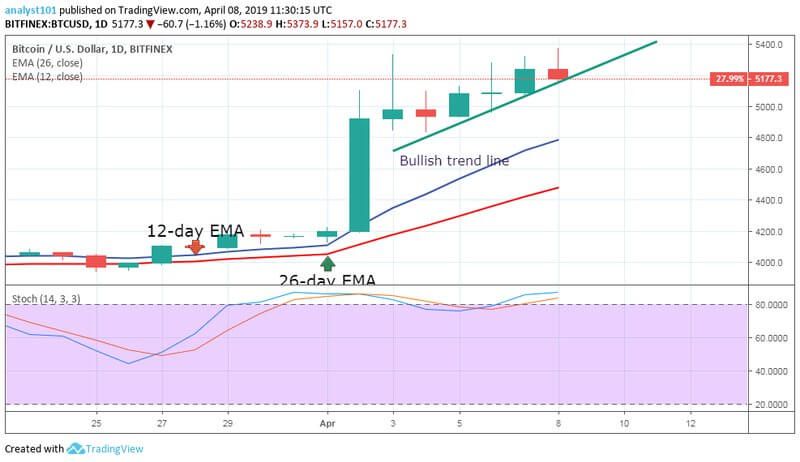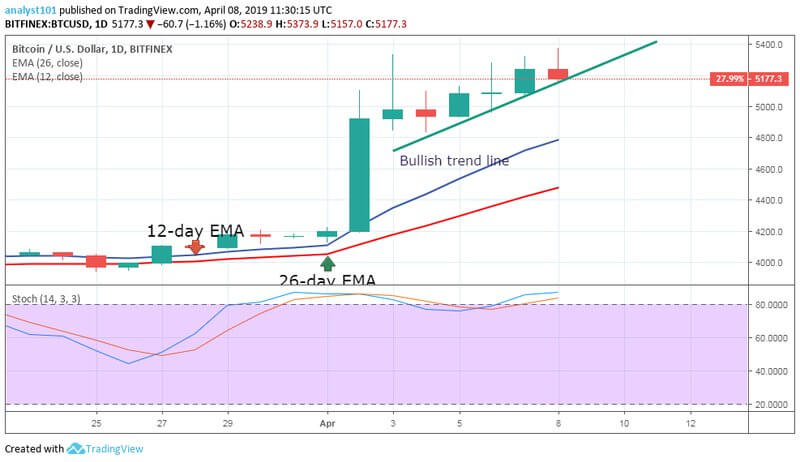 BTC price is trading steadily above 12-day Exponential Moving Averages (EMA) as well as the 26-day EMA, an indication of strong bullish momentum in the Bitcoin market. A trend line seen in the chart is drawn to technically signify the duration of the bullish trend.
Therefore, if BTC bullish trend continues, the bullish candlesticks will continue to test and trend on the trend line. Conversely, if the bullish trend stops, a bearish candlestick will break the trend line. Moreover, another candlestick will close on the opposite side to confirms the termination of the ongoing trend.
What is more, if the price is sustained above the EMAs, it will climb to the highs of $5,500 or $6,000. In the meantime, the Stochastic indicator is at the overbought region while above the 80% range, indicating that the BTC price is in a strong bullish momentum and a buy signal.
BTCUSD Short-term Price Prediction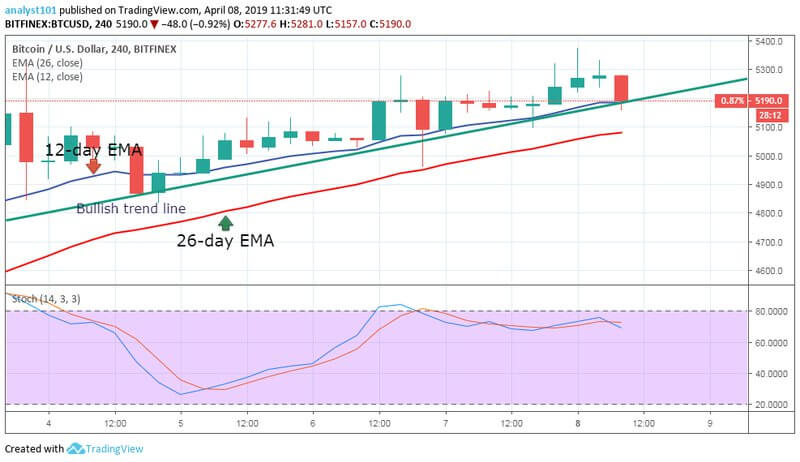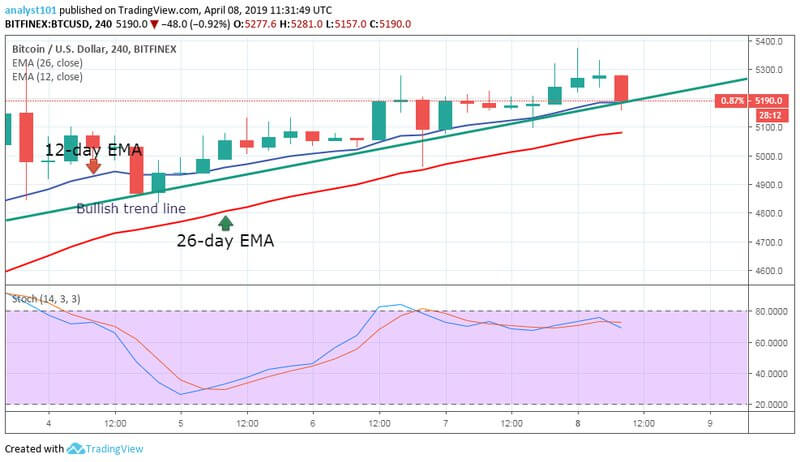 As the 4-hour chart shows, BTCUSD price is in a bullish trend. The price is currently trading above the 12-day EMA and as long as the price is above the EMAs, we can expect the price will rise. Should the bears break below the EMAs, the price of BTCUSD will decline. Presently, the Stochastic indicator is now at the overbought region while below the 80% range, indicating that the BTC is in a bearish momentum and a sell signal.
Resistance levels: $7,000, $7,200, $7,400
Support levels: $5,000, $4,800, $4,600
Disclaimer
Arathur Stephen is not registered as an investment adviser with any federal or state regulatory agency. The Information above should not be construed as investment or trading advice and is not meant to be a solicitation or recommendation to buy, sell, or hold any cryptocurrencies. The information is solely provided for informational and educational purposes. Always seek the advice of a duly licensed professional before you make any investment.