The price of Bitcoin (BTC) has broken the $17,000 level, refreshing 2020 high. The chart below shows a jump in price against the background of a surge in trading volumes.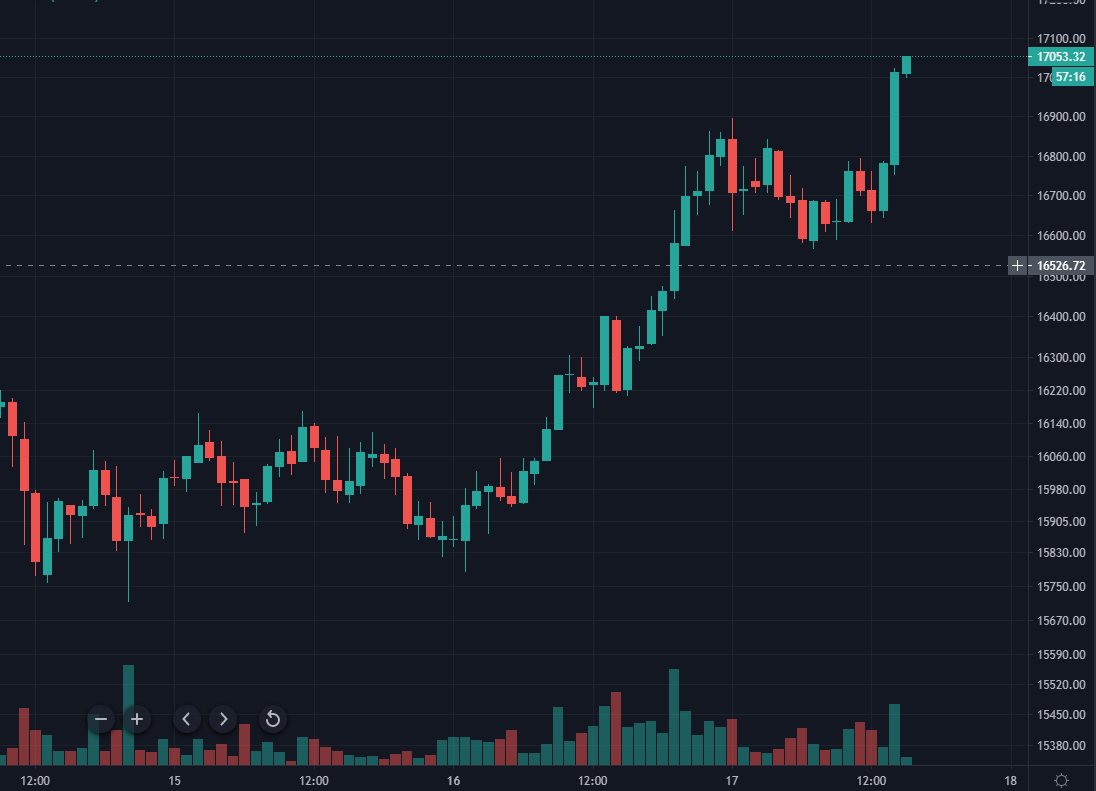 Update: The "printing press" of the Tether stablecoin has revived. Among the recipients of the new issue is the Binance cryptocurrency exchange.
? 17,000,000 #USDT (17,143,301 USD) transferred from Tether Treasury to #Binance

— Whale Alert (@whale_alert) November 17, 2020
Bitcoin's rise revived the rest of the market as well. This is what the Top 10 Crypto Assets by Market Cap look like:


Among the top 10, XRP, Litecoin, Polkadot and Cardano grew the fastest in a day. Data: CoinGecko.
Related: Will Bitcoin price touch $20,000?
The current capitalization of bitcoin is $ 315.4 billion, the dominance index is 64.1%. The price of digital gold at the time of writing is $ 17,025 (Bitstamp exchange). Bitcoin was last traded at such a high level in January 2018.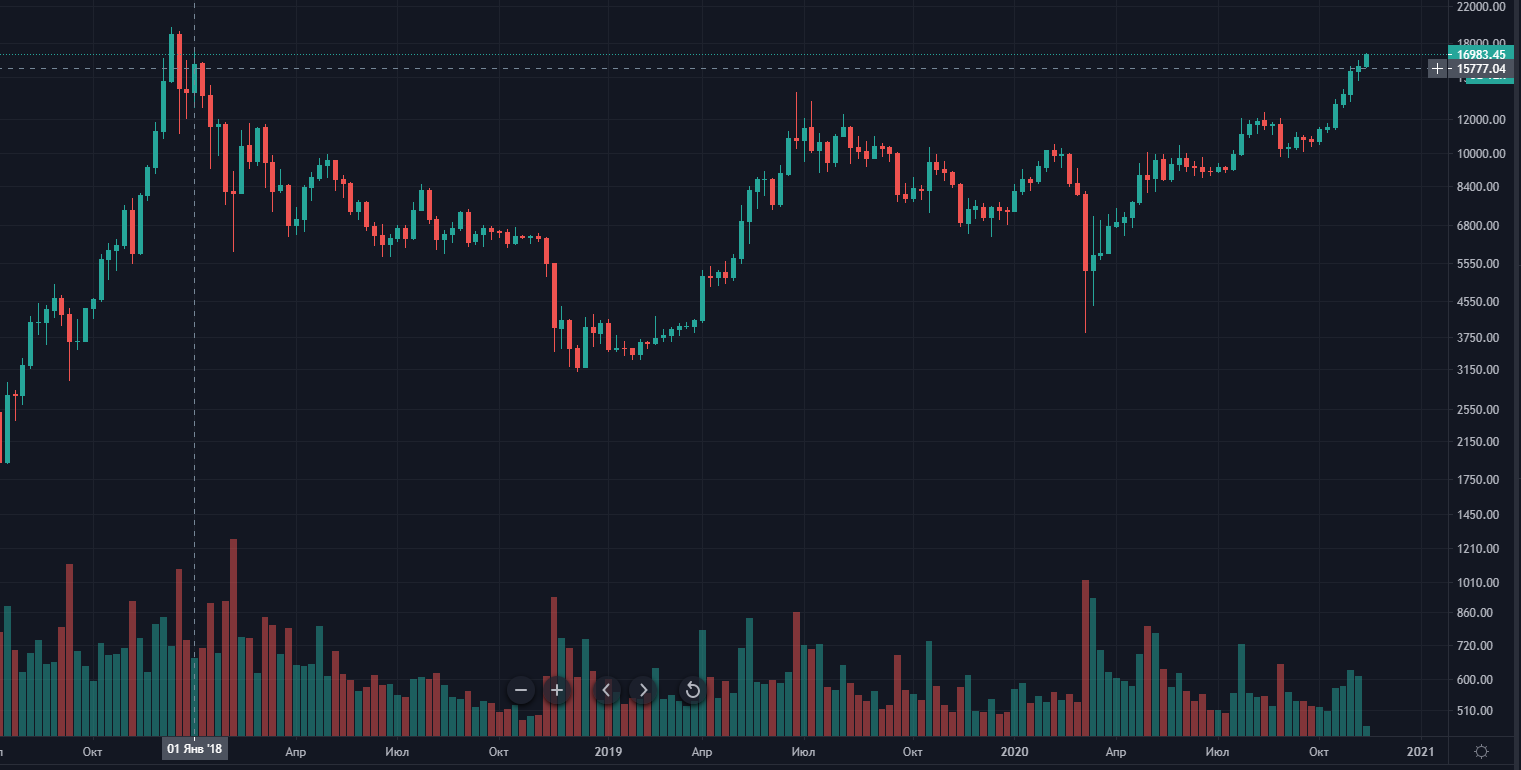 Bitstamp weekly BTC/USD chart by TradingView.
According to the observations of The Block analyst Larry Chermak, the price of the first cryptocurrency should rise by only $ 400 to break the record for market capitalization.
We only need about $400 more to surpass Bitcoin's market cap all-time high. Only about $15 billion away pic.twitter.com/1fHqcBm2BM

— Larry Cermak (@lawmaster) November 17, 2020
Against the backdrop of rising bitcoin, the percentage of supply of coins that have been lying motionless for more than two years has dropped to new lows.
? #Bitcoin $BTC Percent Supply Last Active 2+ Years just reached a 3-month low of 44.012%

Previous 3-month low of 44.013% was observed earlier today

View metric:https://t.co/QABODbVlQG pic.twitter.com/na7zy9h340

— glassnode alerts (@glassnodealerts) November 17, 2020
Updated the maximum indicator of the realized capitalization of the first cryptocurrency.
? #Bitcoin $BTC Realized Cap just reached an ATH of $128,578,406,096.02

Previous ATH of $128,570,271,179.49 was observed earlier today

View metric:https://t.co/C8JhD26mC1 pic.twitter.com/JguLjOarIt

— glassnode alerts (@glassnodealerts) November 17, 2020
Analyst Willie Wu stressed that miners have been selling much more coins per hour over the past week than a month ago – 328 BTC versus 11 BTC. Thus, the price is steadily growing despite the increased pressure from the bears.
Since #Bitcoin was at $11.4k a month ago, miners have been selling an average 11 BTC per hr at exchanges.

In comparison 214 BTC per hr has been scooped off exchanges. This is net flows of buyers over sellers.

This week's average is 328 BTC per hr.

(@glassnode data)

— Willy Woo (@woonomic) November 17, 2020
Earlier, Bloomberg analyst Mike McGlone expressed confidence that Bitcoin's capitalization will reach $ 1 trillion in the second half of 2021.