Bitcoin News:  A very interesting inference has come from a survey that suggests that as and when bad news about Bitcoin (BTC)  makes the rounds, the subsequent interest in the token experience a surge.
A  study conducted by blockchain firm Clovr suggests that Bitcoin's mainstream media coverage peaks especially at a time the cryptocurrency fell from its all-time high at the beginning of this year. Notably, Whilst the bullish run also invited attention from mainstream media, the aftermath of the price crashing observed much higher media attention.
For the first seven months of the year a similar pattern of heightened coverage during notable price declines has been observed:
"The appeal of reporting disaster might explain more recent trends in coverage as well; in May and June 2018, for example, a slide in value correlated with a temporary increase in articles."
Not a happy inference as the layman gets a partial view of the cryptocurrency ecosystem. Though we could easily lame the mainstream media for their heightened coverage during 'disasters', the consumers apportioned some blame for dictating this. For instance, during the recent price crash, the searches for the bitcoin keyword on Google search engine reached an eight-month high. These intensified searches suggest that consumer demand is a key factor in driving coverage.
#bitcoin Trending: Google Searches for Bitcoin Surges to 8-Month High https://t.co/PVOeAUfGuJ

— Btctools (@Btctools) November 29, 2018
The report from Clovr also noted that initially, BTC received positive coverage, however, since the flagship cryptocurrency gained in stature, positivity has receded to a corner. Interestingly, Clovr notes that the number of positive articles on bitcoin in the past two years has observed a decline since its price surged in mid last year.
The number of articles with negative sentiment increased subsequently increased end of last year when the price of bitcoin plunged.
Read more: Bitcoin Price Not Correlated To Bitcoin Futures Expiration Dates, Says Cindicator Research
Negative Bitcoin Bias 
Clovr observes that technology media outlets along with the media outlets that are conservative and centrist illustrated more negativity. Conservative media outlets had the highest level of negative sentiment – 88.7% negative versus 11.3% positive. Whereas the ratios are 68.2% negative versus  31.8% positive on centrist media outlets. Technology publications favour negative sentiment with 57.7% against 42.3% positive.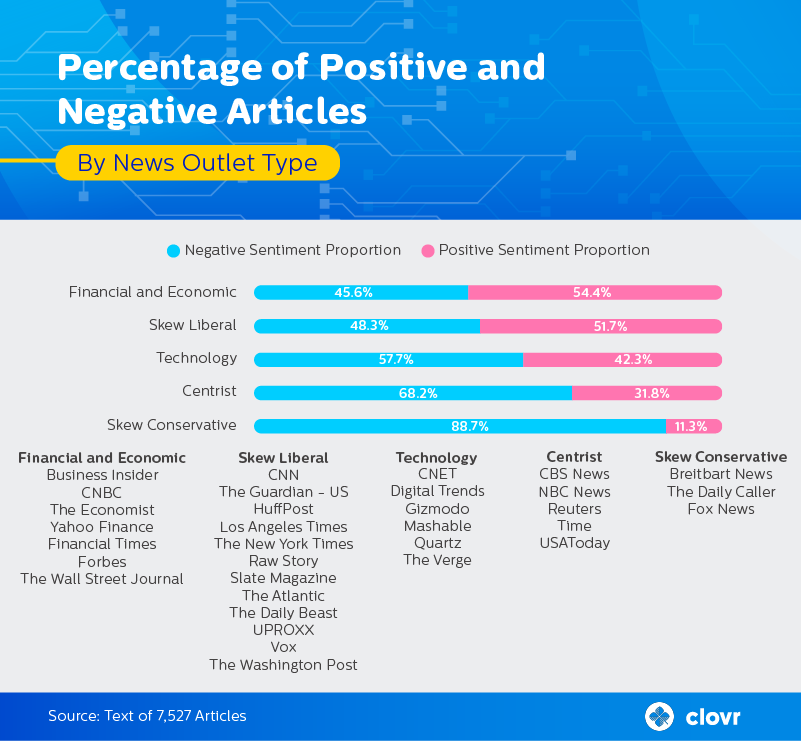 In contrast, the outlets that are liberal and the financial and economic media houses had more positive stories on bitcoin than negative.  Liberal media outlets sport 51.7% positive sentiment versus 48.3% negative. 54.4% positive is pitted against 45.6% negative with Financial/economic publications and channels.
Read more: Millennial's Interest In Cryptocurrencies Rapidly Growing Suggests A New Study