One of the most popular South Korean exchanges, Bithumb has been reportedly hacked a few hours ago as announced by the Bithumb official Twitter page. The tweet clearly stated that around $32 million worth tokens have been stolen. But, the post went missing after few minutes. They immediately announced a suspension of all deposits and withdrawals to ensure security and any further damage or loss.
Bithumb said it would cover any losses suffered by its customers, and that all assets were being transferred to a cold wallet, which refers to storing them offline. Keeping them away from the internet ensures they can't be stolen, even if the company's servers were still vulnerable.
The hack took place sometime between late night Tuesday and early morning Wednesday (South Korean time), according to Bithumb's statement, which did not specify the exact cryptocurrencies affected.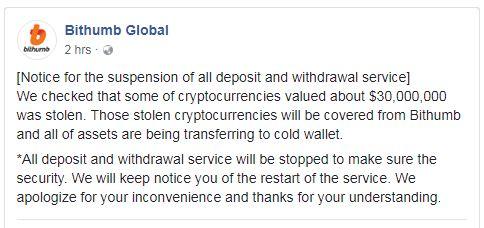 A post by Bithumb on its Facebook page announcing the hack. The post has since been deleted. 
They have been continuously warning and updating the users though not in detail, that they are working on securing the user funds and get out of this smoothly. They have announced that they will restart the services only after ensuring security and will notify the users of the same when re-instated. They immediately started transferring all the digital assets held by them to their cold wallets as a prevention to further damages.
Bitcoin, the largest cryptocurrency, dropped as much as 2 percent and was trading at $6,588 as of 12:15 p.m. in Hong Kong, bringing this year's decline to 54 percent, according to Bloomberg composite pricing. Ripple, Ethereum and Litecoin also retreated, along with some Asia-listed stocks with exposure to digital currencies.
Only a few days back, another South Korean exchange, Coinrail got hacked, where 70% of its digital assets had to moved.
Read More: South Korean Cryptocurrency Exchange, Coinrail Hacked | Bitcoin Price Tumbles
KryptoMoney.com publishes latest news and updates about Bitcoin, Blockchain Technology ,Cryptocurrencies and upcoming ICO's.