Join Block Hedge 3rd Edition, South-Asia's Mega Blockchain Event in Bangkok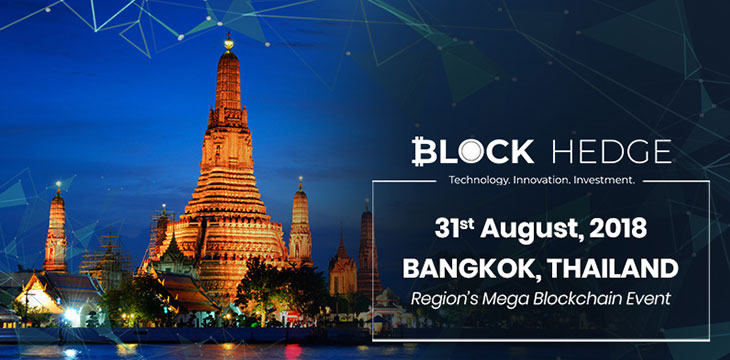 Block Hedge team is now bringing South-East Asia's biggest Blockchain event in Bangkok, Thailand which will give you a unique opportunity to connect world's leading thought leaders in the Blockchain arena. It is an international platform for showcasing latest blockchain innovation, contemporary industry trends, hottest ICOs and much more. This time the Block Hedge event will be held on August 31.
Why Thailand?
Thailand was chosen as one of the important South-East Asian countries for Cryptocurrency and Blockchain developments of recent times. While most countries are unsure on adopting cryptocurrency as legal tender of transaction, Thailand on the other hand has emerged to be one of first few countries to introduce special law for cryptocurrencies.
Like Thailand, there are other countries in the region started thinking of legalizing cryptocurrency. Banks, Healthcare and supply chain enterprises of this region are moving their businesses into this most disruptive technology.
More About Block Hedge
With more than 500 Blockchain and cryptocurrency innovators, decision makers, innovative startups and enterprising investors are expected to attend. Block Hedge,  Bangkok builds on the success of similar events in Mumbai and New Delhi. The one day event focuses on the future of Blockchain Technology, finance and investment, regulation & governance, successful past and future ICOs, security threats and considers how decentralization continues to disrupt sectors like banking and supply chain.
The Block Hedge Conference has two major themes:
Potential & Caution
The talks and the sessions will fine tune our understandings of ICOs, what to avoid, what to look for before investing, who are the people behind it, what can we learn from most successful ICOs and other terms, definitions and key points we must understand to position ourselves to leverage it.
Intelligence & Profits
Crypto-trading, as emerged, is an area witnessing enormous activities, investments and profits. However, like any other trading, it calls for deep understanding before you venture into it. The conference sessions and the leading experts from the crypto space will put a spotlight on what needs to be understood and how you can make profits in future.
Past Block Hedge speakers include:
• Joshua Paul Hawley- Co-founder, Mauritius Ethereum Appliance
• Alexander Vervarenko- CEO, ShipNext
• Lior Zaks- VP, Olam Foundation
• Per Lind- Member, IOTA
• Nikita Shevchenko- Co-founder, Fund Platform
• Evan Luthra- CEO, Almora
• Sunny Kapoor- Co-founder, Gladage
And many more prominent speakers.
Registration for the Block Hedge Events is now open.
KryptoMoney.com publishes latest news and updates about Bitcoin, Blockchain Technology ,Cryptocurrencies and upcoming ICO's.