Integration of Blockchain Technology In Healthcare Sector
Answering to the main question, Can Blockchain Technology Save Lives?- Yes! Blockchain is a revolutionary technology creating wonders in almost every sector and Healthcare is no exception.
Let us give you a real life story and explain how Blockchain Technology can save lives.
Greg Jarzabek, an entrepreneur was travelling for months here and there hoping to find doctors for his mother who was diagnosed with pancreatic cancer. But Greg was facing one major problem. Problem of distance! All the specialists were in different countries and in some cases in different continents. As a result it was getting difficult for getting consultations from specialists. While going through this pain and agony of not able to help his mother, he realised one thing. As he was the problem, there would be millions of people facing the same situation in which there loved ones could not get treated from specialists doctors and had to give up their life. As a result, Greg decided to make a change — a service that will allow to save thousands of lives. He came up with a blockchain technology based product named TrustedHealth.
Greg says: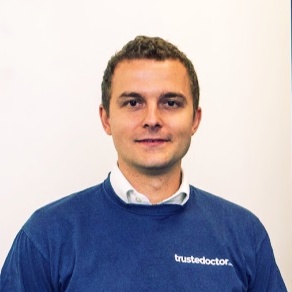 "There are huge problems in the provision of medical services in complex and life-threatening diseases. TrustedHealth solves them and gives patients quick access to the best medical service in digital form throughout the world. We attract the best specialists and people who are ready to help people at any moment from anywhere in the world." [/et_pb_testimonial]
So What is TustedHealth ? 
Technology can make healthcare work – a use case with a proven track record.
TrsutedHealth, a blcockhain technology based product is working on a fully-fledged working business model called Trustedoctor – the first ecosystem partner of TrsutedHealth.
What is Trustedoctor?
Trustedoctor is a platform which offers virtual communication and digital creation of medical records. On Trustedoctor,  patients get access to the best doctors, while the doctors get the opportunity to help patients and colleagues around the world.
In addition to its social function, the ecosystem greatly simplifies the processes of interaction between hospitals, polyclinics, centers and other medical institutions, also involving individual patients on home treatment. The ecosystem already includes more than 50 hospitals from different countries, more than 80 world's leading doctor specialists and more than 300 users from around the globe, actively using the service of Trustedoctor and recommending it to their friends and loved ones.
TrustedHealth combines the digital tools of its own design that allow you to change the structure of the entire health system:
Digital medical records,
Accessibility to doctors from all over the world simultaneously,
Decentralized 'patient – doctor' and 'doctor-doctor' communities,
Educational institutions based on web-technologies,
Special projects in the field of artificial intelligence,
And Other special services and programs.
Join the revolution in Healthcare supported by world's leading specialists doctors and blockchain experts
TrustedHealth is supported by a growing number of advisors – experts and professionals from the world of healthcare and oncology, doctors and researchers dealing with rare diseases, including authoritative experts with international recognition such as:
Professor of medical school of Buckingham Medical School,
Chief medical officer for Proton Partners International,
Oncologist Karol Sikora, Professor of oncology,
Associative director for the comprehensive cancer research center of Northwestern university,
Former President of the European organization for research and treatment of cancer Roger Stupp,
Consultant cardiologist at Royal Free London NHS, R&D Deputy Director, clinical research officer Dr. Ameet Bakhai,
Professor of oncology at Imperial College, editor-in-chief of Oncogene Journal, the founder of the "Action against cancer" charity  fund in the UK, Professor Justin Stebbing and many others.
Not only Healthcare, but TustedHealth is also being supported by experts from the field of Blockchain such as:
Tomoaki Sato –The founder and ideologist of the Starbase project
Dr. Nicolas Courtois – A senior lecturer of the London University College, a specialist in cryptography,
Lex Sokolin – the American fintech entrepreneur, the author and the founder of a number of blockchain projects,
And many others.
The full list of experts and advisors that support TrustedHealth can be found on the website.
TrsutedHealth ICO
The TrustedHealth Pre-Sale ICO starts On March 20th 2018. This blockchain-based health ecosystem in specialized medicine is designed to facilitate and accelerate patients' access to highly qualified and expert care around the world.
The Private sale of TrustedHealth (TDH) tokens were sold out without any advertising – Soft cap of 1000 ETH is already reached.
The price of the TDH token at every ICO stage is fixed — 0.00006 ETH. The ETH pegging is used in order to avoid a large difference in the price depending on the date of purchase due to exchange rate fluctuations of the $/ETH price.
Greg Jarzabek, the CEO and Co-founder of TrustedHealth says: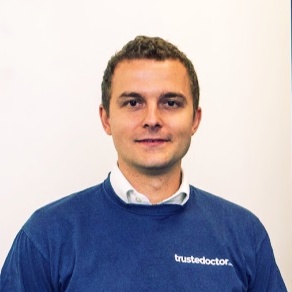 How To Contribute In the TrustedHealth ICO Presale?
To contributed in the TrustedHealth ICO presale, visit trustedhealth.io and apply for the whitelist.
What is the future of TrustedHealth ?
Healthcare industry is $ 3 trillion market with lots of room for improvement. Today, the healthcare industry is experiencing a new round of development and introduction of innovative digital technologies worldwide. The industry is one of the largest sectors of the economy with the capitalizing of more than $ 3 trillion in the United States alone. With the help of the released TDH token, TrustedHealth will combine all the healthcare services, transactions and products into a single ecosystem. The TDH token will enable all the users, patients, healthcare providers, and other industry representatives to work, share experiences, and help doctors and patients together.
Digital technologies transform virtually all the areas of health and well-being, including diagnosis, treatment, prevention, rehabilitation, management of chronic diseases and healthy lifestyles. Digital medicine is a promising path of development that will allow not only diagnosing and treating more accurately and effectively, but also making medicine more accessible and comfortable for the patient. In the future, its development will determine several main trends, where their category impact is already noticeable.
One of the main goals of the service is to create an infrastructure that will unite all the best in the world of healthcare. Using a single currency will make access to services, as well as their payment fast, convenient and intuitive. Users no longer have to spend time searching for the right doctor – thanks to the built-in database, which includes thousands of doctors from different countries; each patient can find someone who is ready to help in his particular situation as soon as possible. At the same time, the medical record and the entire history of his illnesses are also available to the attending specialist or specialists, even if they are located in different parts of the world. Thus, the TrustedHealth project aims to overcome the fragmentation of the healthcare system and high costs patients have to pay to receive the best health services. It creates a single ecosystem not only to provide services, but also to provide a platform for the exchange of experience and professional development of doctors and medical institutions around the world.
For more information and on how to participate in the TrustedHealth ICO Presale, please visit the official website of the project: www.trustedhealth.io
KryptoMoney.com publishes latest news and updates about Bitcoin, Blockchain Technology , Cryptocurrencies and upcoming ICO's.