Blockchain Technology Without Cryptocurrency
If you have been living on this planet earth with all your senses working, you would definitely have heard about the hype regarding cryptocurrency and blockchain in the past one year. But there is a common misconception that "https://kryptomoney.com/blockchain/" target="_blank" rel="noopener noreferrer">blockchain technology is meant for using cryptocurrencies only. But actually, these two are separable.
Cryptocurrency is a digital currency which can be used to buy or sell different things in the economy. In other words, it is a digital asset used as a medium of exchange and which uses cryptography to secure the transactions, to verify the transfers and to monitor the creation of additional units.
On the other hand, blockchain is a public digital ledger which records the state of the shared database between different people. The biggest misconception in this regard is that people think that blockchain deals with cryptocurrencies. But blockchain is more about the consensus of some digital asset and storage of information in a decentralised environment.
It is true that Cryptocurrencies have optimally used blockchain technology than any other sector but that doesn't mean blockchain is just limited to cryptocurrencies. In this article, we will explore the other prospects of blockchain technology.
Blockchain Not Limited To Cryptocurrencies Only
Think of a place where you can store all your personal information and you can decide as to what part of the information you want to share and what not. You have the authority to decide who can read that information and can also revoke that access. This type of imaginary place can be brought into existence with the help of blockchain technology.
Blockchain Can Be Used As A Database
Storing data in blockchain ledger is a great solution. And many decentralized applications are working exactly this way. The Interplanetary File System (IPFS) allows us to share files on the client's computers which unites them in a global file system. This peer to peer file system is addressable which means it is impossible to forge the content by given address. There are also decentralized cloud storage systems that overcome some of the limitations of IPFS.
Application of Blockchain In Banking and Financial sector
You might often read that banks are appreciating blockchain technology and looking forward to adopt it upcoming years. But how will this technology improve the current banking system???  Here are some practical uses and applications of blockchain technology in Banking And Finance sector:
Settlement and clearing
We all know that big investments banks spend billions of dollars on these jobs. But it is estimated that these banks can save a huge amount of money spend on clearing and settlement with the help of blockchain technology.
Payments
Many banks across the world are trying to shift their payments system on the blockchain technology. This would offer higher security and simultaneously reduce the costs involved in processing the payments between their clients and organizations.  Blockchain technology will also eliminate the intermediaries involved in the payments processing job.
Know your customer
Financial institutions spend a great deal of money to meet the KYC norms. These norms aim to reduce terrorism and money laundering activities by requiring the banks to verify the identity of their clients. In this case, the blockchain technology would allow the organizations to access the individual verification of each other's clients. This will reduce the administrative costs.
Blockchain And Smart contracts
Most of the applications of blockchain technology are available in the form of smart contracts. Smart contracts are the computer programs designed to digitally facilitate, enforce or verify the performance of a contract. The smart contracts copy the logic of regular or routine contracts. In this way, many commercial contracts can be executed automatically. Blockchain provides an encrypted database of transactions which means that once a deal is made, neither of the party can deviate from the terms of the contract. With the help of blockchain technology, smart contracts can be made more secure. Delivery of goods will automatically indicate an invoice to be paid is an example of a smart contract.
Blockchain And Artificial Intelligence
Artificial intelligence (AI) involves the creation of computer applications that can act as smart as humans. These are expert systems that apply pre-programmed knowledge to make various decisions.
Since blockchain technology can guarantee the accuracy of data, it can be useful in many Artificial Intelligence (AI) applications, for entering the data into the AI systems and for recording the results from them.
For instance, CognitiveScale, an AI application, uses blockchain technology to store the results safely.
Blockchain will allow the emergence of a marketplace for AI. AI along with blockchain will lower the barriers to entry for the small players and reduces the competitive advantage available to the tech giants.
Blockchain In Supply Chain Management
Supply chains have become extremely dynamic and fast moving. Now, these chains do not use the traditional networks and suppliers. The product lifecycles have become shorter and ramp-up and ramp-down phases are now more intense. But despite these transformations in the supply chains, the organizations have not yet updated the causal technology for the management functions.
Blockchain technology can be very helpful for the management of supply chains. Have a look below.
Blockchain technology can be very helpful for securing your supply chain. In blockchain, each product is given a tag which secures the supply chain in just a second. All the information, like the place of storage, property certificates, place of origin, is available in a single ledger, which further adds to the security.
Who doesn't want to avoid middlemen? Obviously, no one! Blockchain technology allows the business partners to share and discuss important information with each other directly, thus, eliminating the need for an intermediary. This is possible because blockchain coordinates all the transactions and data and all the participants verify the calculations of others. Due to this enormous amount of accuracy and crosschecking, blockchain is considered reliable and secure.
The blockchain technology provides added transparency. Therefore, all the participants can know that how the goods are sourced, etc. The financial, digital and physical information is also put on one platform which helps to identify inefficiencies, abuse, and fraud and accordingly frame new strategies to combat them.
Have a look at this video which tells how to track an item using Blockchain Technology :

Blockchain In healthcare
Blockchain can bring a new range of innovation in the healthcare sector. The inherent properties of blockchain technology like public distributed ledger, proof of work, public and private key access which provides integrity to the healthcare information. With blockchain technology, the dealers or buyers can also track the movement of a drug as it moves from producer to the patient, which in turn helps in preventing drug counterfeiting.
The digital infrastructure of the healthcare industry is awful. It does not support interoperability or security. But to use the collected medical data to the maximum extent, interoperability between systems is required. All these challenges could be solved with blockchain technology.
For example, SimplyVital Health has introduced two products with the help of blockchain technology. These are Connecting Care and Health Nexus. Connecting Care helps the healthcare providers to streamline data, thus, saving money and time. Health Nexus enables the healthcare providers to share the data efficiently. With this, even a patient could sell his medical data to some research institute. So anyone can use this product for safe medical data exchange.
"blockc">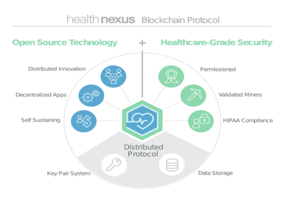 Blockchain In insurance
Blockchain technology can bring a number of improvements in the insurance sector. Some of them include:
Improves efficiency: Once, the working of blockchain technology is completely understood; it can be easily used to acquire maximum efficiency. The proof of working is required for claiming insurance which is extremely visible and simple to monitor through blockchain technology. This reduces the time taken between the point of claim and resolution.
Reduces costs: The Blockchain technology helps in eliminating paperwork which speeds up the entire process. The saved amount of money can be used elsewhere for improvements.
Instant policies: The insurance policies require interaction between the humans, even when purchased from an online website, which can slow down the process. But blockchain can provide automatic and streamlined service which can be provided without any human interaction. This opens up the way for Instant insurance policies.
For example, Tierion is already using blockchain technology in its operations. They collect data and store it in the blockchain. They believe that a time will come when blockchain receipts would be used to verify everything from online purchases to medical records.
Blockchain provides a bookkeeping platform that ensures transparency, cannot be corrupted, and bypasses censorship. By tackling such issues, blockchain technology has a huge potential for protecting the human rights of the people.
Blockchain technology is still in its infant stage but it's high time that we should see what the blockchain technology could possibly do outside the scope of cryptocurrencies. It is much more than a mere instrument of finance.
How To Invest In Blockchain Without Buying Any Cryptocurrencies?
It is very important to understand blockchain and cryptocurrencies are two different aspects. Blockchain technology is the underlying record system due to which cryptocurrencies work. There are many way in we can support this emerging technology without buying any cryptocurrency
Following are some ways to invest in blockchain without actually investing in any cryptocurrencies.
Blockchain startup stocks
Investors can invest in blockchain by purchasing blockchain startup stocks. There are many stocks of blockchain companies that are traded on global stock exchanges. For example BTL group, a North American based blockchain service provider.
In U.K. Coinsilium group limited was the first IPO by a Blockchain company in the world.
Overstock.com
It is one of most popular proxy for investment in cryptocurrencies. It is an online retailer or an e-commerce platform like Amazon. Over the past few years, it has become famous blockchain play. Rumors are there that overstock is selling its retail business and completely moving into the cryptocurrency and blockchain area. This stock is gaining momentum and this could provide you a way to invest in this dynamic area.
Conclusion
From the past years, cryptocurrencies and blockchain have been hand in hand but it should be noted that the scope of blockchain technology is not limited to cryptocurrencies. The application of blockchain is continuously increasing as many corporations and banks have started incorporating this technology into their working. There is no limit to the application areas of blockchain and it could be possible that blockchain will become a part of our daily life.
KryptoMoney.com publishes latest news and updates about Bitcoin, Blockchain Technology , Cryptocurrencies and upcoming ICO's.

Prarit Singhania is a commerce graduate and is a Technology enthusiast. Working as Sales Manager in Pharma Co. in Day and a tech-writer at Night. Prarit is also a financial trader who invests his time and money in stocks and crypto-market. Prarit believes that blockchain technology will soon have a remarkable impact on traditional businesses, government, and even in our day to day life.