Bloomatch – Blockchain Technology Based Dating Platform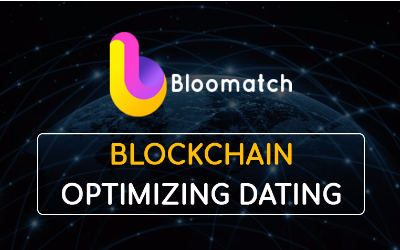 Is Bloomatch Blockchain Technology Optimizing Dating?
The global dating industry has seen remarkable growth in the last ten years, a trend that has been driven mostly by the emergence of mobile dating applications and technological advancements in matchmaking algorithms. However, there are still numerous challenges for those who use these platforms. The efficiency of the matchmaking algorithms used by dating platforms has received sharp criticism from the public. Research shows that most of the people who abandon online dating services are compelled to do so because of the inaccurate matches they had received. Furthermore, online dating platforms are also used as avenues for cybercrimes such as identity theft and extortion. This is a growing concern that continues to hinder industry growth.
But behold,Blockchain is here with an ultimate solution
If there were any doubts concerning the benefits of blockchain technology for the online dating industry, then they can be put to rest owing to the fact that it has already revolutionised online dating completely. The improved confidentiality and security that come with blockchain based matchmaking platforms have reignited public confidence in the ability of dating platforms to provide quality service and protect the confidentiality of their clients.
Blockchain technology has allowed analysts to create instant identification verification systems. They compare the photos and information that users provide with the data available publicly on their social media profiles. The real-time facial analysis is also used to scan user faces as an additional security feature.
The information acquired is then stored on the blockchain decentralised network to remove the threat of hacking or misuse of the data. Combined with such decentralized systems of administration, the implementation of blockchain technology greatly increases security. It also allows having safe authentication process for users. These tools effectively protect the platforms' core infrastructure and prevent crimes such as identity theft and data modification.
Use of Cryptocurrency
Blockchain technology has allowed Bloomatch to take advantage of cryptocurrencies for their platform. Also known as tokens, these cryptocurrencies are used to reward contributors for their efforts. It works as an incentive to encourage further interaction on the platform. The reason behind implementing the token system is that it offers a way to generate money for maintaining and developing the platform. Also, it helps to reward new users for opting to join the platform.
The use of cryptocurrency incentives has proved beneficial in drawing new users to Bloomatch matchmaking platform. Dating sites usually have more men than women. The incentives can also be used to maintain gender balance. For example, fee options of Bloomatch platform incentivise female joiners in the pool for joining and sharing their interests. Bloomatch protocol is decentralized which uses Ethereum Virtual Machine. Ethereum is a programmable blockchain which is used to run smart contracts on the platform.
There are matchmaking platforms that hire professional matchmakers and pay them in tokens for their services. The payment is made in cryptocurrency. Bloomatch matchmaking platform also uses authoritative artificial intelligence, supported by blockchain technology to generate dating advice and recommendations to offer a fulfilling user experience.
KryptoMoney.com publishes latest news and updates about Bitcoin, Blockchain Technology , Cryptocurrencies and upcoming ICO's.
Subscribe to our newsletters and join our Telegram Channel to stay updated.
Saurabh Singhla
Technical Enthusiastic and Business Developer on Strategy, Marketing, and Growth. I invest my tech knowledge in Blockchain or ICO startups. Looks at the future with an eye on understanding the global impact of technology on society, business and government.