*The countdown to the next halving is about two calendar months, 10,000 blocks away, thus it is important to examine the nitty-gritty.
The Past, the Technicalities
BTC halving is an event that reduces the rate at which new Bitcoins are generated by halving the reward for mining new blocks.
The incentive for mining includes block subsidies and transaction fees.
The support, which is the bulk of the remuneration, involves the newly created Bitcoins at present. All transactions included in the block are subject to transaction fees.
Currently, the reward for mining a new block is 12.5BTC, including transaction fees.
After halving, the new reward will be 6.25BTC, which will be maintained until BTC reach its limited margin of 21 million, after which the network will only work for a transaction fee.
The first halving which occurred in 2012 had mining reward halved to 25BTC. BTC shot from its base price of nearly $11 to $1,135 within a year and recording 10,218% gain.
The second halving that happened in 2016 saw BTC reward halved to its current 12.5BTC. Within a year, it shot from its range of $500-$800 to its all-time high of $19,862 and recording an increase of 2,827%.
Opinions and Facts Presented
Thomas Lee, a top executive at Fundstrat, sees Bitcoin increasing to thrice its price this year after the halving.
Other traders and investors believe BTC will experience an explosive rally after the halving event.
Max Keiser, Bitcoin maximalist opined BTC could reach $400K soon; Of course, there are no absolutes in this kind of scenario.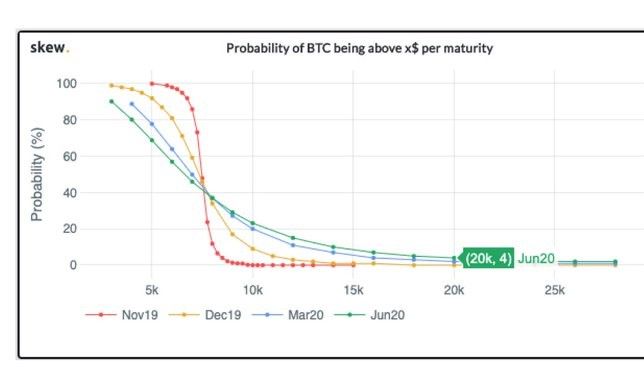 Options traders allude to the fact that BTC may not have an exponential price hike like the previous halving.
Skew on its research revealed a 4% chance of the asset marking a new 2020 high while traders weighed an 11% chance of BTC rising above its 2019 high of about $14k after the next halving.
Plan B, inventor of S2F model opined that based on reduction in supply and S2F, BTC price will hover around $10,000 to steadily skyrocket to $100,000 by the end of 2021. He postulated a ten times price gain is in order.
A Reddit follower stated a price increase is a likely scenario based on demand and supply but, on the flip side, if BTC demand reduces alongside a price decrease, the halving could project losses for traders and investors looking back at BTC bearish downturn in February. This is in contrast to Plan B, who believes BTC price is controlled by supply.
The facts, however, presented indicated slimmer chances of BTC catching up with the exponential price hikes of the past halving events. From 2012 to 2016, there was a significant drop in the % increase from 10,218% to 2,827%, signaling a 72 percent drop. Based on this premise, a gain of 797% is predicted this next halving.
Image Credits: Skew, Shutterstock