Bitcoin remained stable above the $ 9,300 level after failing to break the major resistance, Bitcoin (BTC / USD) gained nearly $ 1,000 during the first half of the week but failed to break above a critical resistance level and has entered the consolidation stage ever since. As of this writing, the pair is up 0.6% daily at $ 9,370.
Bullish sentiment on cryptocurrencies increases as the Coronavirus continues to spread with 5,914 officially infected people and may reach more than 43,000 if we have to certify a mathematical model by Professor Gabriel Long.
The market value of the entire sector reached $ 258,875 billion during the past 24 hours, as trading volume jumped to $ 102,935 billion (+ 20.92%). Finally, Bitcoin domination is currently 65.9%.
A month-long coronary bout has ruined China, killing hundreds of people and sickening thousands, but the Asian flu positively affected the crypto market and other assets, causing upside sentiment earlier and fueling uncertainty in a period of lofty assessments.
The growing concern about the Coronavirus comes with the number of infected people worldwide approaching 10,000 and with the Centers for Disease Control and Prevention reporting the first quarantine in the United States 50 years ago, with the UK and Russia reporting the first case of the deadly disease that led to comparisons with SARS, severe acute respiratory syndrome.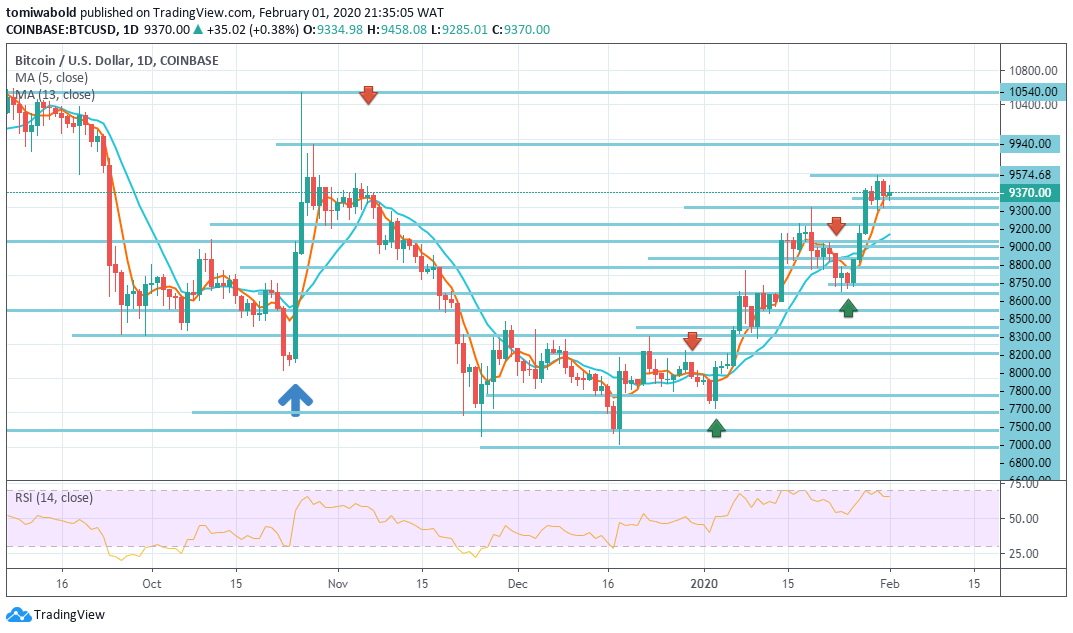 Bitcoin Price Consolidates Around $ 9,300, on Coronavirus Global Fears
Bitcoin remains stable above the $ 9,300 level after failing to break the major resistance, as the major cryptocurrencies are trading in relatively narrow ranges on Saturday amid the lack of important market drivers.
Despite the weak trading activity, Bitcoin kept close to key levels that could lead to the next critical step.
After breaching above the $ 9000 level earlier this week, bitcoin pair (BTC / USD) climbed higher and touched its best level since late October at $ 9,570 on Thursday. However, the pair lost its attractiveness and erased nearly 2% on Friday before starting to consolidate its losses on Saturday. As of this writing, the pair is up 0.6% on the day at $ 9,370.
On the daily chart, the RSI remains close to 70 points, and above that, the pair may get to the overbought zone technically in the near term. The bullish momentum appears to be weakening and the pair may need a technical correction before the next stage up.
Image Credit: Shutterstock