Coinsecure India Becomes a Victim of Bitcoin Theft Worth INR 20 Crores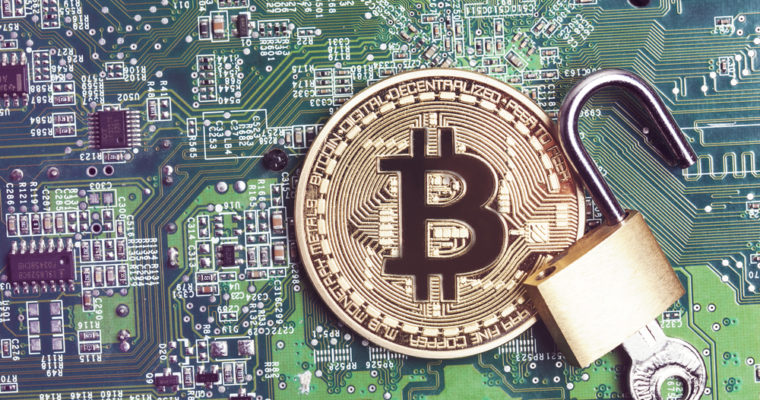 On April 9th, one of the top Indian exchange firms, Coinsecure, reported a theft of 438 bitcoins worth over Rs 20 crore which comes down as India's biggest cryptocurrency theft recorded so far.
Secure Bitcoin Traders Pvt Ltd, Coinsecure's parent company, filed the FIR just days ago, explaining how "user funds are securely kepts in our bitcoin wallet, who's private keys are kept with Dr. Amitabh Saxena, CSO and Mr. Mohit Kaira, CEO at Coinsecure.in."
Coinsecure has over 200,000 users trading on its platform daily. After gathering details of the online robbery, the company reported around 438 bitcoins, which were stored in a password-protected virtual wallet were stolen and pushed off to an unknown destination on the internet.
The company said in a statement posted on its website.
"We regret to inform you that our bitcoin funds have been exposed and seem to have been siphoned out to an address that is outside our control."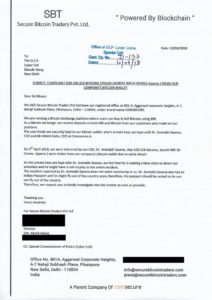 Mr. Kaira, who filed the FIR, On April 9th, Mr. Kaira continued,
"we were informed by our CSO […] that 438.318 were stolen from our company's bitcoin wallet due to some attack. As the private keys were kept with Dr. Amitabh Saxena, we feel that he is making a false story to divert our attention and he might have a role to play in this entire incident."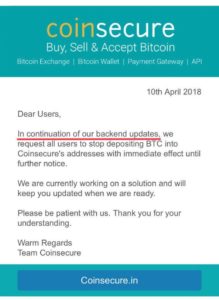 "It is for reasons like these that there is a need to regulate crypto-exchanges," said Anirudh Rastogi, founder and managing partner at TRA Law, a firm that specializes in emerging-technology businesses.
The Reserve Bank of India (RBI) has already dealt a blow to the crytocurrency exchanges, barring banks from facilitating trade on virtual currencies and mandating them to unwind their existing relationship with exchanges within three months.
KryptoMoney.com publishes latest news and updates about Bitcoin, Blockchain Technology ,Cryptocurrencies and upcoming ICO's.