ConsenSys India Developer Program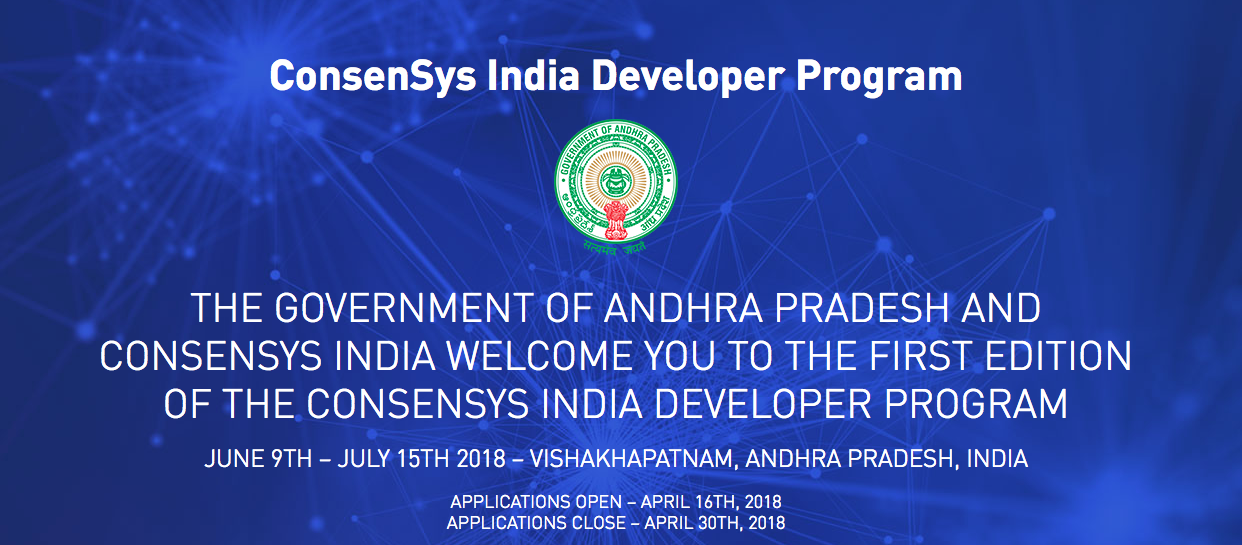 The Government of Andhra Pradesh and CONSENSYS INDIA is organizing the first edition of the CONSENSYS INDIA DEVELOPER PROGRAM from JUNE 9TH – JULY 15TH 2018 in Vishakapatnam, Andhra Pradesh.
About ConsenSys India
ConsenSys is a venture production studio building decentralized applications and various developer and end-user tools for blockchain ecosystems, primarily focused on Ethereum. The team is a global formation of 800+ technologists and entrepreneurs committed to building the infrastructure, applications, and practices that enable a decentralized world.
The team has already made great strides in this area with our educational initiatives which have successfully produced 100+ blockchain experts hailing from 95+ countries. Now, for the first time, we are looking to set up educational programs outside the United States.
ConsenSys India Developer Program is the first project for ConsenSys India – our new Indian cohort.
The ConsenSys India Developer Program is a highly selective, coding-intensive training program carried out over 5 weekends, followed by a 2-day hackathon where students will be required create projects based on their learnings.
Students will get a once-in- a-lifetime opportunity to learn from the global leaders in the Ethereum blockchain ecosystem.
Instructors include some of the first developers and coders on Ethereum as well as the creators of core Ethereum developer tools such as MetaMask, Infura, Truffle, and uPort.

The course will conclude with a graduation ceremony where students will be given a ConsenSys  India Developer Program certificate on the blockchain and a chance to join the ConsenSys India team.
ConsenSys India : COURSE STRUCTURE
For the duration of the course, students are expected to arrive in Vishakhapatnam on Friday afternoon.
There will be an informal dinner with the students and instructors on Friday evening. Classes will be held from 10 am to 3 pm on Saturday and Sunday with an hour-long lunch break at 1 pm. Students may then depart from Vishakhapatnam on Sunday evening.
Students will be given homework during the course which they will be expected to complete. This will ensure that they keep step with the material they are learning in class.
ConsenSys India : Fees
The total fee for the course is USD 3000 but ConsenSys is subsidising 30 percent of this amount so accepted students only need to pay USD 2100 as fees.
To further help students cover the cost of the course, the Andhra Government is graciously facilitating a loan for USD 1500. Students who wish to avail of the facility must apply for the loan and submit the total fee amount of USD 2100 directly to ConsenSys India by June 4, 2018. Detailed instructions on this process will be sent out to individuals who are selected for the program.
But that's not all! Of the total fee amount, USD 600 will be reimbursed to students who successfully complete the program and join the ConsenSys India team!
ConsenSys India : Important Dates
APRIL 16, 2018 : APPLICATION PROCESS OPENS
APRIL 30, 2018 : APPLICATION PROCESS CLOSES
MAY 15, 2018 : NOTIFICATION OF ACCEPTANCE
JUNE 4, 2018 : LAST DAY FOR FEE SUBMISSION
JUNE 9, 2018 : CLASSES BEGIN
JULY 13, 2018 : HACKATHON BEGINS
JULY 15, 2018 : GRADUATION CEREMONY
ConsenSys India : MEET THE INSTRUCTOR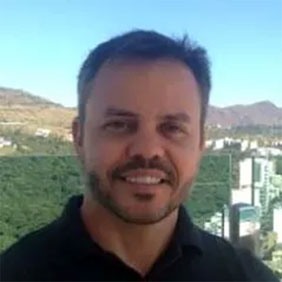 Daniel Novy is one of the foremost experts in the world on blockchain. He has architected many core components of the Ethereum blockchain ecosystem and decentralized applications at ConsenSys.
His entrepreneur career started in 2005 when he founded MobileBR, the first Brazilian company to offer a mobile trading platform. Among its customers, MobileBR had the Brazilian president, his ministers, Brazilian Central Bank directors as well as the biggest banks and Brokerage Houses in Brazil.
Before joining ConsenSys, he founded Basebit, a Bitcoin exchange based in Brazil – Daniel's home country. He is also the mastermind behind the decentralized registry platform – Regis.nu.
He has a BSc degree in Computer Science and an MBA in Financial Markets. His previous experience includes working with genetic algorithms, data mining, distributed systems and general artificial intelligence. He is passionate about new technologies and is particularly amazed by the possibilities enlivened by the Blockchain.
To know more about the training program, click here 
KryptoMoney.com publishes latest news and updates about Bitcoin, Blockchain Technology ,Cryptocurrencies and upcoming ICO's.