Friday, March 8 – Major cryptocurrency prices were all trading in the red at press time, with Binance Coin (BNB) suffering the worst correction (-8.7%) followed closely by EOS (-6.05%) among the top 10 cryptos.
The total market capitalization of the cryptocurrency markets stood at USD 131.4 billion down ~USD 2 billion over the previous 24 hours according to Coinmarketcap data.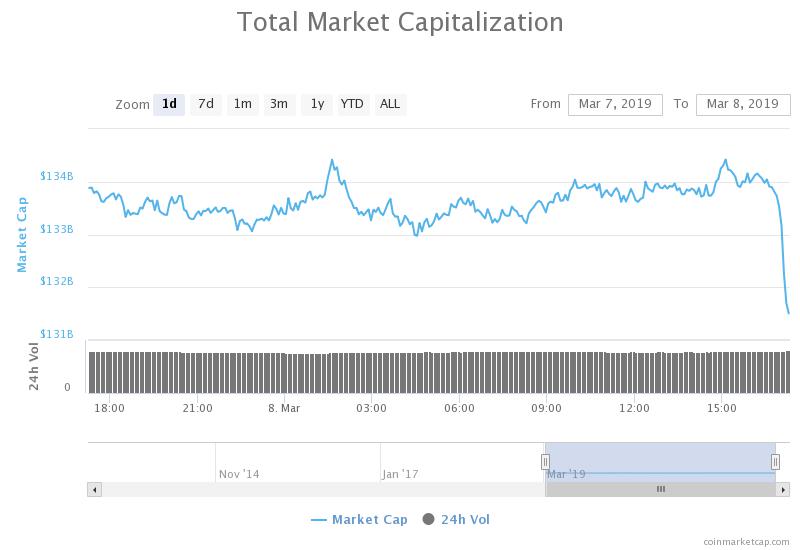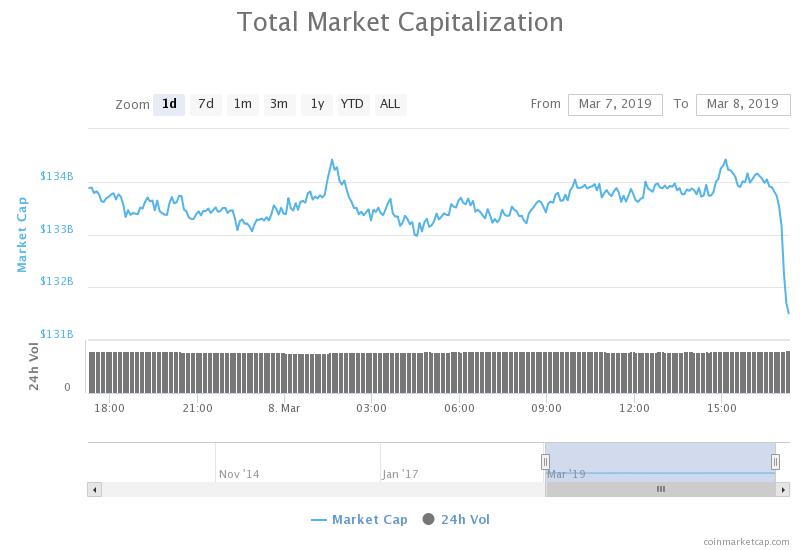 Total market capitalization 1-day chart. Source: Coinmarketcap
A look at the crypto market visualization by Coin360 reveals the extent of the losses. Binance Coin (BNB) which has had a remarkable rise recently – almost doubling in price in the last month- came under heavy selling pressure possibly driven by profit-taking. 
Source: Coin360
BITCOIN (BTC) PRICE UPDATE
Bitcoin continued to be the epitome of stability and was down less than 1% to trade at $3,887 at press time. The loss was much less than that experienced by the other major cryptos. Bitcoin traded above $3,900 for most of the day rallying to as high as $3,950 before correcting sharply in the last hour as shown in the chart below. Bitcoin's inability to break the resistance at 4,000 continues to test the patience of investors and traders hoping for a sharp breakout on the upside.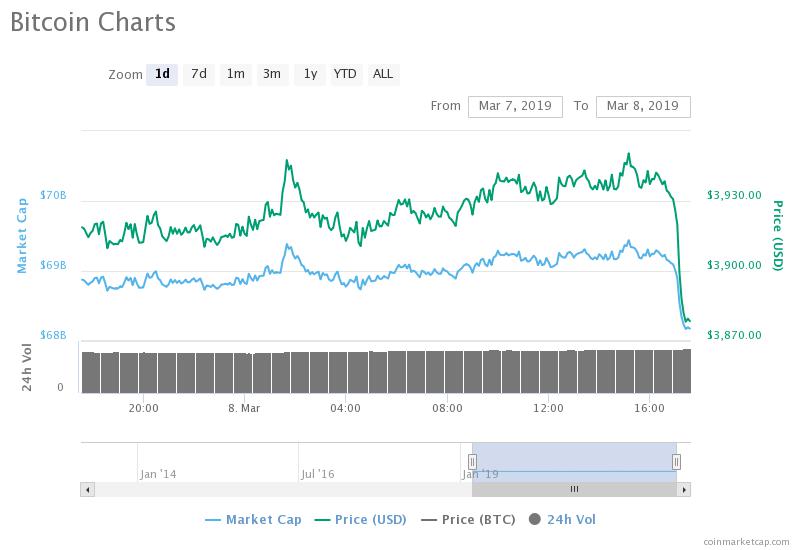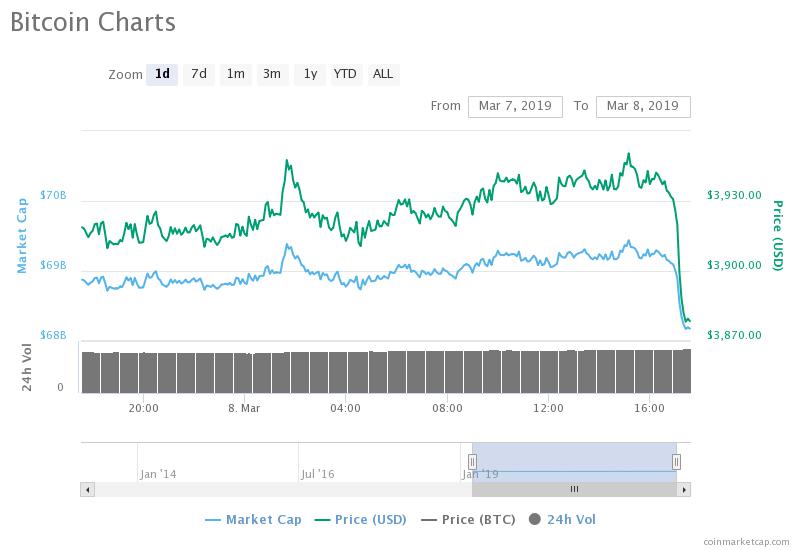 Bitcoin 1-day price chart. Source: Coinmarketcap
ALTCOINS PRICE UPDATE
Ether (ETH) had similar price action to Bitcoin(BTC) but its correction was much sharper. ETH hovered around $137-138 for most of the day rallying to as high as $139.50 before correcting by over 5% from its intra-day peak to trade at $132.70. Like Bitcoin, Ethereum has also struggled to overcome the stiff resistance at $140 recently.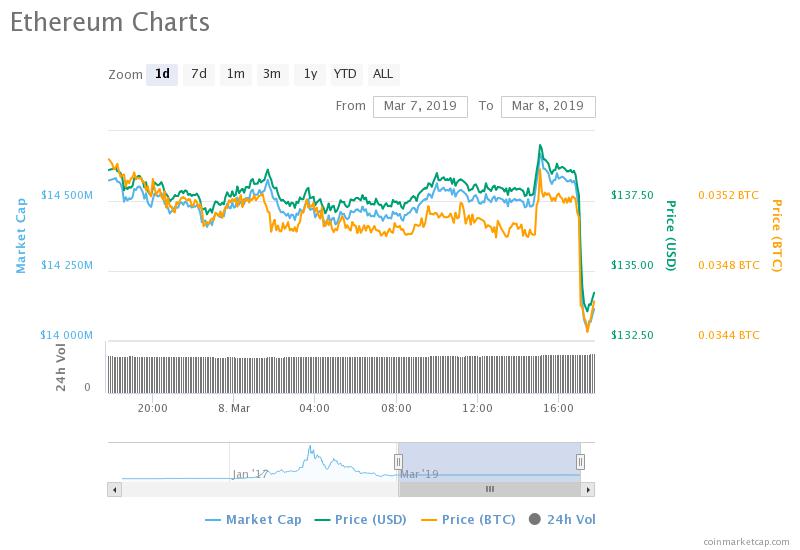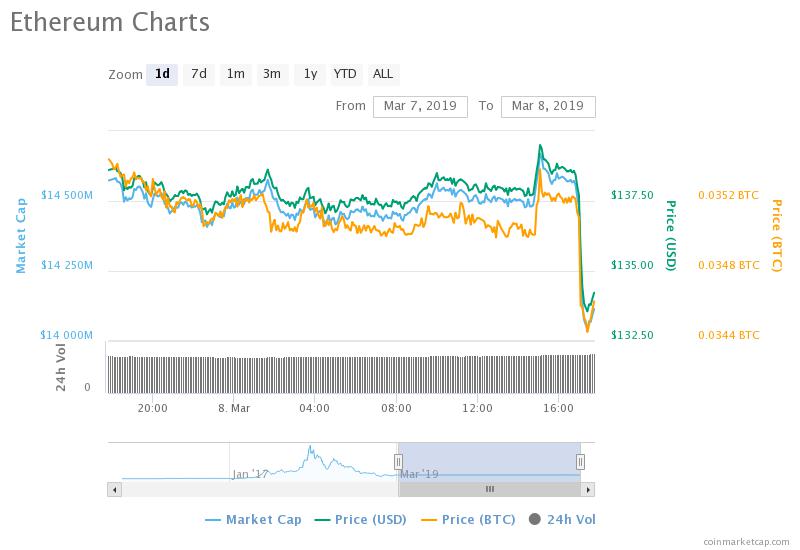 Ethereum 1-day price chart. Source: Coinmarketcap
The cryptocurrency which had been notching up stellar gains in the past few weeks- Binance Coin (BNB) suffered a major correction and was trading at $13.86 down close to 9% for the day.
Finally, amidst all the declines, gaming crypto Enjin Coin (ENJ) soared more than 100% on the day rising from 0.10 to 0.21, according to Coinmarketcap data. The spectacular rally was triggered by reports in South Korean media that Singapore-based Enjin, the company behind ENJ, had tied up with South Korean conglomerate Samsung for their flagship S10 smartphone. Although the nature of the partnership is not yet known, an association with the smartphone is certainly positive for ENJ. However, it remains to be seen to what extent the massive spike in prices is justified.