CryptoEvent Indo in Jakarta from 11-12th May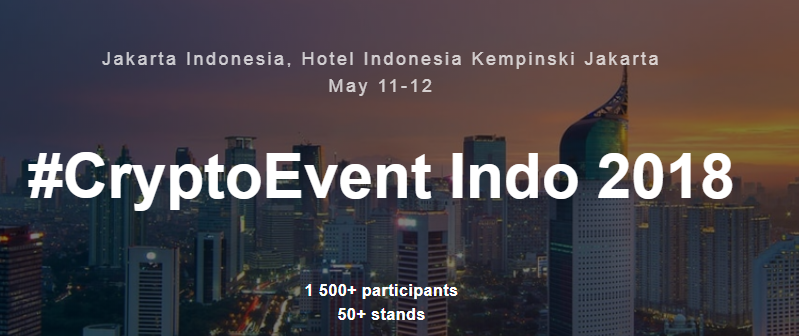 CryptoEvent INDO 2018 is taking place in Jakarta Indonesia on May 11-12 2018.
CryptoEvent organizes mass blockchain events across Russia, Europe and Asia. The total number those who have participated in our events reaches 15000 people. All events are widely covered in the media (Forbes, RBC, Forklog and others). 
Conferences, exhibitions and cryptoparties of our team bring together all professionals in the field of cryptocurrencies: investors, businessmen, blockchain-specialists, ICO-managers and miners.
Jakarta is one of the top 10 crypto-capitals of the world in 2017, according to IDACB (International Decentralised Association of Cryptocurrency and Blockchain). This means that the city has created conditions for trading, crypto-exchanges, mining and ICO.
This ranking was compiled by artificial intelligence based on research of cryptocurrency events worldwide. Indonesian government is still skeptical of digital money and in the future (and potentially) only agrees to accept its own cryptocurrency. However, the business community shows growing interest in the new opportunities of digital economy.
CryptoEvent INDO 2018 : When and Where
The CryptoEvent INDO 2018 is scheduled in Jakarta Indonesia, at Hotel Indonesia Kempinski Jakarta from 11th-12th May. The event starts at 9 am sharp.
More about CryptoEvent INDO 2018
Blockchain technology promises transparency and efficiency to its users, therefore bringing a positive change. With the support from the government, industries and communities,  it is only a matter of time until the blockchain technology will be widely used within the nation.
Various ICOs and investment opportunities will be presented during the CryptoEvent Indo 2018, the first international blochain event of such kind in Indonesia.
More than 1500 investors and blockchain specialists will be present at  CryptoEvent Indo 2018
CryptoEvent Indo 2018 will host an exhibition of cryptocurrency companies, with over 50 booths. Various types of companies will present their stands: investment funds, ICO projects, suppliers of mining equipment, services for trading, consulting and marketing companies, blockchain platforms and other relevant organizations.
At CryptoEvent Indo More than 50 companies will present their booths:

Cryptocurrency exchanges
Investment funds
Companies starting ICO
Providers of crypto-mining equipment
Blockchain-platforms
Trading apps and services
Software developers
Other specialized organizations
CryptoEvent Indo 2018 After Party : #CryptoParty

After the CryptoEvent Indo 2018 participants will have access to #CryptoParty where they will meet with all the speakers and investors in person.
By tradition of the event, good music, quality drinks and interesting people await you throughout the whole party.
Feel free to exchange business cards, find customers, partners and new employees.
CryptoEvent Indo 2018 : Speakers
The CryptoEvent Indo 2018 will cover a large number of speakers. With exemplar expertise in the field of cryptocurrencies, ICO's and Blockchain. Here are a few to name :
 Bari Arijono
Founder & CEO of Digital Enterprise Indonesia, President of Association of Digital Entrepreneur Indonesia ("ADEI"), Speaker on Digital Economy
"Blockchain revolution in digital payment– challenges and opportunities in Indonesia"
Ville Oehman
Helvetic Investments Pte Ltd (Finland)
"Bridging the gap between conventional and emerging financial industries – an example of cryptocurrency fund"

Oscar Darmawan

Founder & CEO Indonesia Digital Asset Exchange (INDODAX)

"Overview and prospects of Digital Assets & Cryptos in Indonesia"

Nikolay Volosyankov

CEO CryptoEvent

Organizer of large crypto-events in the CIS.

Jean-Daniel Gauthier

Co-Founder of Blockchain Zoo

Association of proven Blockchain Technology experts & professionals in Indonesia

Abas A Jalil

CEO Amanah Capital Group Limited

"ICOs as alternative platform for fundraising in Malaysia and Indonesia – the current trend?"

Dr. Walter Tonetto

VP ASEAN for Digital Town, co-founder of the CryptoCurrency Exchange CpayToday, advisor to various tech startups and ICOs, international keynote speaker on Blockchain.

Robert Ryu

Co-founder and Chief Strategy Officer of Tristar Ventures
CryptoEvent Indo 2018 : REGISTRATION
To register for Cryptoevent Indo 2018, click here 
There's also a 30% discount for people who register early.
KryptoMoney.com publishes latest news and updates about Bitcoin, Blockchain Technology ,Cryptocurrencies and upcoming ICO's.