CryptoHawk : World's First All-In-One Solution For Cryptocurrencies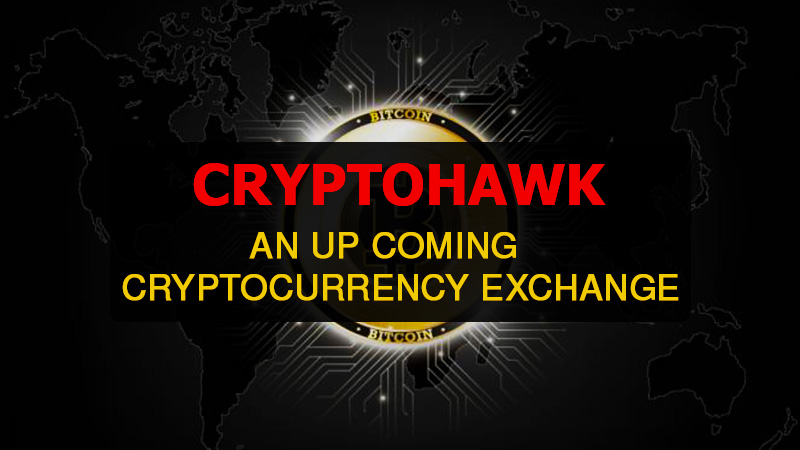 Cryptohawk development; a milestone reached as the first cryptocurrency exchange agreement is concluded
The world of cryptocurrencies just keeps expanding. There are newer and better opportunities being presented today for investment as well as normal transactions. If the trend continues, the possibility of blockchain taking over the world of finance is very high. Bitcoin has for long dominated the industry and continues to do so even as competition increases. Today, there are more than 1000 different cryptocurrency offering different possibilities. There is a possibility of these virtual currencies meant for online use, finds a way into the real world. When that happens, there will be no stopping their expansion.
Cryptohawk is an upcoming cryptocurrency exchange that is being expected with great enthusiasm by those who understand the field well. It is intended to host the world's most popular cryptocurrencies to be exchanged and other fiat currencies too. Cryptohawk cryptocurrency exchange offers investors an opportunity to own part of the company through their own currency. The company is set to provide the most attractive services on the market today. Even though what they are promising on the white paper is already being done so by other companies, the technology they intend to use may make the whole difference.
One of the issues being experienced in the world of digital currencies is their usability and functionality. The thing is, cryptocurrencies are designed to be used on online platforms only. Meaning you can only pay for a product or a service that takes place online. This has left them majorly for online shops. Cryptohawk however promises to, in addition to exchange services, provide cryptocurrencies with the ability to increase their use and acceptance. This simply means that they can be used for offline services. The plans they announced to distribute credit cards that will allow payment with cryptocurrencies at local shops will make an addition to cryptocurrency use. In addition, the ATMs allow user to purchase cryptocurrencies with cash immediately.
ICO
The team behind cryptohawk cryptocurrency exchange is very young and dedicated, with full understanding of the cryptocurrency world. Despite this, there have been great mentions of the company by some of the world's major publications like Forbes and CBS among others. The location of the company is also something to consider when you are weighing the success of the company. Switzerland is a country that is open to innovation and offers great opportunities for people with development ideas. Working alongside major Swiss banks will give it the marketing it needs.
Milestones of the company
The team behind cryptohawk may seem to be too ambitious at a glance. Most of the services talked of on the white paper seems to be impossible. Nonetheless, some have already been achieved by other exchanges. The major milestone of the company is the ability to provide the world's first all-in-one solution for cryptocurrencies. This means that you will be able to handle anything and any activity related to cryptocurrency in one place. Think of it more like a market place for cryptocurrency services.
Another milestone is to implement cryptocurrency credit cards and ATMs. If this is done successfully, the bitcoin and other altcoins will be available as cash increasing usability. Apart from this, if the company manages to pay owners as a way of sharing profits, it will be the most lucrative investment.
Development overview
It seems like cryptohawk is going to achieve its goals after all. The first cryptocurrency exchange agreement has just been concluded, giving the company one more reason to be trusted. Once the ICO that was started January this year is concluded (soon to happen), and the minimum investment requirement realized, there will be nothing to stop them.
Official Website of CryptoHawk : cryptohawk.com
KryptoMoney.com publishes latest news and updates about Bitcoin, Blockchain Technology , Cryptocurrencies and upcoming ICO's.

Comments
comments