DACC Token Will Now Be Trading on KuCoin Exchange Platform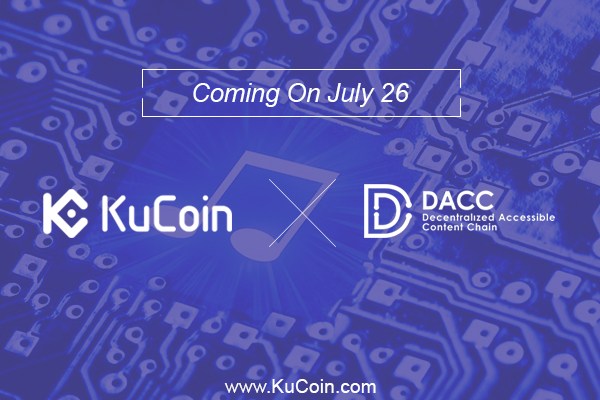 KuCoin today is proudly announcing that they have once again listed another token from a decentralized project focusing on the digital and media content solution called DACC.
Deposits are now accessible utilizing KuCoin's Android and iOS app, or to their official page, www.kucoin.com. Other transactions like buying will commence at 19:30 pm UTC+8 and selling/withdrawal at 20:00 UTC+8.
Trading pairs include DACC/BTC and DACC/ETH. Buying starts at 19:30 pm UTC+8 while selling/withdrawal commence at 20:00.
About Decentralized Accessible Content Chain (DACC)
The DACC platform is a decentralized Identity and Access Management (IAM) content chain that endeavors to give users and content creators methods to securely initiate, store and manage access permissions to their information and intellectual property (IP). The data rights platform is said to produce tools for any type of content and allows creators to control and monetize their work efficiently.
The DACC project has completed the design of its core IAM-based distributed file system as well as its original dAPP Demo development and will be moving ahead with developing its bottom public chain.
DACC has notable community support as the company's foundation partner, Sky, is the co-founder of the 3 AM community and 499 Community.
The DACC Token
The DACC token is the native currency for all the network's transactions, gas fees and rewards to block validators and storage providers: ("DACC Token?"). Additionally, a special allocation of DACC Tokens will be utilized to improve the community (10%), DACC software development, system maintenance and security development (15%), also reward the special contributors and advisors (10%). The price of the DACC Token is 1 ETH for 200,000 DACC Tokens.
DACC Token holders will not be awarded any shares and administrative controls over the DACC platform, DACC Foundation and any following company being set up. DACC Token holders will not be qualified for any profits or income from the DACC Foundation or the DACC platform as a result of holding the DACC Tokens.
About KuCoin Blockchain Asset Exchange
KuCoin is a fast-growing cryptocurrency exchange that shares 90% of its trading fees with its users.
KuCoin gives many cryptocurrencies earlier than competitors who allow users to take advanced profits while they're still low market cap before they arrive on a more popular exchange.
KuCoin offers a sleek UI, competitions, low fees and excellent customer service. Their competitive marketing strategy is guaranteed to bring them rapid selection in the crypto community.
Rather than retaining all profits from trade fees for themselves, 50% of the revenue goes towards users that refer others, and 40% goes to users that hold KuCoin Shares (KCS), KuCoins ERC20 token. At this time KuCoin only gets 10% of trade fees for themselves.
KryptoMoney.com publishes latest news and updates about Bitcoin, Blockchain Technology ,Cryptocurrencies and upcoming ICO's.