After hitting a new yearly high at $16,491, the first and largest cryptocurrency by market cap Bitcoin (BTC) retreated to lows of $15,708 today. However, the impressive rally Bitcoin had to a new yearly high did not trickle down to the second largest crypto asset, Ethereum. ETH did not join BTC's solid uptrend as the smart contract token stalled before tackling the seller congestion at $470.

Bitcoin is indeed having an impressive year with its yearly high more than 300% greater than the yearly low in March at $3,800. Bitcoin hitting $16,491 was noted to be the highest price level in 34 months precisely since January 6th, 2018.

Ethereum hit its All-Time High of $1,432 on Jan 13, 2018, barely a month after Bitcoin hit its All-Time High of $20,089.00 on Dec 17, 2017. The difference between the two assets-Ethereum's present price of $461 is way below its ATH while BTC's recent price of $15,998 inches close to its $20k ATH.

ETH/USD Daily Chart
December is often noted to be a historic month. What does this upcoming December hold for Bitcoin and Ethereum traders? Would there be a replay of history?

A couple of factors spell out what to expect this December- From the options market, the upcoming launch of ETH 2.0 coupled with what history depicts.
Here's What Could Be Expected
The options market data can often provide additional relevant insights on market sentiment. The fact that ETH didn't join in BTC solid uptrend could be partially explained that traders were not expecting the ETH prices during the 23% rally that occurred.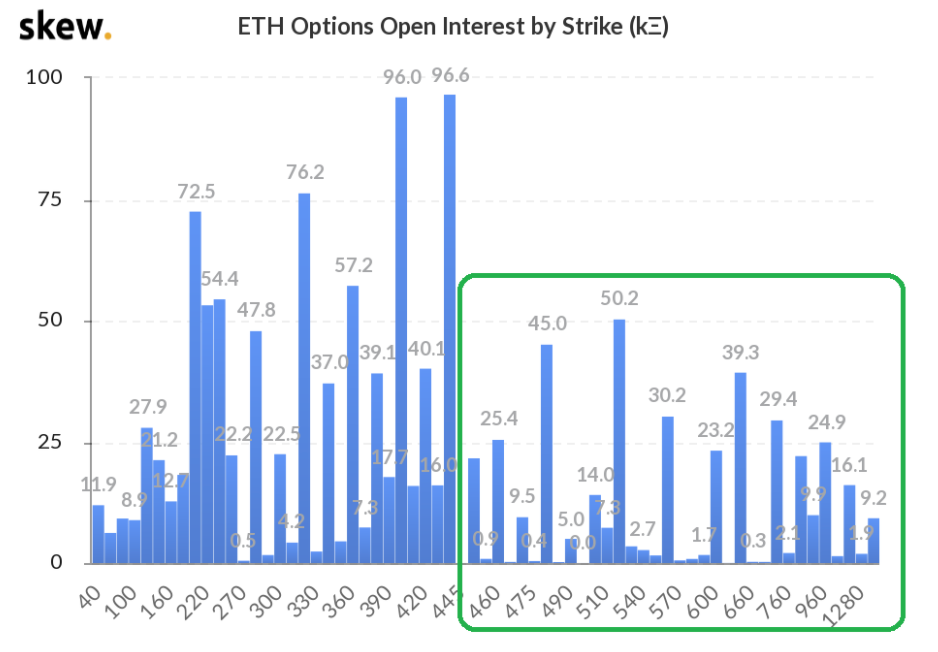 ETH options open interest by strike, in ETH thousands. Courtesy: Skew
Options market data indicated that out of the $613 million in Ether options open interest, a mere 28% stands at $460 and higher. The highest Ether options contract for December 2020 stands at $1,120 which is quite bullish. BTC options are considerably more bullish, and there are $50K call options that were placed long ago for June and December 2021. BTC options unlike ETH markets had some massive bets above $17,000 with 40% out of the $3.75 billion BTC options open interest standing at $16,000 and above.

In 2017, the historic BTC rally was largely driven by retail traders. Also, the CME introduced their cash-settled Bitcoin futures right at the peak in December 2017. In the following months, BTC price plunged and the hype fizzled into a multi-year bear market.

However, Whalemap analysts described this recent spike in demand for BTC from Whales as "institutional FOMO." While analysts at Santiment found that the recent rally has more volume behind it than the 2017 rally.

The question is if BTC will be able to sail past the $16,500 key level as a recent report indicated that the roadblock in the near term remains whether Whales will sell at the $17,000 resistance. Some analysts say that there is no clear resistance until the $18,500–$20,000 range, which means a new peak could be much closer than most expect.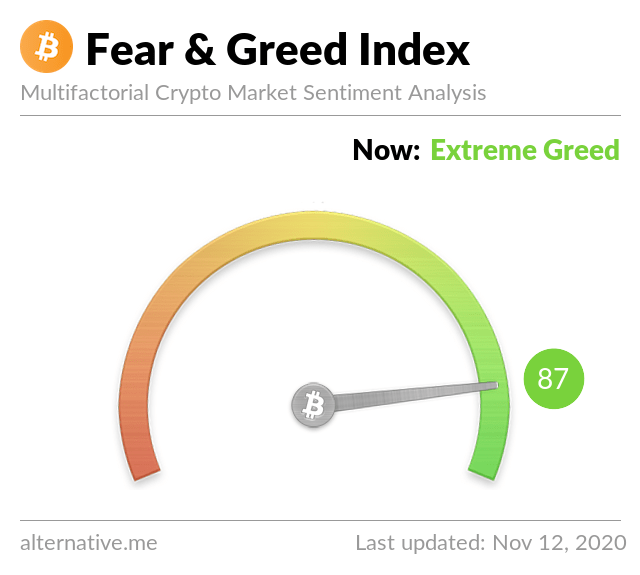 Crypto Fear & Greed Index. Courtesy: Alternative.me
The Fear & Greed Index is still at extremely high levels, as the current level is 87 out of 100, the highest since June 2019, which marked the top of the previous bull cycle. When peak levels of 80 and over are reached, a correction becomes more likely than a further continuation upward.

In the previous bull market cycle in 2017, BTC/USD saw multiple drops of 30% that resulted in retests of previous resistance levels, which then became springboards for the next leg up.

For ETH, the upcoming launch of Ethereum 2.0 on December 1 is a bullish one. However, a historical trend of BTC rallying first before Altcoins in most bull cycles and ETH bottoming in December may be a thing to consider. There is also a general notion that January is a perfect month for Ethereum and the markets.
Image Credit: Alternative.me, Skew, Shutterstock