The Delta crypto portfolio app provides the ultimate tool for managing digital currencies designed for both beginners as well as experienced investors in this cryptocurrency generation.
Delta crypto portfolio app was launched last year, by a Belgian start-up – Opus Labs CVBA.
The most significant aspect to be observed about Delta Crypto Portfolio app is its service to a broad range of cryptocurrencies. The app has a portfolio of Bitcoin, Altcoins and ICOs . Thus, you can monitor multiple currencies at the same time using this portfolio management app.
The Delta crypto portfolio app has been designed for both iOS and Android phones and has very user friendly interface along with its functionality.
Delta surfaced on the app stores, last Autumn, without any advanced marketing gimmicks or strategy.
What is Delta Crypto Portfolio App? What's so special?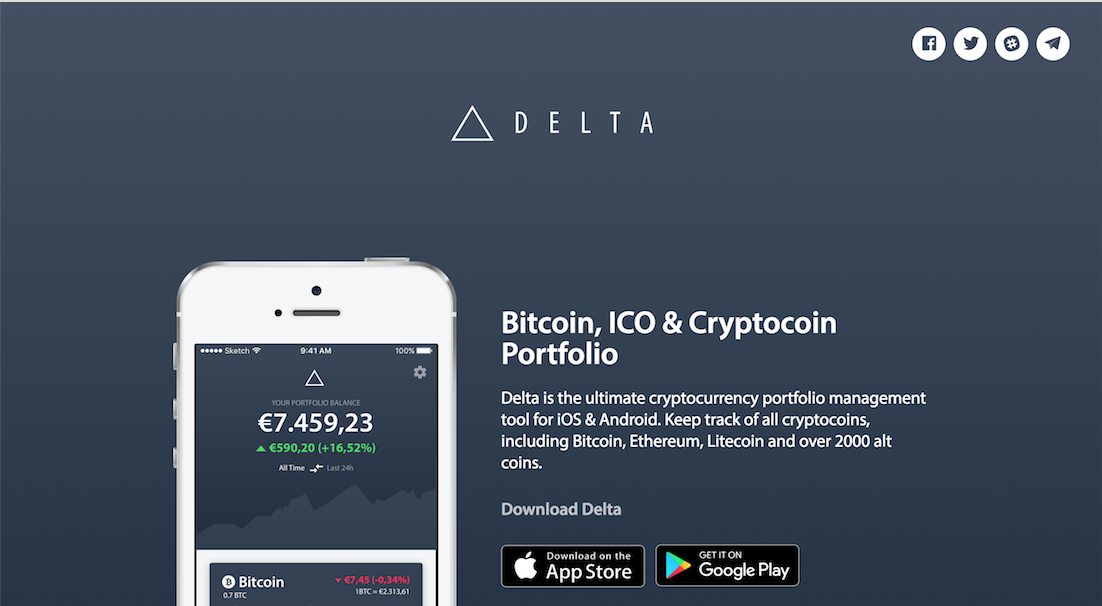 Before Delta crypto portfolio tracking app, the already famous Blockfolio exists in the market. Going with Blockfolio's feature it was understood that in the coming times, not much different would come in the market.
Surprisingly, Delta Crypto Portfolio App:
Stores over 2,000 different cryptocurrencies.
Shows investors how much they earn with a good insight of portfolio's profit and loss.
Has a  space for each coin. Every cryptocoin has it own page, where users can track the evolution of the currency and monitor their investment in comparison to another cryptocurrency.
Users can set an alert for each coin that will send a notification about changes in price.
And the most significant feature is the possibility of storing a vast amount of ICOs.Users can list tokens and currencies which haven't even been featured on exchanges yet.
Delta's founder, Filip Minev stated,
"We used competing apps before, and while we still like what they do, we found that there was a lack for an app that very clearly said: this is how much you own, this how much you made; in total and per coin. Delta puts this information front & centre as it should."
Delta Pro
In late October 2017, Delta released a new version of the software – 1.3. In which, the company introduced a paid version – Delta Pro
Since Delta was free, it was having a hard time on monetary basis.
The paid version, Delta Pro started only at $3.99. But in the future, the cost is expected to grow with a larger interest in this portfolio, which can to a price of $10 monthly subscription.
Features of Delta Crypto Portfolio App
Multiple Portfolios –  Up to 10 different portfolios
Exclusive Beta Access – install an iOS or Android update before anyone else
PRO Branding – nsleek Delta logo on the dashboard for PRO users
24h Coin Change – tracks all of the coin changes in 24h
Visible Transaction Fee
Merge Custom Coin With a Tradable Coin – merge an ICO with an established currency
How To Get Delta Crypto Portfolio App?
The basic version of the app is entirely free, with no in-app purchases, apart from upgrading to the PRO version.
The Delta cryptocurrency portfolio app has no visible bugs. It's still a new product on the market, and more versions will be coming out in the future.
Download Delta Crypto Portfolio App
You can download the Delta cryptocurrency portfolio for "https://itunes.apple.com/us/app/apple-store/id1288676542?mt=8″ target="_blank" rel="nofollow noopener noreferrer">iOS or Android. So far, Delta seems to be one of the most promising cryptocurrency portfolio apps in the future, which doesn't sell or share the customer data with anyone.
Social Links Of Delta Crypto Portfolio App
Facebook:- https://www.facebook.com/getdelta
Twitter:- https://twitter.com/get_delta
Telegram:-https://t.me/getdelta
Reddit:- https://t.me/getdelta
KryptoMoney.com publishes latest news and updates about Bitcoin, Blockchain Technology ,Cryptocurrencies and upcoming ICO's.
Rohit Kukreja
Rohit Kukreja is a Commerce graduate with Financial Markets expertise involving Stocks, Forex, Futures & Options Market and now Bitcoins & Cryptocurrency Markets. Blockchain Enthusiast but not a techie, Rohit is an active member of various Blockchain & Crypto communities all over India.