Alternative cryptocurrencies apart from Bitcoin otherwise referred to as "Altcoins" could be grouped as mining-based cryptocurrencies, Stablecoins, security tokens, and utility tokens.
Most Altcoins were built upon the initial framework offered by Bitcoin and are mostly peer-to-peer. Altcoins form the other side of the Bitcoin market, so to speak.
In the past days and weeks, Altcoins had performed remarkably well with Chainlink (LINK) taking the lead. Rising from its low of $1.50 which was incurred during the March brutal crash, LINK went ahead to gain a whopping 158%, surging to nearly as high as $4.00 in the process.
Chainlink's performance is one of the strongest in the crypto market while Bitcoin went ahead in a weak stunt to regain 100% of the losses it incurred during the March market carnage.
Tezos (XTZ), 10th cryptocurrency by market cap also went ahead to gain 28% to trade about $3.00, both Chainlink (LINK) and Tezos (XTZ) had outperformed Bitcoin (BTC) which only gained 11% in the same time frame.
Analysts Explain the Attention Shift Away From This Other Side of the Market
Bitcoin (BTC) halving is barely 3 weeks from now, this is seen as a catalyst for massive upside price action for the asset, therefore the attention seems shifted to Bitcoin in which most crypto investors deem it unwise to invest in the other side of the Bitcoin market.
Apart from the halving event, BTC which has been long on the scene since 2009 is seen as secured and proven based on its 11 years of existence and it doesn't need initial coin offering (ICO) rounds as most Altcoins do for funding. Unlike Bitcoin which is established, most Altcoins are sometimes projects from enthusiasts and therefore relatively new.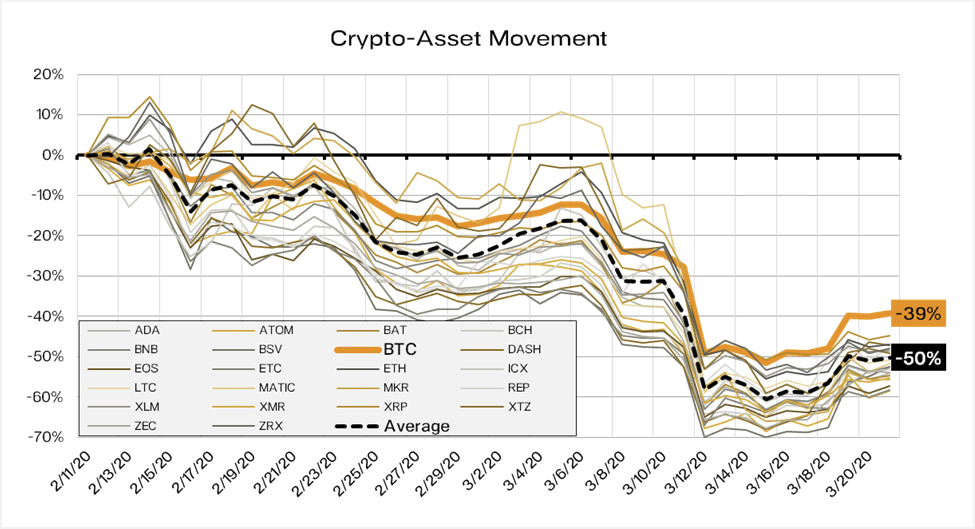 Courtesy: Dan Morehead of Pantera Capital (Medium)
Drawing on this analogy, Dan Morehead of Pantera Capital, a Crypto Fund had earlier stated in a Pantera Capital March newsletter that Bitcoin (BTC) will most likely outdo other assets for the time being.
A pseudonymous trader "Pentoshi" indicated that his attention is on Bitcoin in the time being as the halving event approaches. He revealed that barely 25% of his dealings are on Altcoins which he sees as tools that could spur Bitcoin volatility and are more liable to suffer from the volatility created.
The trader also went on to state that Altcoins rally was not persuading enough as the basis of the rally always remained sketchy in a repeatable cycle likening it to a game of musical chairs.
Recent data from Coinmarketcap, however, indicated that Bitcoin dominance which refers to the percentage of the crypto market that consists of BTC fell by 4% to stand at 64%, now Altcoins account for over 36% of the total cryptocurrency market with more than 5,000 cryptocurrencies.
Image Credit: Dan Morehead, Shutterstock