The past 24 hours have been quite eventful for Bitcoin (BTC) in the aftermath of voting close in the US presidential elections. Bitcoin's price has been holding up well despite a nail-biting election that is yet to deliver any decisive results.

After flirting enough at mid $13,000, Bitcoin surged past $14,000 today setting new yearly highs of $14,273.60. Although Bitcoin has continuously retested the $14,000 level since October 31, it is yet to achieve a sustainable break above this resistance level. Traders say that BTC is unlikely to breach such a major resistance area in its first few attempts.

As the world awaits the final decision on the US presidential elections, several analysts have voiced their thoughts on the aftermath impact of the elections on Bitcoin (BTC).

Many analysts expect Bitcoin's price also to be influenced by the elections while history does show that elections are turning points for Bitcoin. Earlier this year, Messari analyst Ryan Watkins stated that US presidential elections have typically taken place at the start of past bull runs. this he said:
"Not a lot of people know this, but US presidential elections are a leading indicator of Bitcoin bull runs. The 2008 election was such a strong catalyst it caused the launch of Bitcoin just 2 months later. The results speak for themselves."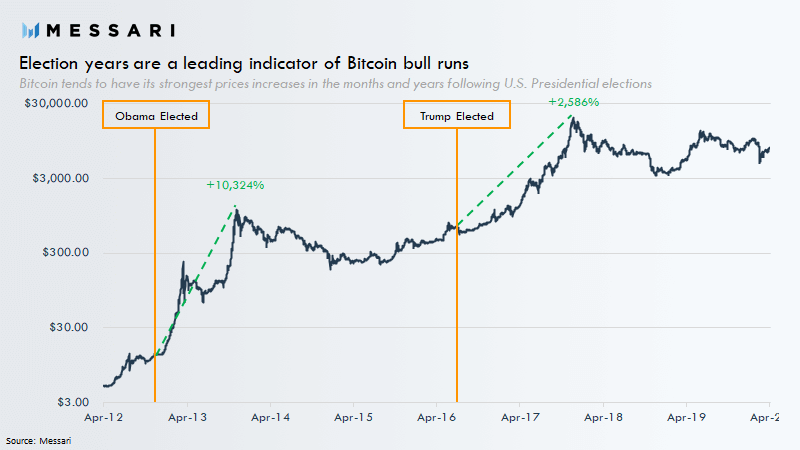 Here Is What Analysts Are Saying
In the now, an analyst noted that not much volatility occurred during the election itself. The volatility started to kick off when the election outcome started to appear. The price of Bitcoin moved by 6% in a few hours while the U.S. Dollar showed weakness. He also noted that the present electoral reaction of Bitcoin is similar to the one in 2016.

The pre-election weeks of 2016 saw the U.S. Dollar Currency Index fall significantly which caused BTC price to surge from $600 to $740, gaining more than 20%. If history is kind to BTC, the big moves for Bitcoin and markets may occur after the election results are confirmed similar to four years ago.

A Pseudonymous analyst "Light," indicated that historical data shows that after the previous three elections, risk-taking amongst investors was commonplace noting that after every election, a capital flood enters the markets which will benefit BTC as a "risk-on" asset.

Messari analysts discovered that after Trump was elected in 2016, Bitcoin surged 2,500%. There was nothing significant about Trump's election that buoyed Bitcoin, but it just seems that for some reason, each election coincides with the start of BTC bull runs.

This may also be substantiated by other previous data which noted that once Bitcoin trades above a significant price level for 100 days, BTC/USD swiftly increases by an order of magnitude.
Bitcoin price versus its 200-week moving average. Courtesy: PlanB/Twitter
Adding strength to BTC long term bullish scenario, pseudonymous analyst PlanB noted that BTC untested 200-week moving average has now crossed $7,000 for the first time. If history repeats then Bitcoin could now gain more relative to the 200 WMA the closer it gets to its next block subsidy halving in 2024.

A prominent analyst, Mike McGlone of Bloomberg intelligence foresees a hyper bullish 2021 for Bitcoin if it repeats its behavior after prior halvings. The reason, he said, is a simple balance of supply and demand. With BTC supply reduced at the latest halving in May, while buyer demand for new coins is only increasing.
Image Credit: Messari, PlanB/Twitter, Shutterstock