The second crypto asset by market cap, Ethereum is doddering at $202.14 at the moment. ETH had prior tested the $190 support, bottoming its chart at $189.85 to experience a slight rebound to $208.68 before the bulls ran out of steam pushing it down to its recent price.
Over the weekend Bitcoin suffered from the carnage which affected the market trading at a low of $8,130 at the moment. Unlike Bitcoin which is trading below the 200MA, Ethereum still holds strong its 200-day moving average. This may signal that Ethereum may experience further loss in the near term as it approaches the short term bottom.
Ethereum may plunge further downwards as analysts presume ETH/USD had not yet reached the oversold zone despite its decline since the week's start.
While ETH seems to be on a bearish move, it is surprising that DeFi has maintained its bullishness as it recovered from its previous lows late February. Analysts presume a short term rally for ETH may be spurred up as it maintains price activity.
In Late February while Ethereum traded at the $230 level, a pseudonymous trader, TraderEscobar who predicted its recent downfall to $200, flunking around its support is optimistic of a near-term comeback for the crypto asset as he sees it retesting $230 level. He noted the key levels to be $120, $200 and $290.
The key horizontal level which is resistance turned support is the $200 psychological level.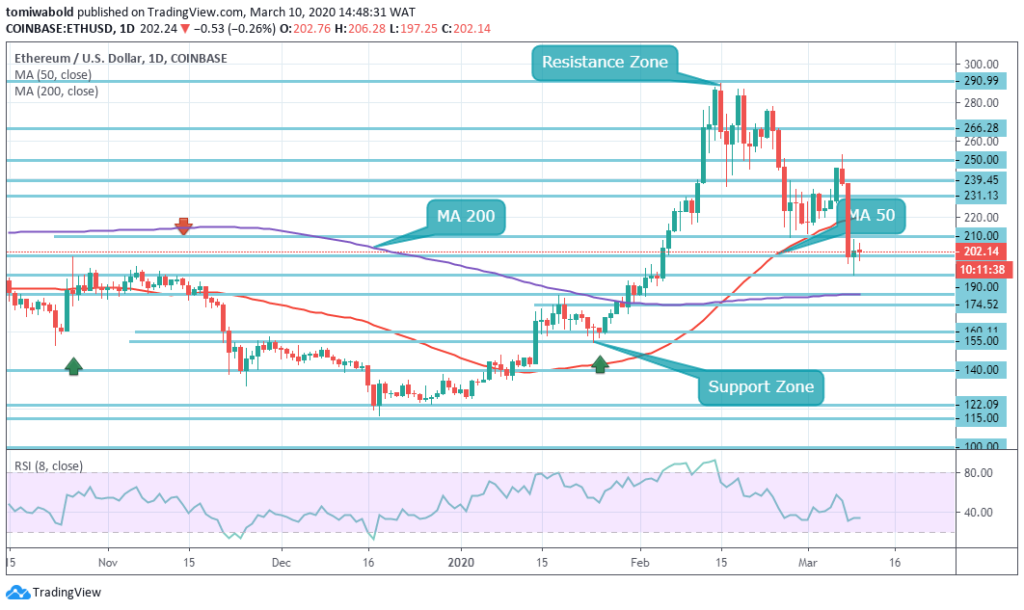 Analysts are observing with keen eyes as ETH 200-day moving average in the 175-area conformed with the 23.6% Fibonacci retracement, also the resistance levels it had hit in January which later turned support are in purview.
Sharding as a Tool to Boost ETH's Capacity
Sharding refers to the distribution or sharing of data on different machines, in this case, the separation of transactions using micro-networks in the Ethereum blockchain. Sharding, which is the first level scalability innovation, allows you to distribute work between small groups of nodes in the process, scaling ETH to 100 transactions per second.
Vitalik Buterin, ETH founder brought up the idea of sharding at an ETH–focused conference in London, UK, while restating emphatically the use of Tornado Cash project for privacy-focused transactions.
The ETH founder stated that the sharding solution is a work in progress that could be launched this year as Ethereum migrates to Ethereum 2.0.
This he indicated the possibility of the sharding solution launched into the market.
Consensys co-inventor Joe Lubin, who also spoke at the event, emphasized that developing the ETH's DeFi ecosystem will gain more opportunities among large and medium-sized corporations to create several open finances. Progress, however, depends on Ethereum's advancement in improving privacy.
Image Credit: Shutterstock