The second major crypto-asset, Ethereum with a total market cap of $15.9 billion and an estimated daily trading volume of $11.7 billion has been held in a consolidation stint ever since it recovered from its lows of $100.
In the last two months, two key levels have remained significant for the crypto asset which is the $125 and $145 key levels. The asset has maintained sideways trading, ranging between these two key levels.
The crypto asset's trend has been on par with Bitcoin which has been stuck in a consolidation stint, trading sideways within the $6,000 region until when the bulls tested the $7,000 region, after a strong rejection, BTC returned to its $6,000 levels.
Unlike Bitcoin, ETH bulls are yet to break the $145 key resistance levels. At the time of this report, Ethereum is exchanging hands under 2% at its recent price of $144.
However, a different scenario may soon play out for Ethereum as a basic metric indicates an imminent rally soon.
ETH Exchange Balance Indicate an Imminent Uptrend
In December 2016, ETH's price rose from $7.50, from which it shot up exponentially to reach a high of $375 in June of 2017 gaining more than 4500%. ETH later went to hit its all-time high of $1,402 in January 2018.
A key metric, the exchange balance has been found to have an inverse correlation with Ethereum price, with higher balances indicating bullishness.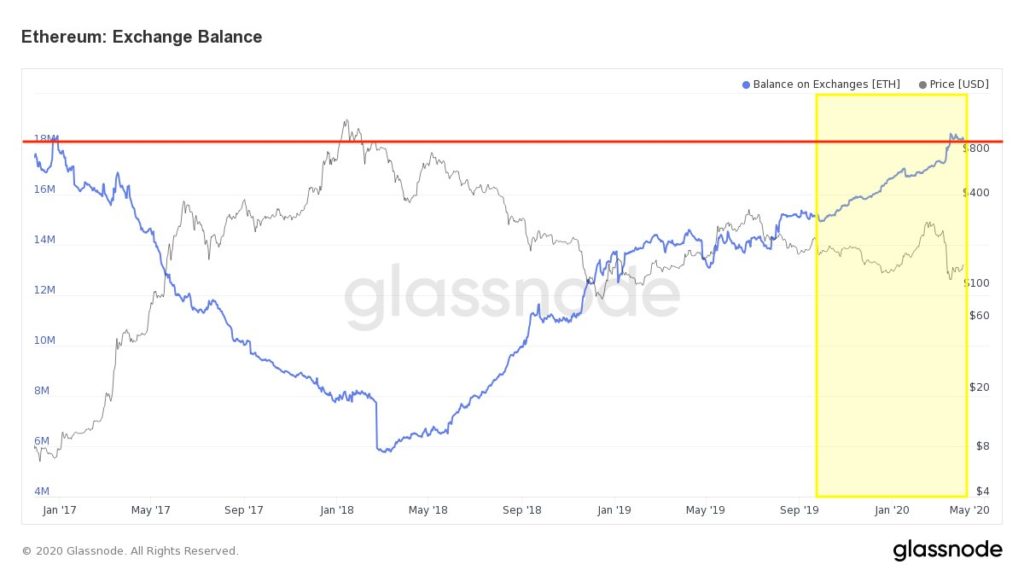 Glassnode, a crypto firm that brings data intelligence to the blockchain and crypto space revealed from its recent stats that ETH exchange balance has hit a high last recorded since December 2016 when ETH had its exponential hike which shot it up to $375.
The platform indicated that since the end of 2019 till recent, ETH exchange balance had risen to 18,187,000, this value accounts for over 16% of ETH's circulating supply.
While the market was much limited then and Ethereum is uncertain in seeing again after this increases to such an extent, the dramatic increase in ETH's exchange balance may suggest that such an unprecedented surge may be inevitable in the coming months.
In the news recently, Coinbase announced a $1.1 million investment through its USDC Bootstrap Fund for Uniswap and PoolTogether projects, this it did to support the ETH DeFi ecosystem.
Image Credit: Glassnode, Shutterstock