The second-largest cryptocurrency by market cap, Ethereum (ETH) could be said to have had a positive week so far. Earlier in the week, Ethereum rose past the $250 critical resistance level to trade as high as $253, after the bulls ran out of steam and the asset declined slightly beneath the $240 support, further plunging below the $230 levels. However, the bulls defended the $225 territory as Ethereum bounced back above the $235 level, regaining all it had lost.

Since the March 12 market carnage, Ethereum could be seen to have gained 170% which is quite impressive but the cryptocurrency stays greater than 80% below its all-time high of $1,430.

Though significantly high from its all-time highs, some have doubted if ETH will ever set fresh all-time highs. However, apart from fundamental signs which seem to support ETH bull run, another indicator is pointing to the fact that ETH bulls may be set for a dash in the days ahead.

ETH/USD Daily Chart
On-chain data from Glassnode shows increased blockchain activity as seen in the rise in ETH addresses involved in more than one ETH transfer.

Ethereum is at the moment trading at $240 after been caught within a bout of sideways trading within the mid-$240 regions, just like Bitcoin, it has failed to post any decisive trend offering little or no clarity into its near-term trend. Although BTC price activity may be useful to decide where Ethereum trends next, however, analysts believe ETH bulls show underlying strength capable of determining its trend.
Ethereum Sees Increased Adoption As ETH Addresses With More Than a Transaction Hit 2-Year Highs
Rafael Schultze-Kraft of Glassnode, recently indicated that the figures of new daily Ethereum addresses who carry out more than one ETH transaction have grown sporadically since January hitting highs last recorded in 2018.
This increased blockchain activity has led to a rise in Ethereum transaction fees in the last few weeks.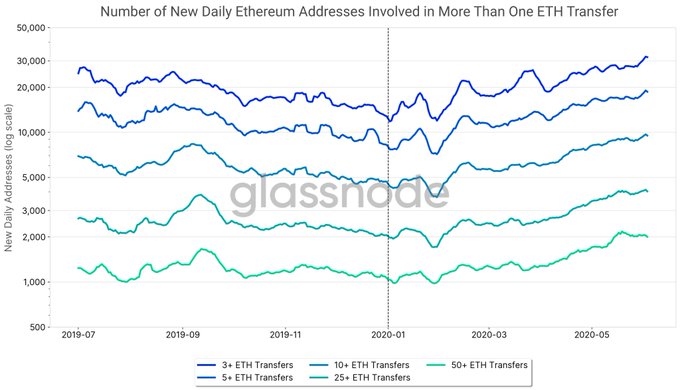 Chart by Rafael Schultze-Kraft (@n3ocortex on Twitter), Chief Technical Officer of Glassnode, Showing Increased Use of the ETH Blockchain
The significance of this is seen as that in the last 4 years, ETH price has been closely correlated with the Ethereum transaction fees, so as stated by Ryan Sean Adams, CEO of Mythos Capital.

Analysts also see the increased blockchain activity as another bull favoring factor for ETH. This is coming alongside the fact that the ETH value locked in DeFi recently hit the $1 billion mark in a two-time feat.

Analysts opine that the DeFi expansion will drive ETH price in the coming years coupled with ETH 2.0 upgrade which will go live soon.
Image Credit: Glassnode, Shutterstock