The very much talked about CoinDesk's 2018 Consensus conference in May is attracting thousands of attendants across the globe. However, Ethereum founder Vitalik Buterin will not be among them.
Buterin tweeted Thursday that he's boycotting this year's Consensus conference after CoinDesk, the news website that organizes the event, linked to a fraudulent website in one of its stories. Buterin, with almost 750,000 followers on Twitter, said he encourages others to stay away from the event.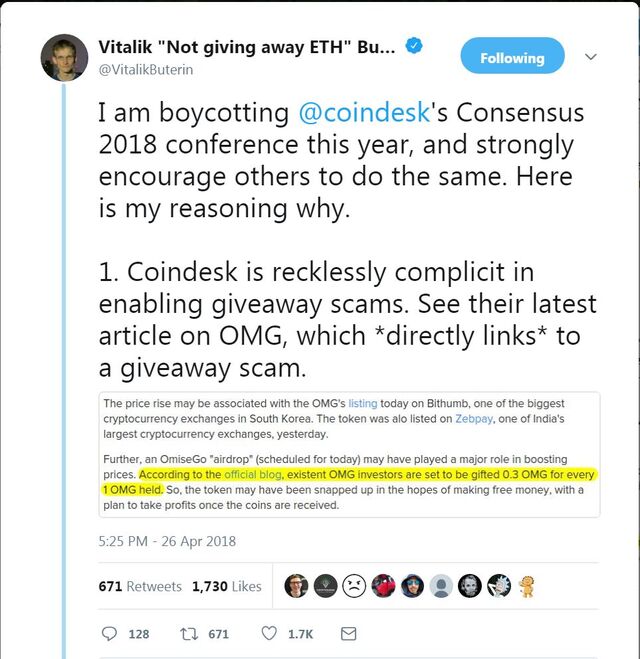 CoinDesk corrected the story on the jump of a digital token called OMG to remove the link Buterin referred to in his tweet.  CoinDesk CEO Kevin Worth said in an email.
"We were disappointed to learn of Vitalik's tweet today regarding a CoinDesk reporting error, for which we apologize. One of our reporters included an unverified link in an article; we quickly identified the error and fixed it. We strive to maintain the highest level of unbiased, ethical journalism in order to provide the best possible coverage of the blockchain industry."
Around 5000 people are estimated to attend the Conference including Amber Baldet Jack Dorsey. Amber Baldet had been the blockchain head at JPMorgan. Jack Dorsey is the founder of Square and Twitter. The conference is scheduled from May 14 to May 16 at New York Hilton Midtown.
Buterin has complained before about how some media coverage of cryptocurrencies has helped legitimize scams. New York-based Satis Group found that 81 percent of ICOs are scams, according to a report last month.
KryptoMoney.com publishes latest news and updates about Bitcoin, Blockchain Technology ,Cryptocurrencies and upcoming ICO's.