2020 started on a good note for the second crypto-asset by market cap, Ethereum has profited by 58% beating Bitcoin and XRP by a large gap since the beginning of the year.
Ethereum DeFi has maintained a strong bullish outlook that has buoyed ETH due to the interest rates which made the cryptocurrency more appealing to investors.
At the moment, eyes are watching Ethereum closely while it kept on making astounding progress. Analyst at Galaxy Digital, Michael Novogratz while expatiating on ETH recent price activity sees a bullish outlook for the crypto-asset as price increases.
ETH had ranged within $ 200 level in the last few days, Novogratz sees that in similitude with Bitcoin which has a $10,000 price level looming, however, ETH has reached key price levels which once hit support levels may spur the crypto-asset into a run.
Ethereum Obstruction Smashed
Ethereum has broken the $ 200 key resistance levels in the last 24 hours which could spur the markets into a larger run as analyst Novogratz says.
As seen on Tradingview.com, Ethereum hit $ 216 in the day's trading, peaking at 19 week high. In recent days, ETH market gains stand close to 9% as the bulls grasped a hold of the market.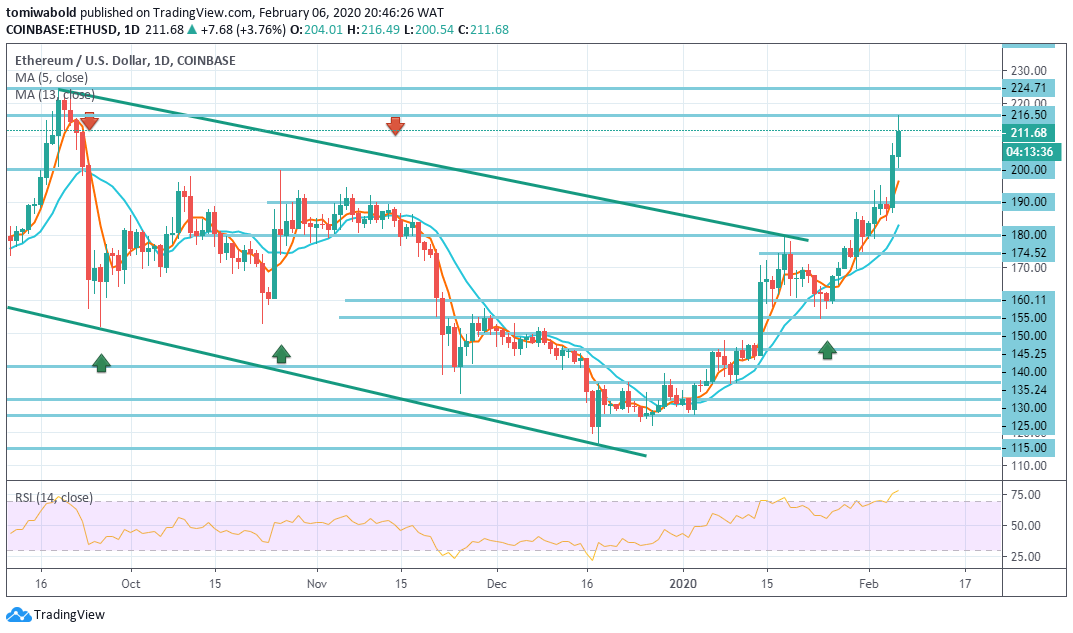 ETH price peaked hitting a five-month high which is the largest bolstered move since it experienced a major rally in April 2019.
Although Ethereum has underperformed below expectations at 86% under its ATH, Ethereum hitting the key price level turned support at $ 200 level will spur greater gains for the crypto asset boosting its attractiveness than Bitcoin which had only reclaimed 52% of its ATH.
Novogratz says that although BTC has found use in macro portfolios as a safe-haven, ETH is continuing to gain the trust of investors after being buoyed by the crypto asset low price.
Another analyst, Omar Bham sees the possibility of ETH being undervalued, quoting that if the ratio on ETH/BTC had recovered its former ATH, ETH should be around $ 1,800 at the moment. He believes that while Ethereum keeps breaking barriers, in the near term, ETH will appeal more to investors based on this ratio.
2020 has a good outlook for Ethereum with Phase 0 of proof of stake launching, offering more trust in the ecosystem, and major growth expected for DeFi markets, all of which are bullish for ETH demand.
Altcoins Take the Lead
A vibrant outlook is seen in the Altcoin market prompting most analysts to believe that an Altseason may be around the corner. The Altcoin market has recorded high market caps and liquidity tokens as seen in ETH.
At the moment, BTC dominance has waned further since the last seven months standing close to 65%, and the cryptocurrency market cap in the past one day increased by $13 billion while Altcoins has contributed significantly to this.
Image Credit: Stock Photo Secrets