Ethereum price is trading above $200 level as the bears have temporarily suspended the downward trend. Is further recovery in sight for the ETHUSD pair? Gain insight into the following technical analysis.
Ethereum Price Technical Analysis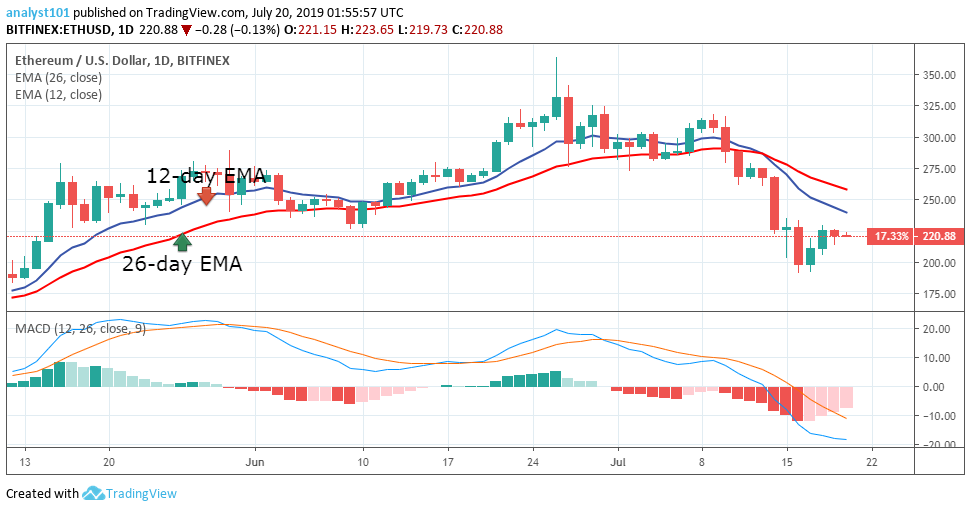 Ethereum (ETH) price was in a bullish trend yesterday, July 18.  The bears temporarily suspended the downward trend as the bulls gained control of price at the $200 support level. On the upside, if the $200 support level is holding and Ethereum price will rise to break above the Exponential Moving Averages (EMAs) and retest the $320 and $340 resistance levels.
On the downside, if the $200 support level is broken the price of Ethereum will drop to the low of $150 or $175 price level. The Moving Average Convergence Divergence (MACD) line and the signal line are below the zero line which is an indication of a sell signal.
ETHUSD Price Short-term Analysis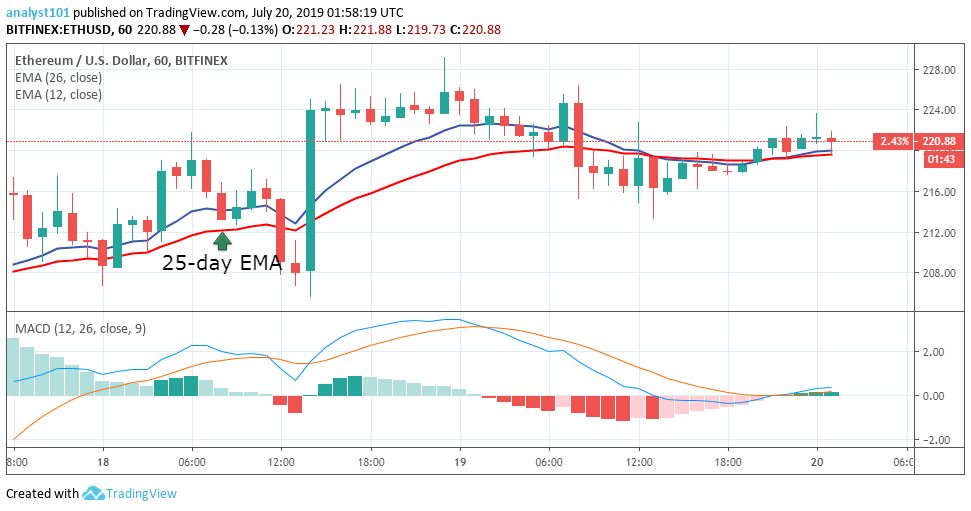 Looking at the 1-hour chart, ETHUSD price is in a bullish trend. On July 16, the price of ETHUSD dropped to the low of $196 and commenced a range bound movement below the EMAs. The bulls broke above the EMAs and resumed a bullish trend. ETH price is making a series of higher highs and higher lows.
A trend line has been drawn to ascertain how long the bullish trend will continue. A bullish trend is said to be ongoing if the trend line remains unbroken. A bullish trend is terminated if the price breaks the trend line and another candlestick closes on the opposite of it. The MACD line and the signal line are above the zero line, indicating a buy signal.
Resistance Levels: $280, $300, $280
Support Levels: $200, $180, $160
Disclaimer
Arathur Stephen is not registered as an investment adviser with any federal or state regulatory agency. The information above should not be construed as investment or trading advice and is not meant to be a solicitation or recommendation to buy, sell, or hold any cryptocurrencies. The information is solely provided for informational and educational purposes. Always seek the advice of a duly licensed professional before you make any investment.