Instances of popular celebrities promoting cryptocurrency is not rare. But now an entire platform celebrated by fashion enthusiasts worldwide has taken the centre stage for promoting its association with cryptocurrencies. FashionTV recently stunned cryptocurrency enthusiasts by announcing that it shall launch an ICO token pretty soon and will accept cryptocurrencies in days to come. This announcement was made at a recent event which was thereby followed with a press release.
The FTV Coin Deluxe cryptocurrency can be availed by general people as a payment mode of FTV's products and services, access to exclusive shows as well as billing at hotels, restaurants, residences and clubs of the TV channel. This ERC-20 token will be based on the Ethereum Blockchain.
It was also added that popular cryptocurrencies such as Ethereum, Bitcoin, Litecoin and Ripple shall be accepted by FTV. This comes as one of the very first initiatives taken by a fashion and entertainment platform for reaping the benefits of cryptocurrency usage.
Michel Adam, the president of FashionTV recounted the milestones reached since the launch of the platform in 1997 at Paris, before revealing its upcoming collaboration with cryptocurrencies to the whole world. This came with a presentation made by Ania J. with a song titled, "I want to be a crypto millionaire."
As per the release, Adam stated that:
"Fashion TV's coins are ERC20 tokens based on the Ethereum blockchain. The coins can be used by owners as corporate currency for various FashionTV products. On one side, these are the classic services of the group such as TV, streaming and video on demand services. In addition, FashionTV wants to offer the blockchain community its own platform for luxury goods and services, and aims at bringing the blockchain technology closer to the fashion community. To this end, FashionTV is developing a blockchain-based solution to have transparency for models and their parents in the model business, to ensure they get more money and are treated fairly ."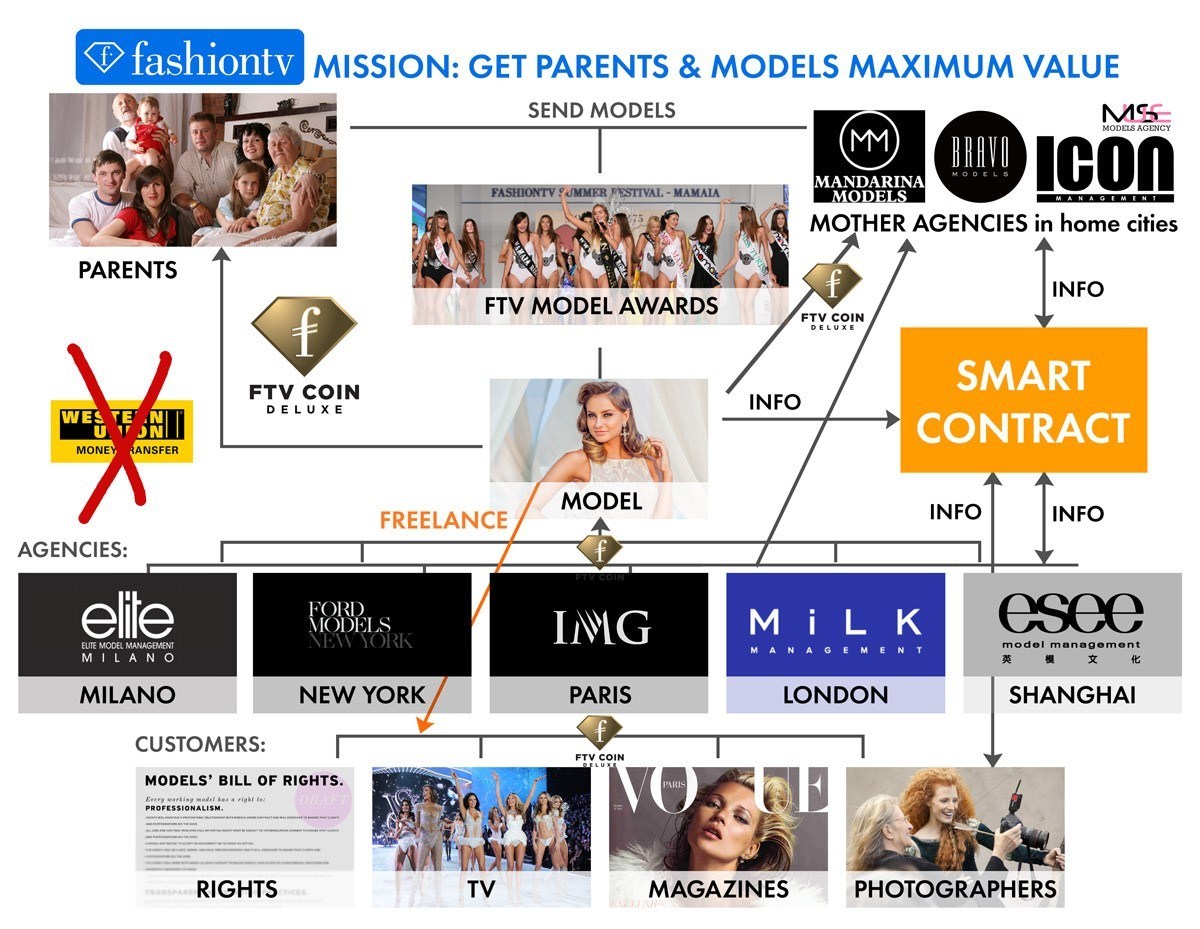 The popular FashionTV platform wishes to benefit from modern day innovations by integrating with the dynamic world of cryptocurrencies and its underlying blockchain architecture. Modelling agencies are known to gulp away a lion's share of the model's income. FashionTV wishes to bring upon transparent solutions for its models as well as the sponsors looking after the financial requirements for triggering the modelling business.
The Initial Coin Offer of FTV Coin Deluxe will offer 1500 million coins over a period of two months and the cryptocurrency market will be launched by FashionTV over the entire span of 2018. FTV Media GmbH in Vienna, Austria was the background force triggering the development of the FTV cryptocurrency which is compliant with the Austrian laws. The legal structure of this cryptocurrency was prepared by a popular firm in accordance with the working structure of the Austrian banks.
In spite of riding high on goodwill, the prospective investors in FashionTV are advised to carry out proper research before parking their corpus in the ICO project for avoiding future instances of inconvenience. Blockchain has found wide acceptance in a series of sectors with fashion segment being its latest address. If things work out as per plans, then the virtual payment mode can bring upon significant advantages in the style industry.
KryptoMoney.com publishes latest news and updates about Bitcoin, Blockchain Technology , Cryptocurrencies and upcoming ICO's.